Cashew Nutshell Liquid Market Insights
The cashew nutshell liquid market was valued at USD 472.0 million in 2023, which is expected to reach USD 740.6 million by 2030, growing at a CAGR of 7.8% during 2024–2030.
A valuable ingredient, it is used to make resins, friction materials, paints, varnishes, laminates, and adhesives, among many other things. With the expanding demand for these formulations and the development of new products with this ingredient, the market continues to grow.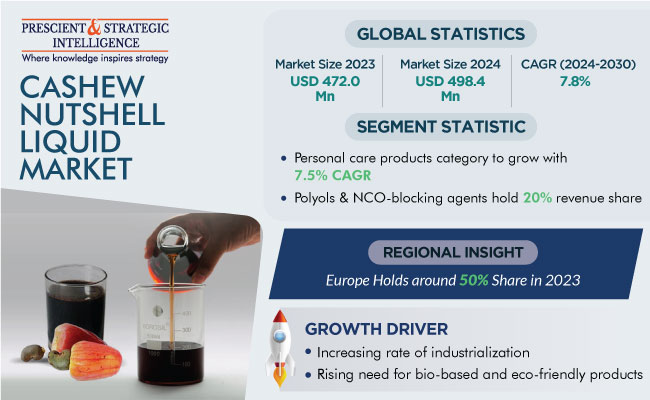 The need for bio-based and environment-friendly products is rising as people grow more ecologically aware. Since it is a renewable and environmentally beneficial resource, it appeals to enterprises trying to lessen their ecological impact and carbon footprint.
The utilization of cashew nutshell liquid, a byproduct of cashew nut processing, in industries fits well with the idea of the circular economy, where waste is minimized, resources are preserved, and materials are reused or recycled.
The lower toxicity of these goods compared to some petroleum-based alternatives makes them a popular choice. These items are chosen by sectors that place a high priority on health and safety, for which they focus on lowering the danger of chemical exposure.
Additionally, the technological developments in processing methods and application areas may create new opportunities and markets. The economic feasibility of such substances may be enhanced by improved extraction processes and purifying procedures, as well as performing R&D on newer possible applications.
The consumption of this ingredient may also be boosted by government policies that encourage the adoption of environment-friendly substances and natural resources. A climate that is favorable for the market can be created by providing incentives and subsidies and implementing rules that encourage the use of bio-based products.
Moreover, being sourced from nature makes cashew nutshell liquid a more-affordable option than petrochemicals for the production of resins and other products. Hence, there might be more interest in it when crude oil prices are high.
Polyols & NCO-Blocking Agents Is Fastest-Growing Category
Polyols & NCO-blocking agents held a significant share, of 20%, in 2023, and this category is expected to witness the highest CAGR, of 8.8%, over this decade.
This is credited to the high-volume consumption of this raw material in the production of bio-based polyurethane, which has extensive industrial applications. Foams, coatings, adhesives, sealants, and elastomers are just a few applications of the adaptable polymer polyurethane.
These goods are frequently made from polyols, which are substances containing numerous hydroxyl groups. They are among the principal reactants, which, when mixed with isocyanates (NCO groups), undergo a chemical process to produce polyurethane.
Anacardia acid, which is abundant in cashew nutshell liquid and may be converted to cardanol, is a key resource. It is utilized to create a bio-based substitute for polyols derived from petrochemicals.
In the creation of one-component polyurethane adhesives and sealants, isocyanate (NCO) blocking agents are used. They serve as stabilizers, maintaining excellent adhesive performance and increasing the shelf life, by preventing the early interaction of the isocyanate component with other chemicals in the formulation.
Products made of polyurethane are incredibly adaptable and used in a variety of sectors. Polyurethane foams offer insulation and protection in the construction industry and improve comfort and durability in automobile applications. The cushioning capabilities of polyurethane foams are advantageous for furniture. Polyurethane coatings and adhesives are also used in the electronics industry for protection, while polyurethane sealants are used in packaging to guarantee safe delivery.
In all these applications, PUs are shielded against premature curing by NCO blocking agents. The highly reactive, less toxic, and environment-friendly nature of cashew-nutshell-liquid-based NCO blocking agents makes them superior to conventional NCO blocking agents in a number of ways. Thus, in an expanding market for eco-friendly products, nature-based polyols and NCO blocking agents are seen as being more eco-friendly than conventional petroleum-based products.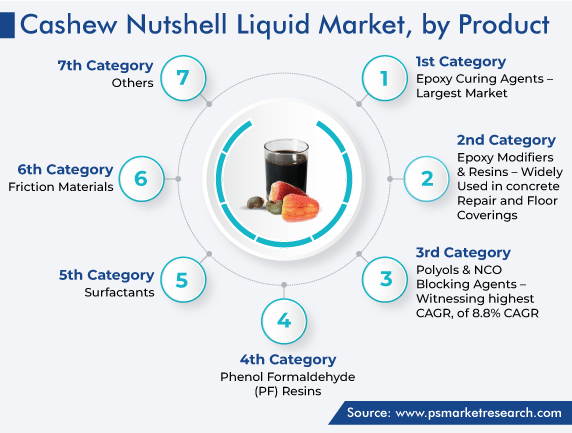 Epoxy Curing Agents Category Is Expected To Show Significant Growth
The epoxy curing agents category is also expected to showcase significant growth till 2030.
Due to the superior mechanical, chemical, and adhesive qualities of epoxy resins, they are widely utilized in many sectors; epoxy curing agents are crucial ingredients in their formulations.
Natural phenolic chemicals, such as cardanol and cardol, which can be used as epoxy curing agents, are abundant in cashew nutshell liquid. The crosslinking and curing of epoxy resins are facilitated by these phenolic compounds. Epoxy curing agents developed from cashew nutshell liquid have good chemical resistance, thermal stability, and reactivity, which improve the overall performance of epoxy-based products.
There are numerous industrial uses for epoxy resins and, in turn, for the curing agents that go into them. They are employed in electronic encapsulation, to preserve delicate components; coatings, to defend against corrosion and abrasion; adhesives, for strong bonding among various materials; and composites, for lightweight, high-strength construction. The adaptability of epoxy systems is the key factor propelling the need for natural curing agents, including those derived from the liquid found in cashew nutshells.
Environmental responsibility is one of the main factors behind the significant increase in the usage of epoxy curing agents containing bio-based ingredients. Utilizing cashew nutshell liquid as an ingredient for epoxy curing agents encourages sustainability and lessens the reliance on curing agents derived from fossil fuels, in line with the rising demand for green and bio-based materials.
Epoxy curing agents made from this raw material are an attractive choice for manufacturers and clients who care about the environment, because they are bio-based, non-toxic, and biodegradable.
Additionally, chemical engineering innovations and ongoing research have produced superior epoxy curing agents from cashew nutshell liquid, with improved characteristics, such as improved heat resistance, due to which epoxy resins can sustain higher temperatures, without degrading. Another key advantage is better water resistance, which enhances their suitability for use in wet or humid conditions.
The category's expansion is further fueled by manufacturers' ongoing exploration of novel formulations and optimization of the production techniques to satisfy certain application needs.
Cashew Nutshell Liquid Market Report Coverage

| | |
| --- | --- |
| Report Attribute | Details |
| Market Size in 2023 | USD 472.0 Million |
| Market Size in 2024 | USD 498.4 Million |
| Revenue Forecast in 2030 | USD 740.6 Million |
| Growth Rate | 7.8% CAGR |
| Historical Years | 2017-2023 |
| Forecast Years | 2024-2030 |
| Report Scope | Market Trends, Drivers, and Restraints; Revenue Estimation and Forecast; Segmentation Analysis; Impact of COVID-19; Companies' Strategic Developments; Market Share Analysis of Key Players; Company Profiling |
| Segments Covered | By Product; By Application; By Region |
Explore more about this report - Request free sample pages
Epoxy Modifiers & Resins Category Is also Important
The ratio of cardanol and cardol is changed to modify epoxy resins, to improve their qualities and customize them for various purposes. Such cardanol-based modifiers can improve epoxy resins' adhesion, flexibility, and impact resistance, to make them appropriate for numerous applications, such as adhesives, coatings, and composites.
Epoxy resins and modifiers are used in a variety of sectors. For concrete repair and floor coverings in construction, they improve epoxy's characteristics. Additionally, the coatings sector depends on them for corrosion protection, while the adhesives and sealants business benefits from increased bond strength. They are also utilized in aerospace and automotive composites, protective coatings, as well as electronics for encapsulating. The reactive phenolic compounds in cashew nutshell liquid interact with the unreacted epoxide groups in the epoxy resin prior to generating bonds, which results in the formation of a flexible, long-lasting, cross-linked network.
Europe Dominates Market
The cashew nutshell liquid market is dominated by Europe. Many regional countries have well-established industries that use cashew nutshell liquid and its derivatives. Among them are automobile, coatings, adhesives, electronics, and construction. Additionally, promoting sustainable practices across a range of businesses has been a priority for European nations. The adoption of bio-based and renewable materials is being emphasized strongly as part of efforts to reduce the carbon footprint and the reliance on fossil fuels.
European consumers are increasingly looking for green and eco-friendly items. Consumer tastes have changed in favor of goods with a weaker environmental impact as a result of the growing consumer awareness of environmental issues.
Products made in Europe are not only consumed locally but also exported to other parts of the world. The established trade linkages and export capabilities of the continent have thus enhanced its market dominance.
The production and consumption of such goods have attracted the attention of European nations with the constant research and innovation. This has increased the need for this raw material by leading to the identification of new applications and improved formulations.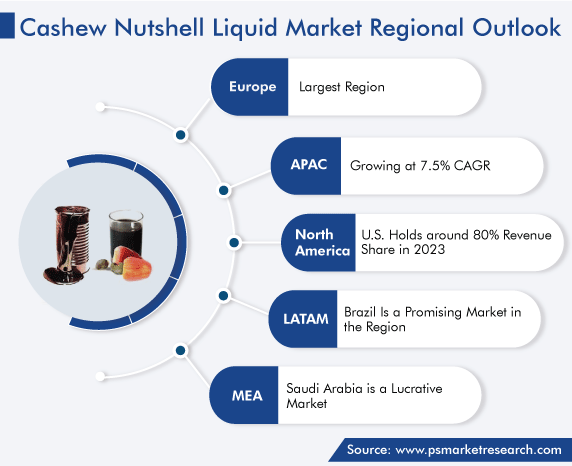 APAC Is Expected To Showcase Significant Growth
The Asia-Pacific region held a significant share, of 25% in 2023, and its revenue contribution is expected to witness a CAGR of 7.5% during 2023–2030.
The increasing rate of industrialization and the resulting growth in manufacturing activities have significantly fueled the market in the APAC region. The region's economic growth has led to a rising demand for a number of products and materials ultimately made from cashew nutshell liquid, such as solvent-based resins and coatings. Automotive, construction, electronics, and agriculture are just a few of the industries where cashew-nutshell-liquid-based products are used.
Further, one of the biggest cashew nut producers in the world is the Asia-Pacific region, and as the amount of cashew nuts processed rises, so will the volume of this substance available as a byproduct, thus opening up numerous prospects for its use.
Key Players in Cashew Nutshell Liquid Market Are:
Cione - Companhia Industrial de Óleos do Nordeste
Cesium, Inc. dba Knowde
K Subraya Anantha Kamath and Sons
K2P Chemicals
Sri Devi Group
Muskaan Group
Shivam Cashew Industry
LC Buffalo Co. Ltd.
Palmer International, Inc.
Cardolite Corporation
Market Size Breakdown by Segment
This fully customizable report gives a detailed analysis of the cashew nutshell liquid industry from 2017 to 2030, based on all the relevant segments and geographies.
Based on Product
Phenol Formaldehyde (PF) Resins
Epoxy Modifiers & Resins
Epoxy Curing Agents
Surfactants
Polyols & NCO-Blocking Agents
Friction Materials
Based on Application
Adhesives
Coatings
Foams & Insulation
Laminates
Friction Linings
Personal Care Products
Geographical Analysis
North America
Europe

U.K.
Germany
France
Italy
Spain

Asia-Pacific

China
Japan
Australia
India
South Korea

Latin America
Middle East & Africa

Saudi Arabia
South Africa
U.A.E.