Market Overview
The global building information modeling market revenue was USD 7,681.2 million in 2022, which will reach USD 18,911.8 million by 2030, advancing at 11.9% CAGR between 2023 and 2030.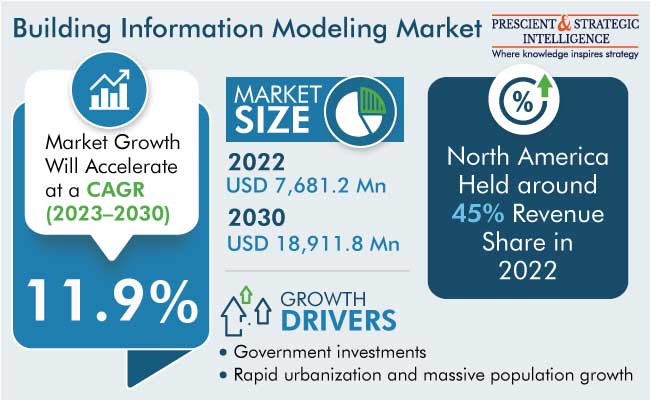 This is owing to the rapid urbanization and massive population growth, which lead to the increasing housing demand, in turn, resulting in the need for BIM. Moreover, the government investments in this industry and the huge scale of construction underway in developing economies are driving the growth of this industry.
Building information modeling (BIM) is a digital representation and cooperative process with the help of which users can create, store, manage, and exchange information during a building project's entire life. This software helps in creating and managing intelligent 3D models, before the actual construction starts. It uses both professional software and tools, commonly known as digital twins.
BIM involves both the geometric and non-geometric information associated with an infrastructure project. The 3D model acts as a central storehouse that collects data from various fields, such as architecture, engineering, construction, and facility management. It holds thorough information about the building's components, materials, systems, and three-dimensional relationships.
Moreover, with it investors involved in a construction project can work together more effectively, by sharing and assessing information in a synchronized and standardized way. A BIM model permits better visualization, analysis, and simulation of the building design, which, in turn, enables more-informed decision-making. It also helps in reducing errors and rework during construction, by finding out potential clashes or conflicts between distinct building systems early in the design process.
Furthermore, this technology can be used during the entire life of a building, from the primary design and pre-construction to operation and maintenance. It helps in the extraction of many types of information, such as the material quantities required, for cost estimation; agendas for project planning, and need for facility management.
Rapid Urbanization Drives Market Growth
The market is set for significant growth in the coming years due to the increasing urbanization levels globally. As populations and economies inflate, the demand for advanced infrastructure is growing in both the residential and commercial sectors.
The growth of the worldwide BIM market can also be linked to the significant rise in the focus on data sharing and analysis among all stakeholders, which, in turn, leads to improved collaboration and enhanced productivity.
Moreover, the usage of BIM solutions during the development of public and private infrastructure is witnessing a surge because of governments' policies and regulations mandating it. Many countries around the world have declared the usage of this technology mandatory for commercial projects. Singapore and the U.A.E have implemented legislations regarding the use of this technology in infrastructure, industrial, and commercial projects. Germany is also working on mandating BIM adoption in all its infrastructure projects in the near future.
Furthermore, it is being implemented to a great extent as a result of the constant technological advancements. This has driven the integration of AR and VR into such software, in order to enable users to visualize and interact with virtual environments. This integration has gained acceptance due to its significant benefits for real estate developers, including enhanced communication among stakeholders and improved visualization for architects and engineers. Overall, the software permits realistic 3D modeling and immersive experiences that closely relate to real-world scenarios.
Software Category Dominates Offering Segment
The software category of the offering segment dominated the market for building information modeling solutions in 2022, with a revenue share of 60%.
This is due to the existence of prominent players offering a vast range of features and functionalities in such software that are usable throughout the project lifecycle. They include architecture, sustainability, structure, mechanical, electrical, and plumbing (MEP), and facility management.
Moreover, this software offers many advantages, such as application interoperability, which means the ability of computer systems or software to exchange and make use of information; 3D visualization, cost and time savings, and design modification flexibility. Essentially, the surging popularity of smart cities and the burgeoning use of modern architectures have resulted in the increasing demand for this software.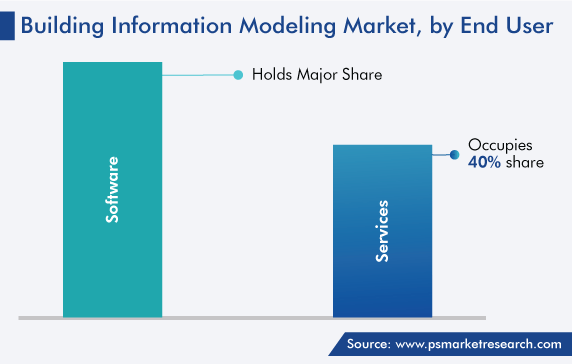 Pre-Construction Category Leads Project Lifecycle Segment
The pre-construction category, with a global revenue share of 40%, dominated the project lifecycle segment in 2022.
This is due to BIM's various facilities, such as visualization, conceptualization, programming, cost planning, and architectural planning. The pre-construction phase involves the creation of structural and system designs, analysis, specification, and coordination of different divisions.
Moreover, the construction category is predicted to experience rapid growth due to the reduced construction time and the capability to modify construction plans as the model develops. These features also lead to cost cutting, as time is reduced and users get the flexibility to change plans, in case something new comes up in between.
Furthermore, the operations category, which involves the post-construction phase, holds a moderate share in the market. Across the lifespan of a building, BIM models are used by facility managers and operators to ascertain the specific equipment needed, make maintenance plans, and consult operational guides. This ensures effective asset management and planning for future advancements. The software can also be linked with energy analysis software to evaluate a building's energy performance and find zones that require increasing their energy efficiency. It also supports environment-friendly processes, by analyzing daylight, thermal efficiency, and material specifications.
On-Premises Holds Larger Share in Deployment Segment
Based on deployment, the on-premises category holds the larger share, and it is expected to witness significant growth in the coming years.
This is due to the presence of major players in the architecture, engineering, and construction (AEC) software industry, such as Autodesk and Nemetschek, who provide on-premises solutions to customers. The utmost benefit of on-premises software is that all the data is stored on computers or servers owned by the organization. This allows organizations to have full access and control over data flow. Enhanced data security is also a perk of on-premises deployment.
Moreover, cloud deployment is feasible for small- and medium-sized enterprises as it makes data management simpler for them. The main problem in going for on-premises software is the inadequate financial capacity of SMEs, which stops them from investing in the physical IT infrastructure. As a result, they prefer to use cloud deployment, as this removes the requirements for on-site computer or server hardware. Further, the cloud enables scaling the storage capacity up or down, as required, along with offering 24x7 access from any internet-enabled device.
Civic Infrastructure Expected To Grow with Highest CAGR
The civic infrastructure category is expected to exhibit the highest CAGR during the forecast period.
This will be the outcome of the strong focus on civic infrastructure projects in many countries, which means upgrading or replacing the aging infrastructure from time to time. Civic infrastructure includes bridges, highways, and water supply systems, which often require repairs or modernization, to meet safety standards and address the evolving demands.
Additionally, the development of strong civic infrastructure plays a dynamic role in economic growth and regional connectivity in any country. Transportation networks aid in the movement of goods and people, thereby encouraging trade, commerce, and tourism. Governments and private-sector organizations are giving priority to civic infrastructure investments to fascinate businesses and enhance economic development.
Using BIM in civic projects leads to enhanced outcomes, because of the prior examination of multiple scenarios. This data-driven method makes sure to deliver projects within the decided schedules and budgets.
BIM Market Report Coverage

| | |
| --- | --- |
| Report Attribute | Details |
| Historical Years | 2017-2022 |
| Forecast Years | 2023-2030 |
| Market Size in 2022 | USD 7,681.2 Million |
| Market Size in 2023 | USD 8,596.9 Million |
| Revenue Forecast in 2030 | USD 18,911.8 Million |
| Growth Rate | 11.9% CAGR |
| Report Scope | Market Trends, Drivers, and Restraints; Revenue Estimation and Forecast; Segmentation Analysis; Impact of COVID-19; Companies' Strategic Developments; Market Share Analysis of Key Players; Company Profiling |
| Segments Covered | By Offering; By Deployment; By Project Lifecycle; By Application; By End User; By Region |
Explore more about this report - Request free sample pages
Consultants & Facility Managers Hold Largest Share
During the forecast period, consultants and facility managers are expected to hold the largest share.
The key responsibility of BIM consultancy teams is to support project owners in overcoming challenges with people, processes, and technologies, by coming up with customized solutions and integrating technology.
Moreover, this technology is becoming popular with consultants and facility managers, who use it to gain knowledge of the specific location of building components that require monitoring or replacement. Facility management professionals are accountable for the operation and maintenance of buildings through their lifecycle, which can extend for 30 years or more and may involve reconstruction and maintenance.
Furthermore, BIM acts as an important tool for consultants and facility managers to observe project progress. These stakeholders can lessen their overall operational costs by gathering and analyzing the data generated by this software with respect to facility management and infrastructure maintenance. It helps in planning and executing crucial processes, such as asset inventories and registries, space management, building system analysis, environmental analysis, and regulatory compliance management.
North America Is Largest User of BIM Software and Services
North America held the largest BIM market share in 2022, of 45%, owing to its early adoption of enhanced digital tools and government regulations on mandating the usage of this software in commercial infrastructure projects.
Moreover, Europe ranks second, and it will experience significant growth during the prediction period. The governments of countries such as the U.K., Germany, and France have made it compulsory to use BIM software in civil projects. The region is also home to numerous prominent IT companies providing the relevant software for on-premises and cloud deployment.
Similarly, the demand for these tools is projected to witness noticeable growth in Latin America owing to the surging investments in building and infrastructure construction.
Furthermore, the Middle East and African region is likely to witness steady growth in the BIM market during the prediction period. This will be driven by the rapidly increasing demand for next-generation infrastructure design and modeling techniques in the region.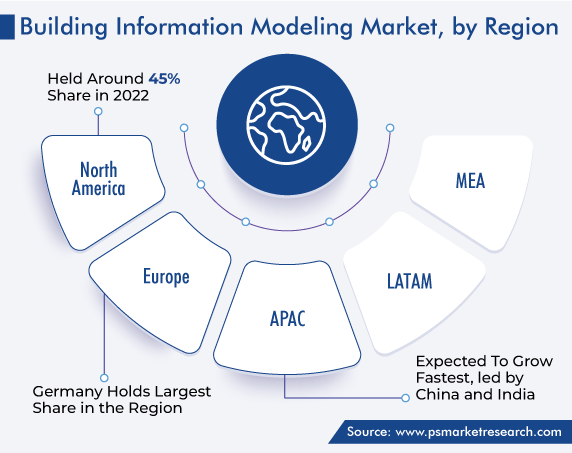 Top Players in Building Information Modeling Market
Autodesk Inc.
Nemetschek Group
Bentley Systems
Trimble Inc.
Dassault Systèmes
RIB Software SE
AVEVA Group plc
Hexagon AB
Archidata Inc.
Market Size Breakdown by Segment
This fully customizable report gives a detailed analysis of the building information modeling industry from 2017 to 2030, based on all the relevant segments and geographies.
Based on Offering
Based on Deployment
Based on Project Lifecycle
Preconstruction
Construction
Operations
Based on Application
Commercial
Industrial
Civic infrastructure
Oil & Gas
Utilities
Based on End User
Architects
Engineers
Contractors
Consultants and Facility Managers
Geographical Analysis
North America
Europe

Germany
U.K.
France
Italy
Spain

Asia-Pacific

Japan
China
India
South Korea
Australia

Latin America
Middle East and Africa

Saudi Arabia
South Africa
U.A.E.