Market Overview
The global brain modalities and software market revenue is expected to increase at a CAGR of 5.2% from 2021 to 2030, from $13,343.3 million to $23,195.6 million, owing to the growing demand for safer and non-invasive medical imaging, rising patient emphasis on effective and early disease diagnosis, and increasing prevalence of neurological disorders. For instance, as reported by Alzheimer's Disease International, 55 million people around the world were living with dementia in 2020. Moreover, by 2030 and 2050, this number is predicted to reach 78 million and 139 million, respectively. Moreover, as per the WHO, Alzheimer's disease results in almost 70% of the dementia cases worldwide.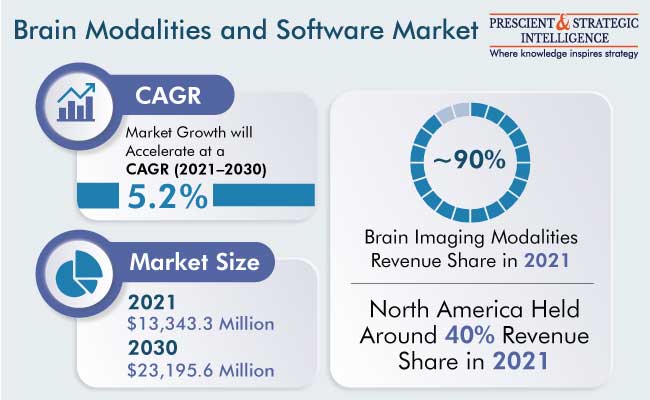 Pediatrics & Infants Diagnosed with Neurological and Brain Disorders Are Projected To Increase
The global market share accounted for by pediatrics & infants suffering from neurological and brain diseases is projected to increase with a CAGR of over 6% during the forecast period. While some neurological conditions are congenital, others can be caused by birthing mishaps, such as loss of oxygen and blood (asphyxia), buildup of fluid in the brain (hydrocephalus), excess bleeding in the brain (hemorrhage), viral or bacterial infection contracted during pregnancy, delivery, or after birth, and use of alcohol or drugs during pregnancy.
Brain Imaging Modalities Lead Market
The usage of MRI, CT, PET, PET–CT, and PET–MRI systems for neuroimaging, for identifying diseases related to tumors and abnormalities, has gained popularity over the years. Brain imaging modalities are required at all stages of treatment, from diagnosis to follow-ups to the end of the treatment cycle. Some uses of these brain diagnostic systems include identifying the effects of a stroke, locating cysts and tumors, and finding swelling (edema) and bleeding. These factors helped brain modalities hold the major market share of, around 90%, in the brain modalities and software market in 2021.
The brain analysis software market is set to grow with the higher CAGR during the forecast period. Conventional methods integrated with AI software are gaining popularity due to the faster and more-accurate results this way. While software solutions bring significant value to standalone imaging modalities in terms of quantitative assessments and diagnostic accuracy and precision, software adoption has been delayed in emerging economies of the LATAM and MEA regions. In comparison, developed regions, such as North America and Europe, have more easily integrated software into imaging technologies.
Brain Modalities and Software Market Report Coverage

| | |
| --- | --- |
| Report Attribute | Details |
| Historical Years | 2017-2021 |
| Forecast Years | 2022-2030 |
| Market Size in 2021 | $13,343.3 Million (Estimated) |
| Revenue Forecast in 2030 | $23,195.6 Million |
| Growth Rate | 5.2% CAGR |
| Report Scope | Market Trends, Drivers, and Restraints; Revenue Estimation and Forecast; Segmentation Analysis; Impact of COVID-19; Companies' Strategic Developments; Market Share Analysis of Key Players; Company Profiling |
| Segments Covered | By Patient Type, By Offering, By End User, By Region |
Explore more about this report - Request free sample pages
Diagnostic Imaging Centers' Revenue Contribution To Grow at Higher Rate
The diagnostic imaging centers category is expected to grow the fastest, with a CAGR of around 7%, in the global brain modalities and software market. This will be because diagnostic imaging centers provide affordable brain monitoring and imaging services as compared to hospitals, clinics, and other ambulatory surgery centers. Other advantages of visiting a standalone diagnostic center are shorter wait times and more-personalized service.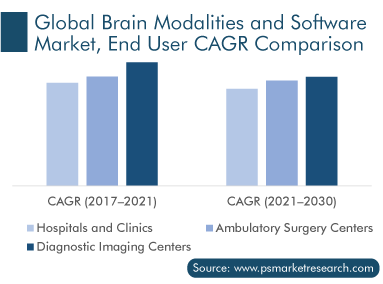 Increasing Prevalence of Neurological Disorders To Propel Market Growth
The growing number of people affected by non-communicable neurological disorders is leading to the increasing overall expenditures on treatment. As the population grows and ages, governments will face an increase in the demand for neurological disorder diagnosis, treatment, rehabilitation, and support services. This is because the prevalence of major disabling neurological disorders rises sharply with age. As the majority of neurological diseases have few recognizable causes, new research is necessary to develop effective diagnosis, prevention, and treatment measures.
AI Integration in Medical Imaging Could Offer Stronger Hope to People with Brain Diseases
Artificial intelligence (AI) is rapidly being used in the field of brain imaging to increase image quality and diagnostic accuracy. AI innovations in medical imaging include image quality improvement, segmentation, and disease categorization automation. These advancements have resulted in a greater availability of supportive AI technologies to assist clinicians in evaluating images and making care decisions. The discipline of AI has grown significantly in recent years, and it is now being applied to brain imaging to increase image quality, shorten the time a patient needs to be inside a scanner, and aid in physician decision making and the clinical interpretation of images.
In addition, various players are incorporating AI in brain imaging systems. For instance, in November 2021, Subtle Medical Inc., a healthcare technology company, announced a collaboration with Bayer AG, a life science company, to explore opportunities to utilize AI to aid in the diagnosis and monitoring of diseases.
North America Is Set To Dominate Global Market
The rapid technology integration in the field of medical imaging, increasing need for software-based imaging solutions for effective diagnosis, and rising prevalence of neurological disorders drive the North American brain modalities and software market. The continent leads the global brain modalities market with its strong base of MRI, CT, and PET–CT scanner manufacturers. North America has one of the most-highly advanced healthcare systems in the world. The incorporation of AI in medical imaging has resulted in the creation of both AI-powered hardware devices (scanners) and software solutions for imaging and image interpretation.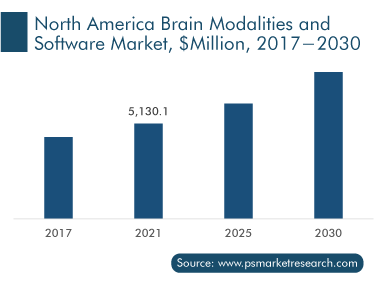 APAC is growing region which is expected to register around 7% CAGR during the forecast period. The market growth in the region is primarily driven by the increasing healthcare expenditure, presence of a large number of market players, rising awareness regarding early disease detection through the use of advanced diagnostic imaging technologies, and increasing prevalence of brain diseases.
To raise awareness about diagnostic imaging procedures, several conferences and events are being organized in the region. For instance, the Radiology Asia 2019 conference was held in Singapore in April 2019. The conference served a unique platform for knowledge exchange to increase awareness among medical imaging device manufacturers and radiologists of Southeast Asia, Australia, and New Zealand on the use of advanced imaging techniques for improved healthcare. The conference covered areas such as breast imaging, pediatric radiology, neuroradiology, and patient care. Moreover, the 13th International Conference on Quantification of Brain Function with PET was held in Japan in July 2019, which focused on the advancements in diagnostic imaging technologies. Such conferences are resulting in increased awareness regarding advanced diagnostic imaging technologies in the region. This, in turn, is supporting the growth of the APAC market.
Healthcare Providers Are Involved in Acquisitions and Expansions to Expand Their Presence
Healthcare technology providers in the brain monitoring industry are involved in acquisitions and expansions to strengthen their presence. For instance,
In December 2021, Hyperfine Inc. announced its expansion into the Canadian market with the license for its portable MRI device" Swoop" issued by Health Canada. The license is also for the recently FDA-cleared advanced reconstruction software based on deep learning. With this license, the Swoop system is now available for purchase in Canada.
​​In November 2021, Nano-X Imaging Ltd. announced the completion of its merger with Zebra Medical Vision Ltd., a deep learning medical imaging analytics company. Additionally, the company announced the completion of two strategic acquisitions, of MDWEB LLC. ("MDW"), a decentralized marketplace connecting imaging facilities with radiologists, and USARAD Holdings Inc., a provider of teleradiology services.
Key Players in Global Brain Modalities and Software Market Are:
Koninklijke Philips N.V.
General Electric Company
Canon Inc.
Siemens Healthineers AG
VUNO Inc.
FUJIFILM Corporation
Imaging Biometrics LLC
A.I. Analysis Inc.
Aspect Imaging Ltd.
IXICO plc
Mint Labs Inc.
Market Size Breakdown by Segment
The report offers comprehensive market segmentation analysis along with market estimation for the period 2017–2030.
Based on Offering
Brain Imaging Modalities
Brain Analysis Software
Based on Patient Type
Adults

Brain diseases
Neurodegenerative diseases

Pediatrics & Infants

Brain diseases
Neurodegenerative diseases
Based on End User
Hospitals and Clinics
Ambulatory Surgery Centers
Diagnostic Imaging Centers
Geographical Analysis
North America
Europe

Germany
France
U.K.
Italy
Spain

Asia-Pacific (APAC)

China
India
Japan
Australia
South Korea

Latin America (LATAM)
Middle East and Africa (MEA)

Saudi Arabia
South Africa