Market Overview
The blue hydrogen market size stood at USD 17,654 million in 2022, and it is expected to grow at a compound annual growth rate of 11.70% during 2022–2030, to reach USD 42,783 million by 2030.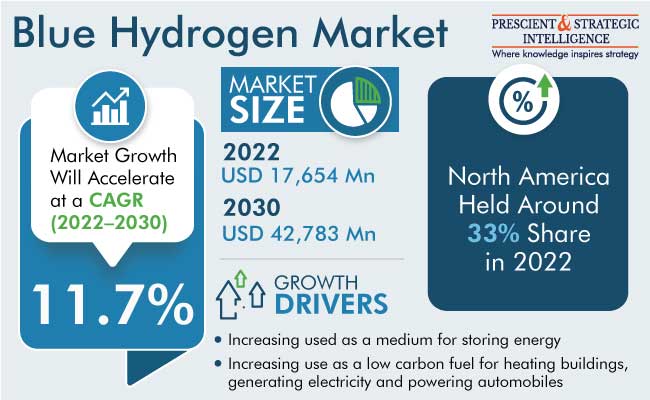 Blue hydrogen is often promoted as a low-carbon fuel for generating electricity, powering automobiles, and heating buildings and a medium for storing energy.
The high crude oil price volatility and excessive taxes on gasoline and diesel have led to a sharp rise in their cost. Additionally, because of the rising demand and a shortage of supply, crude oil prices have risen significantly. Crude oil shipping costs are also rising, which further makes gasoline and diesel dearer to the masses. As a result, there is a growing need for alternative fuels, such as hydrogen.
Currently, most H2 produced is gray, meaning it is derived from hydrocarbons, primarily natural gas. As a result, the steam–methane reforming process is necessary, which produces carbon emissions. While the blue variant uses hydrocarbons in a similar way, it also employs carbon capture, utilization, and storage (CCUS) technology to decrease its harmful impact on the environment. On the other hand, the green alternative, which is often created by electrolyzing water, has no emission and is produced using renewable energy.
Decarbonization strategies are being adopted across industries due to the growing concerns over climate change and pollution. In order to achieve the net-zero emission target by 2050, eco-friendly fuel production is burgeoning. Apart from this, energy efficiency, renewable energy, and CCUS are envisioned as the key pillars for decarbonizing the global energy system.
In hard-to-decarbonize sectors, such as heavy industries (particularly steel and chemicals), heavy-duty road transport, shipping, and aviation, where direct electrification is difficult, hydrogen fuel is essential for lowering greenhouse emissions. Here blue hydrogen is one of the eco-friendly natural-gas-derived H2 variants, for further cutting down the emissions during its production via the steam–methane reforming process.
The use of the gas in chemical manufacturing, refining, and other industrial processes has been driven by a significant switch from traditional fuels to carbon-neutral substitutes. In order to facilitate the adoption of CCUS technology for the production of hydrogen, government authorities are developing new policies and programs. For instance, companies are restricted by the stringent government regulations to keep the emission of greenhouse gases (GHG) from diverse production processes to the minimum.
In 2022, North America Dominated Global Market
North America was the largest market, with a share of around 33% of the global revenue, in 2022. The adoption of cutting-edge production techniques, significant investments in research and development, and the increasing use of H2 in the aerospace and electric vehicle industries in the U.S. and Canada contribute to the regional market's growth.
For instance, Marsh created a novel insurance and reinsurance ecosystem in August 2022, offering coverage for both new and current blue hydrogen projects. It is designed in partnership with Liberty Specialty and AIG to offer risk coverage of up to USD 300 million for the startup and construction phases of such projects.
Moreover, due to a significant increase in the demand for this gas from numerous sectors, such as fertilizers, chemicals, and refining, in India, China, South Korea, and Malaysia, its production and sale in Asia-Pacific are expected to grow significantly during the forecast period. China is the greatest producer and consumer of this fuel in the region, consuming more than 24 million tonnes each year. The rising count of government attempts to ensure there are no emissions in the country is a key factor driving the market expansion.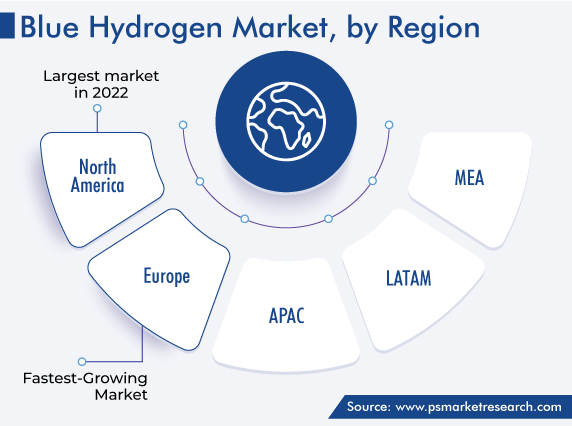 Rapid Market Growth Expected in Hydrocarbon-Rich Countries
The U.S., Canada, Saudi Arabia, and the U.A.E. have enormous hydrocarbon reserves. The majority of these nations have a history of expanding the world's energy supply by leveraging their exclusive access to price-competitive natural resources. When it comes to hydrogen, these countries might potentially scale up production via clean methods. This could also drive the demand for hydrogen energy storage technologies, to use the gas for various purposes in times of high demand.
Apart from their easy access to hydrocarbon resources, the competitive supply of H2 from HRCs is expected to be fueled by the affordability of renewable energy, strong local demand, advantageous location, and a track record of supplying fuel to international energy markets. This way, OPEC members could become leading clean H2 providers; however, depending on how they use their resources, they may hold different positions in the industry.
Shift to Low-Carbon Fuels in Petroleum Refineries To Drive Consumption of Blue Hydrogen
In 2030, the petroleum refinery application in the blue hydrogen market is projected to generate a significant revenue. The gas is a key chemical in the production of valuable products at refineries. E&P and petrochemical companies have been compelled to limit their carbon footprints by government regulations. Hence, for more-sustainable operations, petroleum companies are quickly replacing traditional fuels with low-carbon and affordable alternatives.
Rising Penetration of Eco-Friendly Energy Sources
The application of this chemical in fuel cell electric vehicles is expanding. Although hydrogen has long been recognized as a potential low-carbon transportation fuel, adding it to the mix of fuels has proven difficult. Moreover, the high price of the commodity is a primary issue for truck manufacturers, with the comparative dearth of refueling stations further hindering FCEV adoption.
However, over the conventional fossil fuels, which are running out and, as a result, becoming more expensive, it has an edge. Apart from fuel cell electric vehicles, the commodity is in high demand in the aerospace sector, being a key rocket fuel.
Because there are not many low-carbon fuel options for ships and aircraft, H2 has an opportunity for high-volume consumption. Fuel cells have begun gaining traction in cars, buses, trains, material handling equipment (such as forklifts), boats and ships, and commercial airplanes and their auxiliary power units (APUs).
Government Initiatives for Hydrogen Production Key Opportunities in Market
The growth of the market is propelled by the existence of government initiatives to create the hydrogen economy. For instance, in 2021, the Government of the U.K. declared that the public transportation system of England will get a USD 3.7-billion investment as part of its National Bus Strategy. Two funds for H2 supply and storage innovation have also been established, each valued over USD 22 million.
Additionally, the government targets to invest USD 185 million to decarbonize industrial clusters.
Similarly in mid-2022, the U.K. government revealed two blue hydrogen projects in northern England, with a commitment to accelerate fuel delivery, under the Growth Plan 2022. The ultimate aims are driving the U.K.'s economic growth, increasing long-term energy security, and delivering on its net zero promise.
The Hynet North West project in northwest England and the East Coast Cluster complex in northeast England are the two projects. Both of them seek to lower GHG emissions in nearby heavy industries, by supplying blue H2.
The first H2 law in the world was put into effect in South Korea on February 5, 2021. To support the shift to a green economy, the government has established the H2 Economy Committee and announced the Green New Deal Policy.
By 2040, the aim is to have 1,200 refueling stations and 6.2 million fuel cell vehicles. Moreover, by 2025, it aims to convert all the commercial vehicles in the country to FCEVs. There will be plenty of opportunities for the market to flourish as a result of these activities and the ambitious targets to attain zero carbon emissions.
Blue Hydrogen Market Report Coverage

| | |
| --- | --- |
| Report Attribute | Details |
| Historical Years | 2017-2022 |
| Forecast Years | 2023-2030 |
| Market Size in 2022 | USD 17,654 Million |
| Revenue Forecast in 2030 | USD 42,783 Million |
| Growth Rate | 11.70% CAGR |
| Report Scope | Market Trends, Drivers, and Restraints; Revenue Estimation and Forecast; Segmentation Analysis; Impact of COVID-19; Companies' Strategic Developments; Market Share Analysis of Key Players; Company Profiling |
| Segments Covered | By Technology; By End User; By Region |
Explore more about this report - Request free sample pages
Steam–Methane Reforming Process Holds Largest Market Share
The steam–methane reforming category held the largest market share in 2022, and it is likely to expand significantly throughout the forecast period. The technique of in-house pressure swing absorption purification, which can be used to efficiently produce high volumes of pure H2, is one of the main drivers propelling the expansion of the category. This procedure, which involves heating methane in the presence of steam and a catalyst, has grown immensely popular as an affordable means of industrial hydrogen production.
Additionally, because of its purity, the hydrogen produced by SMR can be used in fuel cells and industrial processes.
The auto-thermal reforming category is expected to grow at a 11.9% CAGR in the forecast period. The rising need for hydrogen as a fuel in numerous applications, as well as the various strict regulations on emissions from automobiles and industrial plants, is contributing to the market growth in this category. Additionally, the introduction of cutting-edge auto-thermal reforming technologies and the increasing cost of crude oil are projected to accelerate the market's expansion.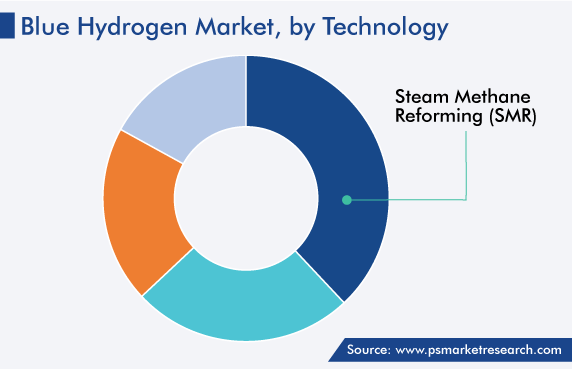 Key Blue Hydrogen Manufacturers Are:
Dastur Energy
Shell plc
Linde plc
Air Products and Chemicals Inc.
Aker Solutions ASA
Exxon Mobil Corporation
Equinor ASA
Uniper SE
Topsoe A/S
Petrofac Limited
BP p.l.c.
Blue Hydrogen Market Size Breakdown by Segment
This report offers deep insights into the blue hydrogen market, with size estimation for 2017 to 2030, the major drivers, restraints, trends and opportunities, and competitor analysis.
Based on Technology
Steam Methane Reforming (SMR)
Gas Partial Oxidation (POX)
Auto Thermal Reforming (ATR)
Based on End User
Petroleum Refineries
Chemical Industry
Power Generation Facilities
Geographical Analysis
North America
Europe

Germany
U.K.
France
Italy
Spain

Asia-Pacific

Japan
China
India
South Korea
Australia

Latin America
Middle East and Africa

Saudi Arabia
South Africa
U.A.E.