Valued $1,476.1 million in 2015, the global biostimulants market is expected to advance at a CAGR of 11.2% during the forecast period (2016–2022). The market growth is majorly driven by the increasing demand for biostimulants in the agricultural sector across the world. Geographically, Europe was the largest market for biostimulants in 2015, and the market, during the forecast period, is expected to demonstrate the fastest growth in Asia-Pacific (APAC).
Biostimulants are microorganisms or substances made of synthetic or natural compounds. They are added to plants, soil, or seeds along with substrates in order to stimulate the organic growth of plants and improve their immunity. Besides, these help plants assimilate nutrients and ensure crop protection. Due to this, biostimulants are widely used in the agrochemicals, fertilizers, and food technology industries.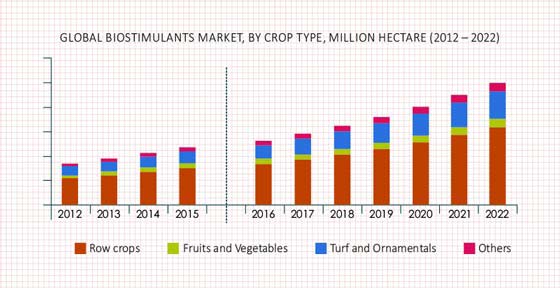 Globally, there has been increased focus on the importance of a healthy lifestyle and benefits of nutritional food. Moreover, with the increase in population worldwide, the demand for food products is likely to increase, thereby boosting the need for biostimulants. Additionally, biostimulants help diminish the amount of abiotic stress in plants. These factors are thus expected to drive the biostimulants market in the near future.
However, due to the lack of any quality grades for biostimulants, presence of a limited number of companies producing biostimulants, and lack of regulatory standards on the use of these products, the growth of the biostimulants market is being affected to some extent. Besides, limited knowledge on these substances, in addition to the high costs of their research and development, acts as a barrier to the growth of the biostimulants industry.
Biostimulants are required in crops, vegetables oilseeds, and forage for animal feed. On the basis of active ingredients, the biostimulants market is categorized into humic acid, amino acid, fulvic acid, seawood extracts, vitamins, and others. Of these, the seaweed extracts category dominated the market in 2015 and is expected to demonstrate a CAGR of 11.6% in terms of value during the forecast period.
Some of the key players in the global biostimulants market are Omex Agrifluids Ltd., Acadian Seaplants Limited, Valagro S.p.A., Trade Corporation International, Platform Specialty Products Corporation, The Dow Chemical Company, Micromix Plant Health Limited, BASF SE, Koppert B.V., and Isagro S.p.A.
Key questions answered in the report
What is the current and future scenario of the global biostimulants market?
What are the major factors driving the market?
What are the key opportunities for the players in the market?
Which application is expected to dominate the market during the forecast period?
Which region is expected to witness the fastest growth in the market during the forecast period?
Who are the major players in the market?