Market Overview
The biomass gasification market size stood at USD 107.7 billion in 2022, and it is expected to grow at a CAGR of 7.16% during 2022–2030, to reach USD 187.3 billion by 2030.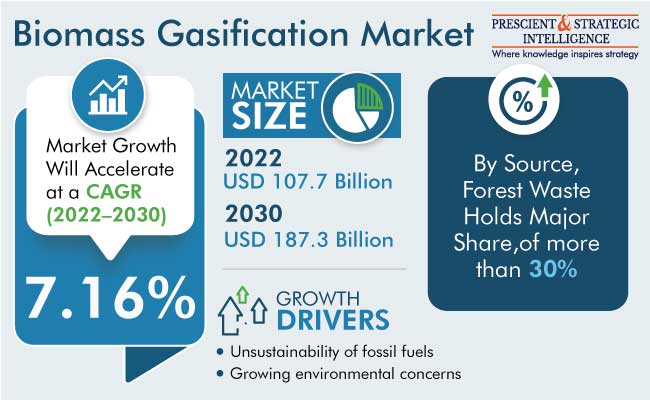 The growth can be primarily ascribed to the rising greenhouse gas emissions, growing adoption of environment-friendly energy sources, and increasing environmental concerns among the population.
The growing consumption of syngas in gas engines, to produce hydrogen and methanol and convert them to synthetic fuels, is propelling the advance of the domain. In the process, clean gas is produced via the refining of corrosive ash elements, including chlorides and potassium, which can lead to various problems in the feedstock. Moreover, the usefulness of gasifying fossil fuels for producing electrical power at the residential and industrial levels is increasing its popularity.
The growing awareness of sustainability and increasing adoption of environment-friendly strategies are fueling the adoption of the gasification process for generating clean energy. The rampant industrialization, rising demand for power, and advancing technologies are leading to the installation of gasifiers in various manufacturing units. The usage of this technique is also rising rapidly among municipal corporations for waste disposal and recycling complex compost.
In addition, gasifiers are an efficient, flexible, and reliable system for different heat-related applications, owing to their ability to be easily retrofitted into existing gas-fueled systems, including boilers and furnaces, where they replace fossil fuels with syngas. Moreover, the process is used for the generation of electricity from biomass (such as forestry waste), ammonia, and liquid fuels.
The usage of biomass as the feedstock is expected to grow significantly during the forecast period because it can be used as a clean alternative to coal-based power generation. Alarmed at the rising greenhouse gas emissions, industries and governments are turning their focus to environment-friendly energy sources, including paper, animal manure, cotton, agricultural waste, wood residue, and food waste. In this regard, the implementation of various policies and regulations by governments aimed at sustainability and the huge availability of biomass are the key factors boosting the growth of the market.
Furthermore, the governments of various nations are persuading adaptable gasifier-based power plants to generate power using locally available biomass resources, such as wood chips, rice husk, and cotton stalks. In India, around 150-MW biomass gasifiers have been set up for on-grid and off-grid projects. Additionally, over the years, many rice mills have replaced their steam engines/boilers with biomass gasifiers and 100% producer gas engines, for power generation, along with making provisions to meet as much of their thermal requirements as possible through waste heat recovery.
Based on Source, Forest Waste Holds Major Share
Forest waste holds the major share, of more than 30%, and it is expected to continue the same way during the forecast period. This is attributed to the rising number of projects for combined heat and power that use forest waste as the feedstock, because it has a huge amount of macromolecules, organic matter, and cellulose, which aid in heat generation.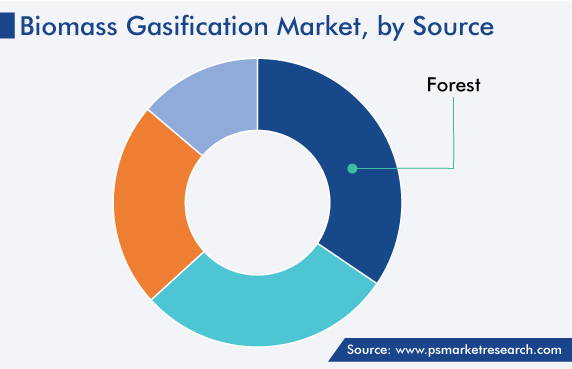 Fixed-Bed Gasifier Category Will Grow Fastest
The fixed-bed gasifier category is expected to grow at a CAGR of more than 8%, owing to the simplicity, high carbon conversion rate, solid retention time, and low ash carry of this variant. Moreover, the rising demand for electricity is propelling the growth of the market in this category. Fixed-bed gasifiers possess the flexibility to utilize a variety of biomass as the feedstock, ensure mass and heat transfer through oxidation, and deal with small particles.
Chemical Applications Are Highest Revenue Contributors
Based on application, the chemical category holds the largest share, ascribed to the rising popularity of the gasification technology for the production of ethanol and other useful commodities. Its low operating cost, need for waste and feedstock of low value, and high-power efficiency are boosting the adoption of the gasification process for the production of chemicals of high value. Furthermore, the availability of a huge amount of feedstock will enable the growth of the market.
Biomass Gasification Market Report Coverage

| | |
| --- | --- |
| Report Attribute | Details |
| Historical Years | 2017-2022 |
| Forecast Years | 2023-2030 |
| Market Size in 2022 | USD 107.7 Billion |
| Revenue Forecast in 2030 | USD 187.3 Billion |
| Growth Rate | 7.16% CAGR |
| Report Scope | Market Trends, Drivers, and Restraints; Revenue Estimation and Forecast; Segmentation Analysis; Impact of COVID-19; Companies' Strategic Developments; Market Share Analysis of Key Players; Company Profiling |
| Segments Covered | By Source; By Gasifier Technology; By Application; By Region |
Explore more about this report - Request free sample pages
APAC Makes Largest Contribution to Global Revenue Generation
Asia-Pacific has the leading position in the market, and it will hold the same position till 2030. This is attributed to the abundance of forests in India and China, which results in an easy availability of biomass to produce heat, chemicals, and electricity via the gasification process. Thus, the easy access to biomass and wastes, such as wood pulp, sawdust, and paper, is increasing the usage of gasifiers in numerous industries for minimizing pollution and safely disposing of waste. In addition, the burgeoning consumption of electricity due to the increasing rates of industrialization and urbanization in the regional developing countries is driving the market revenue growth.
The APAC market will also grow at a significant rate of advance in the years to come. This can be ascribed to the robust expansion in the environment-friendly power industry in nations including China, Japan, and India. In this regard, the expanding number of power plants in the region, along with the government laws on clean power generation, will drive the regional market development.
Biomass energy production in China has been rising at a high rate, with the total installed capacity increasing from 1.4 GW in 2006 to 14.88 GW in 2017. Since the share of biomass remains moderately low compared to other clean sources of energy, China intends to bring the share of biomass energy to 15% of its power mix and achieve a total capacity of 30 GW by 2030.
A significant volume of biomass resources is available in China, such as waste from horticulture, sewage, animal manure, compost, and metropolitan solid waste. While the largest contributing sources are assessed to be deposits from the annual harvests of wheat straw, a large part of the straw and stalks are utilized for cooking and heating in rural areas at low efficiencies. Hence, horticultural residue and forest and nursery waste contain a large potential for energy production in China.
Agricultural deposits are derived after the harvesting of maize, rice, cotton stalks, wheat straw, and husks, and they are mostly sourced from northeastern and central China, where huge stalk and straw reserves are found. Since these materials are byproducts of farming and not directly consumed by humans, they are seen as a potential alternative to produce clean energy without evading the food supply.
The European biomass gasification market had a significant income share in 2022, and it is projected to develop at a huge CAGR over the estimation period. This development can be credited to the clear government strategies for the sustainable production of energy, as well as the technological advancements in the region. Besides, the availability of incentives and subsidies for setting up biogas plants by European governments are expected to advance the utilization of biomass for the generation of heat and electricity across the region.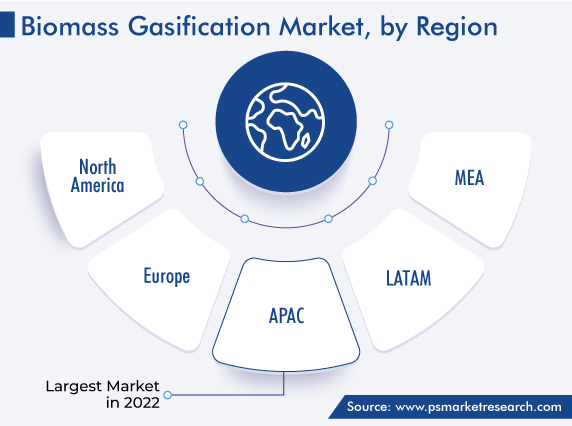 Increasing Demand for Renewable Sources of Energy Is Driving Market
The demand for renewable energy sources is rising because of the depletion of fossil fuel reserves and the growing awareness of the destructive environmental impact of petroleum and its derivatives. Moreover, the rising requirement for clean, cost-effective, and eco-friendly electricity and heat production will drive the market.
In contrast to other sources, sustainable sources have almost no or an extremely little ecological impact. Biomass is an environment-friendly power source as it is sourced from wood or forest waste. It can comprise logs, sawmill waste, along with dried wood strands. In addition to being a natural resource, it is carbon-neutral, which means it results in no GHG emissions upon gasification.
Key Players in Biomass Gasification Market Are:
Synthesis Energy Systems Inc.
Bellwether Recuperative Gasification Ltd.
Valmet
Chanderpur Group
Infinite Energy Pvt. Ltd.
Enersol Biopower Private Limited
Yosemite Clean Energy
Syncraft
Fulcrum BioEnergy
DP CleanTech
Market Size Breakdown by Segment
The study uncovers the biggest trends and opportunities in the market, along with offering segmentation analysis at the granular level for the period 2017 to 2030.
Based on Source
Agriculture
Forest
Animal
Municipal
Based on Gasifier Technology
Fixed Bed
Fluidized Bed
Entrained Flow
Based on Application
Power
Chemicals
Hydrogen
Transportation
Ethanol
Biochar
Regional Analysis
North
Europe

Germany
U.K.
France
Italy
Spain

Asia-Pacific

Japan
China
India
South Korea
Australia

Latin America
Middle East and Africa

Saudi Arabia
South Africa
U.A.E.