Market Overview
The global biological safety cabinet market generated revenue of USD 276.8 million in 2022, which is expected to witness a CAGR of 7.9% during 2022–2030, to reach USD 507.1 million by 2030. This can be ascribed to the rise in research and development activities in the fields of pharmaceuticals, biotechnology, and life sciences, to find safe and effective drugs. Moreover, the quick progress in the creation of infectious illness vaccines and the growth in the prevalence of chronic diseases drive the market growth.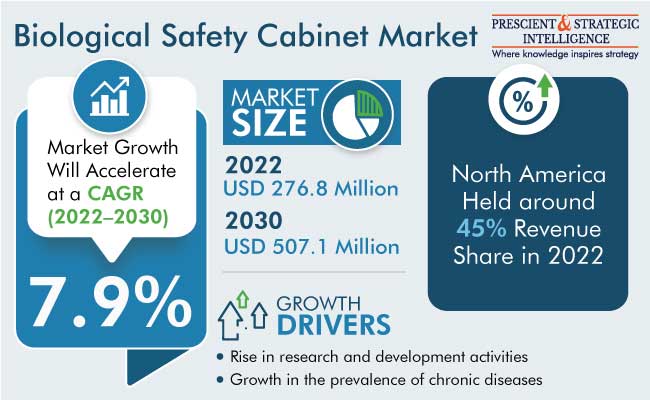 R&D spending has risen significantly in recent years, which has resulted in an increase in the number of labs being established, thereby driving the need for biosafety cabinets. Currently, 4 out of every 10 drugs in the development phase are biologics, as a result of the rising need for orphan drugs and customized medications.
Moreover, an evolution in the regulatory guidelines for guaranteeing appropriate biosafety for the people working in laboratories has been brought on by the SARS-CoV-2 epidemic. For instance, according to the Centers for Disease Control and Prevention, clinical laboratories must handle patient samples, such as urine, blood (and blood components), and respiratory specimens, while following strict precautions. The World Health Organization and other regulators are expected to issue more laboratory biosafety recommendations in the future, which will lead to a surge in the demand for these cabinets worldwide.
Rising R&D Spending Will Support Product Demand
Due to the major improvements in the R&D ecosystem over time, laboratory processes, equipment, and reagents have been modernized, which will drive the Sale of biological safety cabinets in the near future. Similarly, healthcare facilities are rapidly enhancing their technologies and services with the help of government initiatives and funding.
Additionally, a variety of laboratory tasks, such as sample preparation and storage, are being automated to save money and time. Automated laboratory processes help maintain high productivity, while reducing errors and contamination levels, thus enhancing overall personnel and patient safety.
Moreover, a better airflow, energy efficiency, adjustable-height stands, in-built UV lights, and armrests, which make working more comfortable and lower the danger of infection, are among the latest advancements in biological safety cabinets. Additionally, because they have a digital interface, which makes it simpler to control their operations, process complexity reduces, which would be a key driver of the future growth of the industry.
Enhancement of Healthcare Infrastructure Globally
In developing countries, governments are investing heavily to enhance the facilities for manufacturing biologic and pharmaceutical drugs, set up new labs, and offer better healthcare all over. Developing nations are also modifying their policies to expand their healthcare infrastructure budget, to encourage the innovation of pharma products, such as vaccines.
Additionally, in September 2021, the U.S. government gave firms USD 54,565 million to support scientific experimentation, the majority of which is for the healthcare sector. Moreover, although the pandemic affected almost all social services, the healthcare sector became more important than ever. As a result, in India, expenditure on this industry rose from INR 2.73 lakh crore in 2019–20 (pre-COVID-19) to INR 4.72 lakh crore in 2021–22, an increase of nearly 73%.
Biological Safety Cabinet Market Report Coverage

| | |
| --- | --- |
| Report Attribute | Details |
| Historical Years | 2017-2022 |
| Forecast Years | 2023-2030 |
| Market Size in 2022 | USD 276.8 Million |
| Revenue Forecast in 2030 | USD 507.1 Million |
| Growth Rate | 7.9% CAGR |
| Report Scope | Market Trends, Drivers, and Restraints; Revenue Estimation and Forecast; Segmentation Analysis; Impact of COVID-19; Companies' Strategic Developments; Market Share Analysis of Key Players; Company Profiling |
| Segments Covered | By Type; By End User; By Application; By Region |
Explore more about this report - Request free sample pages
Class II Category Accounted for Largest Share
This market is categorized into class I, class II, and class III. Among these, the class II category accounted for the largest revenue share, around 50%, in 2022, and it is further expected to maintain its dominance during the forthcoming period. This is owing to the high adoption of class II biosafety cabinets because they provide strong protection to the sample, as well as the user and the surrounding environment. These variants are essentially used to protect those carrying out microbiological work or sterile pharmacy compounding.
In addition, the class I category will show significant growth during the coming period. This is because these variants are used as a ventilated unit for personnel and environment protection in an effective and budget-friendly way. These alternatives are suited to basic procedures, such as those carried out in a small R&D facility without much complex equipment.
Pharmaceutical and Biotechnology Sector To Account for Major Market Share
Based on end user, the pharmaceutical and biotechnology companies category held the largest revenue share, around 70%, in 2022, and it is further expected to maintain its dominance during the forecast period. This is attributed to the rising demand for biologics and the fact that microbial contamination of pharmaceutical drugs leads to a negative impact on patients health, with the potential to significantly raise the risk of long-term morbidity and even mortality. Thus, pharmaceutical and biotechnology companies need to manufacture safe and effective drugs, for which these cabinets are vital.
Moreover, this sector depends on a robust R&D ecosystem, which, in turn, depends on advanced technologies to reduce contamination in the sample and personnel.
Furthermore, the academic and research institutes category has a significant growth potential during the forecast period, due to the increase in the R&D activities in all spectra of the healthcare sector. Moreover, almost all academic institutes, especially universities, have research facilities dedicated to medical devices, pharma and biologic drugs, and disease diagnosis. Moreover, with universities receiving substantial grants from governments for medical research, it has become imperative for them to have biosafety cabinets.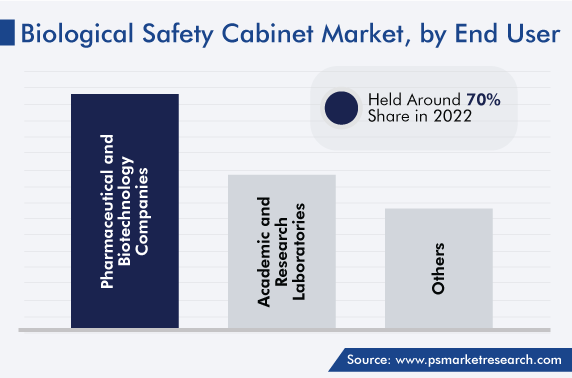 North America Dominates Market
Geographically, North America held the largest share, of around 45%, in 2022, and it is set to grow at a robust CAGR during the projection period, due to the substantial research and development activities in the pharmaceutical and biotechnology sectors, as well as the elevated risk of communicable diseases in this region. Other major drivers for product sales in the continent are the existence of well-known healthcare businesses, a solid vaccination and epidemiologic research foundation, and robust support for R&D initiatives. Additionally, the rapid uptake of new technologies and the increase cases of chronic diseases both support the expansion of the demand for such cleanroom equipment in the region.
Additionally, North America boasts advanced healthcare infrastructure and supportive government policies for the sale of healthcare-related goods, as well as for reimbursements for medical procedures. Moreover, companies in the region are focusing on the development of innovative products, to cater to the healthcare sector. For instance, Labconco introduced its upgraded Axiom biosafety cabinets in May 2021. Similarly, its updated Logic+ biosafety cabinets, featuring stronger safety protocols, ergonomic design, and an operating system, were revealed in May 2019.
The U.S. was the higher revenue contributor to the North American industry in 2022, accounting for more than 90% share. The dominance of the country on the regional market is mainly driven by the presence of a large number of hospitals, which has led to a high demand for wipes, disinfectants, gloves, and other cleanroom consumables, along with these cabinets.
Moreover, Europe will show significant growth for this market, with the advancement of the healthcare infrastructure and favorable policies for taking safety initiatives for their employees and the peoples. In addition, this region has built new R&D infrastructure for develop the growth of region which, in turn, could drive the market of biological safety cabinet market.
Germany dominates the industry in Europe. This is primarily due to the increasing application of different biological safety products and the large pool of skilled people who can use them effectively in the region. In addition to that, the rising prevalence of infectious diseases, which is driving the usage of these cabinets to prevent contamination, is propelling the market in Europe. Furthermore, the high utilization rate of these cabinets in healthcare settings, together with the existence of a comparatively high number of drug manufacturers in the region, is contributing to Germany's significant market share.
The market in France is expected to witness notable growth during the forecast period. This can be attributed to the improving healthcare infrastructure, presence of numerous market players offering cleanroom solutions, increasing prevalence of chronic diseases, and rising initiatives by healthcare organizations to encourage the use of cleanrooms in the country. The growth in the pharmaceutical and medical device industries is also supporting the growth of the market in the country.
APAC has been witnessing a rise in the prevalence of infectious diseases; thus, encouraging the demand for cleanroom technology solutions including biological safety cabinets in healthcare settings. In addition, the growing adoption of cleanroom solutions for the manufacturing and packing of biotechnology products is supporting the market growth in the region. Furthermore, the wide application of cleanroom technology in the manufacturing of sterile pharmaceuticals and medical devices is a key factor contributing to the market growth.
Japan held the largest share in the APAC biological safety cabinet market. This can be majorly attributed to the increasing healthcare expenditure, growing demand for certified products, and rising focus on clean and sterile conditions for product manufacturing.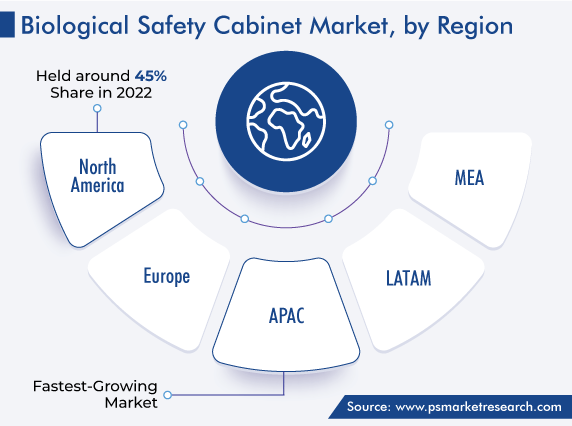 Top Providers of Biological Safety Cabinets Are:
Thermo Fisher Scientific Inc.
Kewaunee Scientific Corporation
ACMAS Technologies (P) Ltd.
Germfree Laboratories Inc.
NuAire Inc.
Air Science LLC
Berner International
BIOBASE Group
Erlab inc.
Market Size Breakdown by Segment
This fully customizable report gives a detailed analysis of the market from 2017 to 2030, based on all the relevant segments and geographies.
Based on Type
Class I
Class II
Class III
Based on End User
Pharmaceutical and Biotechnology Companies
Academic and Research Laboratories
Others
Based on Application
Geographical Analysis
North America
Europe

Germany
U.K.
France
Italy
Spain

Asia-Pacific

Japan
China
India
South Korea
Australia

Latin America
Middle East and Africa

Saudi Arabia
South Africa
U.A.E.