Market Overview
In 2022, the biocomposites market size stood at $29.1 billion, which projected to witness 17.2% CAGR during 2022–2030, reaching $103.6 billion by 2030.
The growing public awareness of environment-friendly materials and the government initiatives to replace plastics with such alternatives are the two key drivers for the market. Additionally, the increasing need of the automotive industry to improve passenger safety and lighten the vehicles is set to drive material demand.
The major benefits of such materials are their low weight and biodegradability. The world is currently dealing with the alarming issue of mounds of plastic trash. Plastic cannot dissolve and will not do so for many centuries. Hence, governments all across the world are putting strict limitations on the use of these materials and promoting eco-friendly alternatives.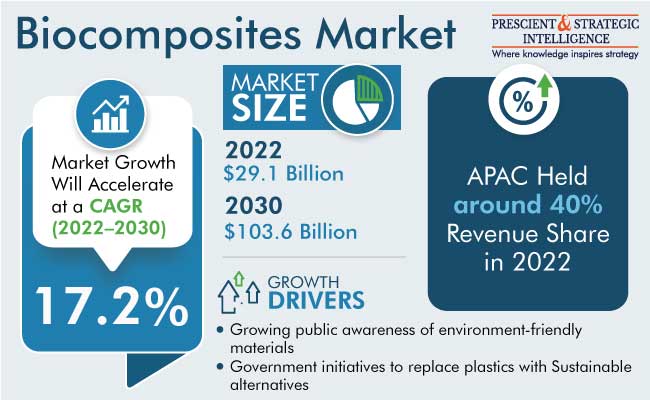 Increasing Demand for Green Composites from Automotive Industry
The automotive industry held a share of around 20%, in terms of value, in 2022. It is witnessing a rising demand for lightweight materials, to develop fuel-efficient vehicles that meet government standards, such as the Corporate Average Fuel Economy standards of 54.5 mpg by 2025 and the EU CO2 emission limited 95 g/km, enforced in 2020. Biocomposites are not only lightweight, but they also reduce the dependence on non-renewable resources, such as conventional petroleum-based polymers. Additionally, they provide huge energy and cost savings to manufacturers. These factors have prompted Ford Motor Co. and other automakers to invest in research on these products.
NFCs are widely used in the interior parts of automobiles, such as doors, driver cabins, windows, and dashboards. On the other hand, rear shelves, seat bases, trims for and spare wheels and trunks, headliners, and interior trims for doors are majorly constructed out of WPCs. Hence, owing to the increasing usage of these materials in automobiles, almost all North American and European original equipment manufacturers (OEMs) have incorporated them into their ambitious weight reduction plans, in response to the strict environmental regulations.
Biocomposites Are immensely Popular with European Automotive Manufacturers
Europe holds a share of more than 30%, in terms of value, in 2022. The growth is driven by the increasing demand for these products from the automotive and construction sectors.
Depending on the application, wood flour, wood fibers, bast fibers, such as hemp, flax, jute, and kenaf; bamboo, cork, and fibers of sunflower seed shells are used for the production of composites. The application areas range from technical applications and furniture to consumer goods that are produced mainly through injection-molding, 3D printing, and roto molding.
Currently, some European automotive manufacturers use components that contain as much as 70% natural fibers, such as kenaf and hemp; and only 30% oil-based resin. Additionally, the region has a strong presence of aircraft manufacturing companies, such as Airbus SE, EuroJet Turbo GmbH, ArianeGroup, and European Satellite Navigation Industries. Natural composites provide strong load carrying capacities and high heat and corrosion resistance to aircraft parts; thus, with the increase in the production of aircraft, the demand for such materials will also increase.
Biocomposites Market Report Coverage

| | |
| --- | --- |
| Report Attribute | Details |
| Historical Years | 2017-2022 |
| Forecast Years | 2023-2030 |
| Market Size in 2022 | $29.1 Billion |
| Revenue Forecast in 2030 | $103.6 Billion |
| Growth Rate | 17.2% CAGR |
| Report Scope | Market Trends, Drivers, and Restraints; Revenue Estimation and Forecast; Segmentation Analysis; Impact of COVID-19; Companies' Strategic Developments; Market Share Analysis of Key Players; Company Profiling |
| Segments Covered | By Type; By Fiber Type; By Application; By Region |
Explore more about this report - Request free sample pages
North Americas Holds Significant Share of Global Revenue
North America held a share of around 20% in 2022. This is ascribed to the fact that the automotive sector in the region is widely adopting bio-fiber composites owing to their lower weight, ease of recycling, carbon dioxide neutrality while burning, and lower energy consumption while being manufactured. Additionally, the automotive industry is augmenting its usage of high-performance bio-based materials to meet sustainability targets.
Moreover, a large number of manufacturers of such materials, including Trex Company Inc., Hughes Brothers Inc., Advanced Environmental Recycling Technologies Inc., and Strongwell Corporation, are adopting various organic and inorganic strategies, such as product developments and geographical expansions, to enlarge their customer base and increase their penetration in the construction industry of the region.
North America also has a well-established aerospace industry, with manufacturing facilities for all types of aircraft, such as rotorcraft, civil aircraft, and spacecraft. The region is a key exporter of commercial aircraft to APAC, MEA, and Europe. Further, lightweight materials have become a major theme of research in the aerospace industry in recent years, with the aim to achieve fuel savings.
Moreover, APAC held the largest share in the global market in 2022, around 40%, by value, on account of the rapid industrialization. Essentially, the market growth in the region is fueled by the increasing demand for these materials from the automotive and consumer goods industries. Additionally, the surging requirement for biodegradable, non-toxic, and moisture- as well as thermally resistant materials in the building and construction industry is set to drive the market in this region.
Further, APAC is turning into a hub for biocomposite manufacturers, and it is expected to report a high demand for these materials in the coming years. Furthermore, such materials are increasingly being employed in fabricating cooling tower units, to resist corrosion due to moisture.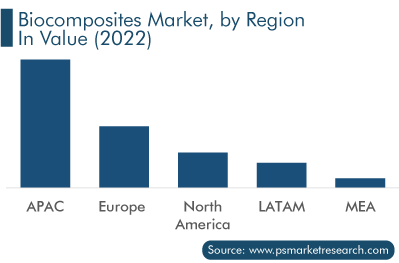 Growing Demand in Construction and Furniture Industries
The increasing awareness about the advantages of biocomposites is fueling the demand for them across industries. For instance, in the construction industry, they are used in flooring, decks, decorative paneling, roofing, doors, windows, and framing of walls and wallboard. The growing construction activities in emerging economies due to the massive government investments to improve public infrastructure is expected to boost the industry revenue significantly.
For instance, the Kingdom of Saudi Arabia's expansive infrastructure projects, including the Qiddiya Entertainment City, Red Sea Project, Neom City, and King Abdullah Financial District, under the Saudi Vision 2030 development plan, are expected to accelerate the growth of infrastructure and support business and corporate expansion.
Overall, around $1 trillion worth of projects are planned or under construction in the kingdom, which will propel the demand for biocomposites in Saudi Arabia. Apart from AMAALA, Jabal Omar, King Salman Park, Diriyah Gate, and other mega construction projects, the Saudi government has also invested in home maintenance startups, including B8ak, Ajeer, FalconViz, and Muqawiloon.
Top Biocomposite Manufacturers Are:
Meshlin Composites Zrt.
AL.P.A.S. s.r.l.
MCG BioComposites LLC
JELU-WERK J. Ehrler GmbH & Co. KG
FlexForm Technologies
Deck Store SC
UFP Industries Inc.
Trex Company Inc.
Tecnaro GmbH
Fiberon LLC
Biocomposites Market Size Breakdown by Segment
This fully customizable report gives a detailed analysis of the market from 2017 to 2030, based on all the relevant segments and geographies.
Based on Type
Structural
Non-Structural
Based on Fiber Type
Wood–Plastic Composites (WPCs)
Natural Fiber Composites (NFCs)
Based on Application
Construction
Automotive
Consumer Goods
Aerospace
Packaging
Medical
Geographical Analysis
North America
Europe

Germany
U.K.
Russia
France

Asia-Pacific
Latin America
Middle East & Africa

Saudi Arabia
South Africa