Market Overview
Generating around $2.0 billion revenue in 2021, the biochar market size will advance at a CAGR of over 10% during 2021–2030, primarily due to the increasing production of this material. According to the European Biochar Industry Consortium, approximately 21,000 tons of biochar were manufactured in Europe in 2020. Similarly, the U.S. Biochar Initiative (USBI) estimated the annual production in the U.S. alone at 45,000 tons in 2017–2018, and it could be as high as 70,000 tons in the coming years.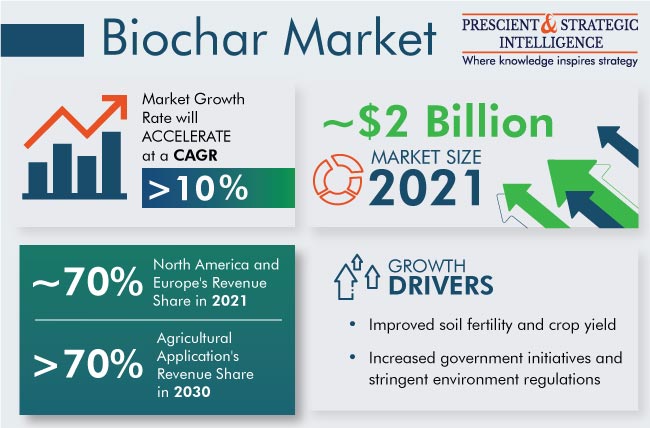 Other factors propelling the consumption of the commodity are the rising awareness on its benefits for the environment, low cost of raw materials, and government policies that support sustainable waste management and environmental protection. Additionally, it is being increasingly used in energy production and livestock feeding.
The global biochar industry received a boost during the COVID-19 pandemic. With the rising number of hospitalizations, a considerable volume of hazardous medical waste was generated at hospitals, clinics, and other healthcare facilities, thus posing serious threats to public health and the environment without proper management. Traditional disposal methods, such as incineration, landfilling, and autoclaving, release toxic gases, occupy large tracts of land, and are generally unsustainable. In this regard, putting the medical waste through pyrolysis to yield useful bioproducts has the potential to alleviate the situation. Besides, medical waste possesses a high hydrogen and carbon content. Therefore, the pyrolysis of medical waste can not only offer an environmentally sustainable disposal solution, but also generate valuable products, such as bio-oil and biochar.
Much of Biochar Being Produced via Pyrolysis
Among the various technologies covered in the biochar market report, pyrolysis is used the most, which is why it will yield more than 60% of the revenue for industry players in the coming years. Pyrolysis is an effective and environmentally friendly waste treatment method as it can treat low-value, high-ash waste, such as sewage and deinking sludge, which cannot be treated by other methods. Further, this process can be used for a wide variety of waste, including waste with large particle sizes and a high moisture content. Another advantage of pyrolysis is that it can be used at small facilities, thus offering cost-effectiveness. These advantages, combined with its dependability make it suitable for small and medium-sized businesses.
Hot Revenue Pocket
The market outlook for biochar is very promising and its production volumes and demand is expected to grow in the coming decade. The existing production capacity may have to increase significantly, which brings opportunities for investors who want to invest in manufacturing platforms to gain scale in certain geographies. This will ultimately increase the demand of pyrolysis as it is one of the most acceptable techniques in this field.
Available Opportunities – It is observed that private equity style opportunities either as a greenfield investment or through an investment in an existing manufacturer. There is an emerging field of "pre-credits" being developed to finance biochar production facilities upfront through the sale of carbon removal rights. This kind of financing may be combined with traditional equity and debt funding. In all cases, securing competitive raw material, achieving the right scale, and having a solid go-to-market strategy is critical.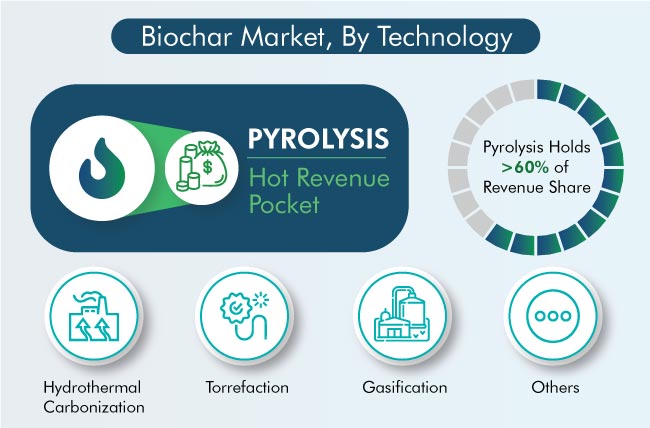 Agricultural Applications Account for Highest Consumption of Biochar
The majority of the biochar produced around the world is expected to be consumed in agriculture. Therefore, this application is expected to account more than 70% biochar market share by value in 2030. Since there is no need for additional processing, this product can be mixed with nutrients and used as a soil conditioner. It has been in continuous usage in agriculture over centuries as an intrinsic additional component of the soil organic matter; accounting for up to 30% of the organic matter in fertile soil presently. In addition, the soil surface area, bulk density, porosity, aggregate stability, penetration resistance, and moisture content are all improved by biochar.
Woody Biomass Is Largest Source of Biochar due to Its Cost-Effectiveness
Woody biomass has been the most-widely utilized feedstock in the market. Based on source, this category is expected to progress with a CAGR of around 10% during the forecast period. Woody biomass contains minimal amounts of sulfur and heavy metals and its particulate emissions are controllable. Additionally, it is a relatively cheap raw material for the production of biochar.
Driven by Government Support, Developed World Is Largest Consumer of Biochar
in 2021, North America and Europe held an around value 70% share in the global biochar market. The increasing biochar production capacity, in part, due to the strong government support for it, is leading to its easy availability and high-volume consumption. For example, the Tierpark in Berlin, Germany, one of the largest landscaped animal gardens in Europe, is engaged in a project supported by the European Commission that invests in the biochar technology to improve the CO2 footprint of its waste management system. In the same way, Lund in Sweden is investing in it as part of its organic waste management strategy and utilizing it as a soil amendment material for the municipality's trees and landscaped areas.
Biochar Consumption Rising due to Government Initiatives and Supportive Research
Biochar is becoming increasingly recognized as a promising investment for companies looking to meet their net-zero goals. It is also being considered by the Intergovernmental Panel on Climate Change (IPCC), Project Drawdown, the Royal Society, and the Exponential Roadmap Initiative as a way to achieve net-zero emissions.
Moreover, an array of research studies and awareness campaigns have been conducted to unearth the benefits of this commodity and encourage its widespread usage. For instance,
UK Research and Innovation (UKRI) will invest GBP 31.5 million in five interdisciplinary projects and one large-scale greenhouse gas (GHG) removal research project, which are planned to be completed in the coming years. They will investigate the use of biochar as a viable method of carbon sequestration. Testing will take place at arable and grassland sites in the Midlands and Wales, a sewage disposal site in Nottinghamshire, former mines, and railway embankments.
The Potential for Biochar to Enhance Sustainability in the Dairy Industry, a report published by Ithaka Institute and Cornell University, summarizes peer-reviewed literature on the use of this product in dairy operations. The research discusses its usage as a bedding material, feed supplement, manure management technique, and method to address the environmental challenges associated with manure.
Biochar Producers Securing Funding to Widen Their Customer Base
Biochar market players are pursuing investments in order to expand their product portfolio and develop their technology. Furthermore, businesses such as Microsoft and Shopify are purchasing biochar carbon credits to offset their carbon emissions. Moreover, Nasdaq Inc. became a controlling shareholder in Puro.earth Oy, a trading platform that buys carbon credits from engineered carbon removal methods, such as biochar, in June 2021. In addition,
In October 2021, Standard Biocarbon Corporation secured $2 million (EUR 1.7 million) in financing from three Maine, U.S.-based institutions, to purchase equipment for producing biochar at the former site of the Great Northern Paper Mill in East Millinocket.
In September 2021, Sustainable Thinking Scotland, an environmental social enterprise which encourages local sustainable food production, and provides community-scale green waste recycling, secured a EUR 190,000 investment from FirstPort and Social Enterprise Scotland's Catalyst Fund. This fund was granted for the development of its biochar water remediation technology, which involves baking waste wood and other biomass at high temperatures, which can draw down carbon from the atmosphere into the soil, storing it for hundreds to thousands of years.
Key players in global biochar market are:
Agri-Tech Producers LLC
Biochar Products Inc.
Cool Planet Energy Systems
Vega Biofuels Inc.
The Biochar Company
Phoenix Energy
Biochar Supreme LLC
Pacific Pyrolysis
Black Owl Biochar
Biochar Now
Airex Energy
American BioChar Company
Bioforcetech Corporation
ECOERA
PYROPOWER
ETIA S.A.S.