Biobanking Market Overview
The global biobanking market generated $25.8 billion revenue in 2018 and is projected to advance at a CAGR of 6.2% during the forecast period, mainly on account of increasing prevalence of chronic conditions, and rising number of genomic research activities for studying these diseases across the globe.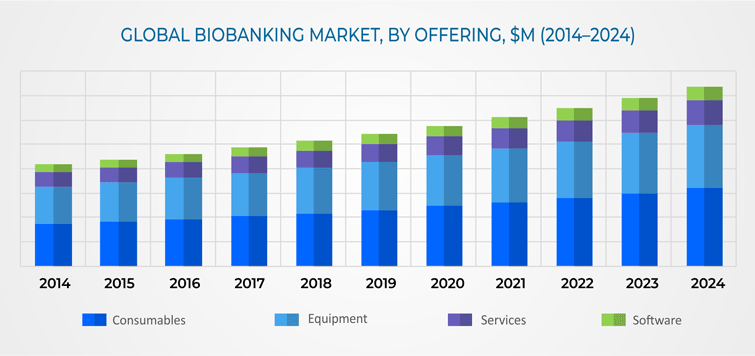 On the basis of offering, the biobanking market is classified into consumables, equipment, services, and software. Among these, it is expected that consumables would be the largest category in terms of revenue in the coming years. This is mainly due to the fact that consumables are purchased repeatedly, while software and equipment are counted as one-time purchase in the biobanks. This category is projected to hold more than 40.0% share in the global market by 2024.
The biobanking market is categorized into manual and automated, on the basis of storage type. It is expected that the market for automated storage biobanks would witness the faster growth, progressing at a CAGR of 7.0%, during the forecast period. Factors like growing technological advancements and need of contamination-free samples are expected to make it the faster growing category during the forecast period.
Biobanking are used for various applications, such as clinical research, life science and medical research, and regenerative medicine. Among these, clinical research accounted for the largest share, of 49.2%, in 2018. This can be attributed to the fact that clinical research for determining the safety and efficacy of medications, diagnostic devices, and products, is increasing globally.
The utilities for which biobanks are known to be used are research, routine, and epidemiology. Routine biobanking involves the storage and maintenance of specimens. With the increasing awareness about the importance of storing cord blood and stem cells, it is expected that this category will generate a large chunk of revenue in the biobanking market in the coming years.
Biobanking Market Dynamics
There is an increasing trend of preserving cord blood cells of new born babies. The cord blood helps in curing any disease that can happen to the child at any age. It is a rich source of hematopoietic stem cells, which have the properties of self-renewal as well as the ability to differentiate into myeloid and lymphoid cell lineages. Therefore, it helps in the treatment of diseases, wounds, or trauma that occur at any stage of life. Thus, with the increasing awareness about the advantages of storing umbilical cord, biobanks that store cord blood cells are thriving at a fast pace in various regions, eventually leading to the growth of the biobanking industry across the globe.
Besides, with the increasing prevalence of chronic conditions, such as Alzheimer's disease, Parkinson's disease, and diabetes, there is an increasing demand of cord blood and stem cells globally, since these therapies can help in tissue grafting, organ transplantation, development of regenerative medicine, and drug testing. This leads to an increase in the demand of biobanks, thereby, boosting the growth of the market.
Moreover, the increasing research activities focusing on the unmet needs for various chronic diseases, such as diabetes, cancer, ischemic heart disease, and respiratory disorders, government and national institutes/bodies have increased funding for biobanks to preserve, analysis, transport, and collection of samples. For instance, in May 2017, 11 German biobanks received $16 million, by the German Federal Ministry of Education and Research (BMBF). Therefore, with increasing funds being provided to biobanks, it is expected that the biobanking market will flourish in the coming years.
Biobanking Market Competitive Landscape
In the recent years, major players in the biobanking market have taken several strategic measures, such as product launches, collaborations, acquisitions, and product approvals to sustain and improve their position in the industry. For instance, in April 2019, Thermo Fisher Scientific Inc. expanded its analytical instruments portfolio by introducing Thermo Scientific Vanquish MD High Performance Liquid Chromatography (HPLC) system, the Thermo Scientific TSQ Altis MD Series mass spectrometer, and the Thermo Scientific Quantis MD Series mass spectrometer. These instruments have a wide application in processing of cells and tissues obtained from biobanks.
In March 2019, Becton, Dickinson and Company launched automated flow cytometry sample preparation instrument with CE-IVD certification known as, BD FACSDuet. This instrument helps in understanding the characteristics of cell as well as counting.
Furthermore, in February 2019, Promega Corporation launched Maxwell RSC miRNA plasma and serum kits, which help in the purification of nucleic acids for researchers in the field of oncology. These kits can be specifically utilized in processing samples and specimens obtained from biobanks.
Thermo Fisher Scientific Inc.; Merck KGaA; Promega Corporation; Becton, Dickinson and Company; Hamilton Company; Avantor Inc.; Tecan Group Ltd.; QIAGEN N.V.; PHC Holdings Corporation; Brooks Automation Inc.; AutoGen Inc.; BioCision; and BioLife Solutions Inc. are the leading product manufacturers in the biobanking market. Other than these players, AlphaCord LLC, Cells4Life Group LLP, BioKryo GmbH, and LGC Biosearch Technologies are some eminent service providers in this market.