Market Overview
The global basalt fiber market size was $283.8 million in 2021, and it is projected to reach $798.6 million by the year 2030, advancing at a CAGR of 12.2% during 2021–2030. This can be attributed to the fact that glass fiber can be replaced with basalt fiber in polymer matrix composites as a potential polymer reinforcing material. This material is considered environment-friendly and has similar properties to carbon fiber. Therefore, it has various applications in nuclear power, engineering, civil construction and concrete reinforcements, composite tissues, plastics, prepregs and laminates, electro-technical applications, and in hot gas filtration processes.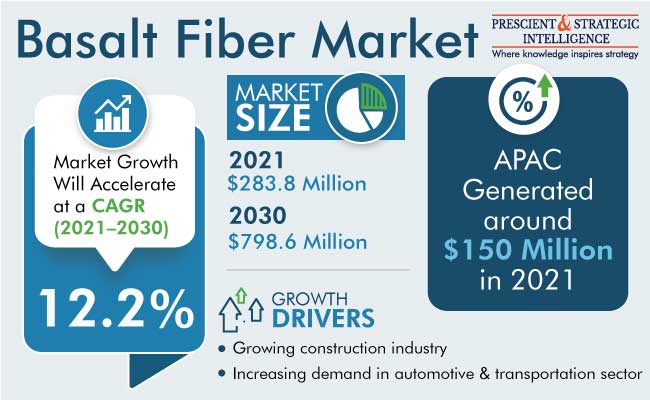 Basalt Fabrics Holds Largest Market Share
Fabrics held the largest basalt fiber market revenue share in the year 2021, and this category is expected to grow at a CAGR of over 12% during the forecast period. Basalt fabrics are used with resin for the selective reinforcement of laminates, sleeve or pipe winding, seams, and molding, and they are compatible with polyester, epoxy, and vinyl ester.
Furthermore, they can be used for the suppression of fires that start when highly flammable substances, particularly gasoline, ignite. In industrial ventilation systems, this material can increase fire resistance and, thus, offer stronger safety. The lower cost of fabrics made from basalt than that of alternatives essentially drives their usage.
Continuous Form of Basalt Fiber Is Highest Revenue Generator in Market
The continuous form of basalt fiber held around 90% market revenue share in 2021, and the category is expected to grow with a compound annual growth rate of around 13% in the coming years. This can be attributed to the fact that continuous basalt fiber with a diameter of less than 14 micrometers has almost double the tensile strength and 15–30% greater modulus of elasticity than e-glass fibers.
Moreover, an increase in the spending on home remodeling and retrofitting activities is expected to drive the demand for non-woven fabrics and the continuous basalt fiber market, owing to the latter's low weight, flexibility, and corrosion resistance. Additionally, the rise in the population's disposable income and standard of living is expected to increase the demand for continuous basalt fibers in the automotive (majorly EVs) and aerospace industries.
Basalt Fiber Market Report Coverage

| | |
| --- | --- |
| Report Attribute | Details |
| Historical Years | 2017-2021 |
| Forecast Years | 2022-2030 |
| Market Size in 2021 | $283.8 Million |
| Revenue Forecast in 2030 | $798.6 Million |
| Growth Rate | 12.2% CAGR |
| Report Scope | Market Trends, Drivers, and Restraints; Revenue Estimation and Forecast; Segmentation Analysis; Impact of COVID-19; Companies' Strategic Developments; Market Share Analysis of Key Players; Company Profiling |
| Segments Covered | By Form; By Usage; By Product; By End Use; By Region |
Explore more about this report - Request free sample pages
Market Opportunities: Growing Adoption of Environment-Friendly and Recyclable Materials
The market is expected to grow in the coming years as the construction of residential facilities will remain buoyant due to the low interest rates on home loans and subsidies provided by governments. The tensile strength of basalt-fiber-reinforced plastic is 2.0–2.5 times higher and the density 4.2–5.0 times lower than that of steel. One kg of basalt-plastic-reinforcement replaces 9 kg of steel, thus reducing the weight of construction structures.
Major industries that are increasingly integrating this material into their products are construction & infrastructure, automotive & transportation, electrical & electronics, marine, and wind energy.
The market is going to offer lucrative opportunities with the increasing demand for environment-friendly and easily recyclable fiber and fiber-reinforced composite products. Governments are supporting the adoption of eco-friendly materials as they pose no environmental risks. Moreover, basalt fiber production does not involve the use of any harmful substance, chemical, pigment, or solvent.
Developed countries, including Germany, the U.S., and Japan, are focusing on the use of environment-friendly products instead of petroleum-based products. For instance, Europe insists on the use of bio-based materials, encourages the recycling of vehicle components, and makes automotive manufacturers responsible for disposal at the end of vehicles' service life.
Use of Basalt Fiber in Construction Industry Holds a Significant Market Share
The construction industry is one of the major contributors in the revenue generation of the industry. Material producers are expected to witness a huge demand from the construction and automotive industries due to the resistance of basalt fiber to extreme temperatures and chemicals, low water absorption nature, high mechanical strength, cost-effectiveness, and durability.
The material is used in construction because of its stability under high temperatures and on contact with acids and, especially, alkalis. It can be used for the following purposes:
As a reinforcement material for airfield taxiways, takeoff and landing strips, and concrete-covered motorways;
Incombustible and fireproof composites for nuclear and thermal power plants, oil processing and chemical factories, and dwarf walls (fire-resistant constructions) of skyscrapers;
Filters for industrial and domestic gutter filtration and for mitigating smoke and dust emissions from industrial enterprises.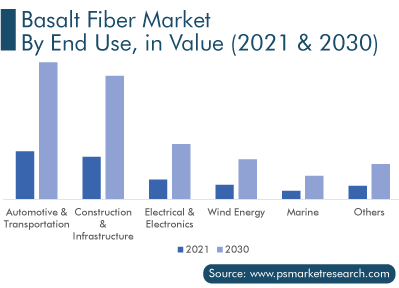 Demand for Basalt Fiber Composites To Record Faster Growth
The demand for composites made from basalt fibers is expected to observe the higher CAGR, of over 12%, during the forecast period. This is because epoxy-bonded pultrusion basalt-fiber composites containing 80% fibers (9 μm–15 μm in diameter) provide mechanical characteristics superior to those of glass-fiber-reinforced composites.
Apart from this, basalt–plastic composite bars have lower specific gravity, low water absorption higher corrosion resistance, and better workability than their metallic counterparts.
APAC Is Largest Market for Basalt Fibers
In 2021, the APAC market generated the highest revenue, of around $150 million. This is primarily attributed to the rampant industrialization and urbanization in emerging economies across the APAC region.
Moreover, Chinese firms are investing to create a certain type of high-tech fiber with affordable prices and good performance, to keep up with the country's changing industrial trends. This is because basalt fiber is used extensively in both military and non-military fields, including aerospace, construction, chemical, pharmaceutical, electronics, and agriculture.
Moreover, Europe holds the third position in the market, in terms of revenue generation. There are a number of companies in Russia and Ukraine that manufacture and use basalt composites. Due to the strict rules that are in place in the EU on greenhouse gas emissions, including from automobiles, the region has seen a rise in the demand for basalt fibers in recent years.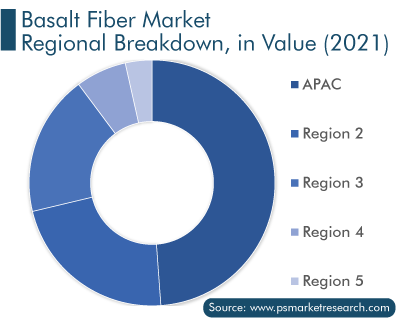 To Increase Market Share, Companies Involving in Product Launches and Facility Expansions
In April 2021, Kamenny Vek introduced three new expanded product lines, namely Basalt Direct Roving 22-Micron 2400 Tex, Basalt Assembled Roving 18-Micron 4800 Tex, and Basalt Assembled Roving 18-Micron 3000 Tex.
Key Players in Global Basalt Fiber Market Are:
Kamenny Vek
JFE RockFiber Corp.
Zhejiang GBF Basalt Fiber Co.
Mafic SA
Basalt Fiber & Composite Materials Technology Development Co. Ltd.
Technobasalt-Invest LLC
ISOMATEX SA
Sudaglass Basalt Fiber Technology
INCOTELOGY GmbH
Shanxi Basalt Fiber Technology Co. Ltd.
Basalt Fiber Market Size Breakdown by Segment
The study offers a comprehensive market segmentation analysis along with market estimation for the period 2017-2030.
Based on Form
Based on Usage
Composites
Non-Composites
Based on Product
Fabric
Roving
Chopped Strands
Mesh & Grids
Based on End Use
Automotive & Transportation
Construction & Infrastructure
Electrical & Electronics
Wind Energy
Marine
Geographical Analysis
North America
Europe

U.K.
Germany
France
Spain
Italy

Asia-Pacific

China
India
Japan
Australia
South Korea

Latin America
Middle East and Africa

Saudi Arabia
South Africa