Market Overview
The global ballistic protection market size stood at $12,478.08 million in 2021, and it will grow at a CAGR of 5.01% during 2021–2030, to reach $19,378.54 million by 2030. This is majorly due to the frequent use of ballistic protective materials in military and law enforcement organizations all around the world, to shield law enforcement personnel, military personnel, and vehicles from projectiles, mines, mortars, falling glass, explosives, and other dangerous materials. Moreover, these protective materials function in an unusual way, typically when they are struck by explosives or bullets.
In addition, the expansion of the homeland security forces, including police, first responders, and VIP security staff, and the increase in the defense budget are responsible for the market expansion. Also, governments concentrate on bolstering and protecting their military capabilities, as a result of the surge in cross-border disputes.
Moreover, it is anticipated that the increasing concerns about boosting army survivability and the rising defense spending by developing economies, as well as heightened competition between governments to show off their might, are likely to fuel the market expansion. Additionally, it is projected that the market will continue to be driven by the rising demand for newer gadgets and devices throughout the course of the forecast period due to continued technological innovation.
Furthermore, modern armies and police enforcement agencies are required to be protected from a variety of bullets and bullet fragments. Prison guards, money transporters, and private citizens all need to be safeguarded in today's world because they face heightened risks, in addition to troops and police officers. For instance, most protective vests in the market are made of Twaron and Endumax, which offer better protection, increased comfort, and favorable performance-to-weight ratios.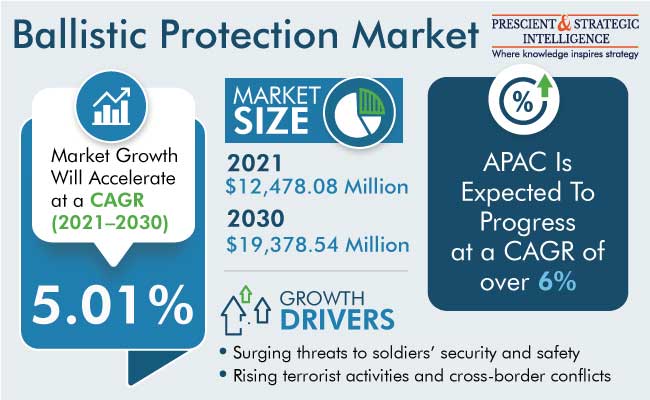 North America Garnered the Largest Revenue Share
North America is the largest market for ballistic protection materials, globally. This is due to the surging demand for lightweight armors, increased R&D spending, technical innovation, and the presence of major market players. The top players provide various solutions for ballistic protection, which include all-body armors, helmets, shields, vehicle armors, and uniforms. In addition, political leaders, celebrities, and other well-known individuals are choosing private security services, due to the rising security threats, and the increasing terrorist attacks and cross-border conflicts are boosting the need for ballistic protection in the U.S. and Canada.
On the other hand, the APAC market is expected to witness the fastest growth during the forecast period. This can be attributed to the rising defense spending in nations like Australia, India, China, Japan, and South Korea, as well as the expanding economy in the region.
Additionally, the governments of these nations are partnering with contractors and assisting them through the procurement process by providing the required financial support and infrastructure. Also, ballistic protection systems are becoming even more necessary since more insurgent organizations are invading countries and utilizing lethal weapons like IEDs and bombs. Moreover, the Government of Japan is also investing in enhancing its maritime capabilities, and it plans to acquire and realign intelligence, surveillance tracking, and reconnaissance (ISR) assets to sensitive areas; upgrade maritime patrol craft, ground force radars, and missile units; and develop amphibious assault capability within a joint JSDF task force.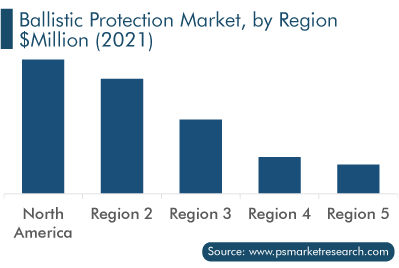 Marine Accounted for the Largest Market Share
The marine category accounted for the largest market share, of more than 48%, in 2021. Businesses are making significant investments in R&D activities to create and produce novel materials that can lighten armors and improve soldiers' ability, agility, and mobility. There is a rise in purchasing ballistic protection systems for maritime platforms, due to the increase in terrorist threats. New soldier upgrading technologies, such as enhanced combat clothes, boots, hard armors, eyewear, and helmets, have been developed, as a result of the global military industry's investment in research and development.
In addition, China is modernizing every aspect of its maritime military and law enforcement apparatus, such as the coast guard, missiles, aircraft, and surveillance equipment. To compete with American military technology and discourage outside involvement in a conflict, it is developing cutting-edge technologies. Also, the demand for maritime safety systems has increased since China is preparing for a potential confrontation with Taiwan, and also making significant preparations for potential issues in the East and South China Seas.
Whereas, the airborne category will witness the highest CAGR during the forecast period in the ballistic protection market. This can be due to the increasing demand for aircraft across various aviation platforms for military purposes, and the rising military expenditure of various countries, such as China, Japan, South Korea, and the U.S.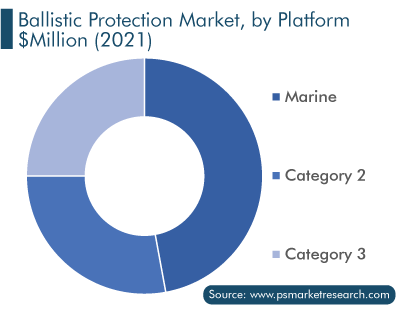 Homeland Security Category To Grow at Highest CAGR
The homeland security category is projected to witness the fastest growth, advancing at a CAGR of more than 7%, during the forecast period. The Department of Homeland Security works to improve security related to customs, borders, and immigration enforcement, emergency response to natural and manmade disasters, antiterrorism work, and cybersecurity, so it is of crucial importance for every country. Homeland security requires security systems, weapons, ammunition and explosives, security animals, protective apparel, and equipment.
Furthermore, ballistic protection, which includes personal defense gear like ballistic helmets, gloves, and body vests, is utilized in boiler armor to stop tank body dispersal from a missile or anti-tank gun strike. Moreover, body armor that is resistant to ballistics is worn by deployed homeland security officers to protect them from particular ballistic threats. Professionals in homeland security put on personal protection gear to maintain safety throughout any task.
In addition, ballistic helmets are made to protect the wearer from risks posed by small weapons and fragmentation. The combat systems used by homeland security officers are ballistic resistant since they are strengthened with ceramic and thermoplastic materials.
Soft Armor Garnered the Maximum Share
Soft armor shields the wearer from projectiles fired from small-caliber handguns, shotguns, and explosives like hand grenades, since it is made of numerous layers of woven fabric without the use of a resin binder and stitched together using meander or across seams. Thus, the category accounted for the largest market share in 2021, by technology.
Due to its light and composite materials and ability to ensure the safety of military personnel, this ballistic equipment is in high demand, which, in turn, drives the ballistic protection market revenue.
Ballistic Protection Market Report Coverage

| | |
| --- | --- |
| Report Attribute | Details |
| Historical Years | 2017-2021 |
| Forecast Years | 2022-2030 |
| Market Size in 2021 | $12,478.08 Million |
| Revenue Forecast in 2030 | $19,378.54 Million |
| Growth Rate | 5.01% CAGR |
| Report Scope | Market Trends, Drivers, and Restraints; Revenue Estimation and Forecast; Segmentation Analysis; Impact of COVID-19; Companies' Strategic Developments; Company Profiling |
| Segments Covered | By Platform; By Application; By Technology; By Material; By Product; By Threat Level; By Region |
Explore more about this report - Request free sample pages
Personal Protective Materials Dominate the Market
Personal protective materials account for the maximum share in the market. These materials in the defense sector include safety helmets, gloves, eye protection devices, safety footwear, and other respiratory protective equipment, which are designed to safeguard the body from external injuries and hazards such as electrical, thermal, chemical, and physical dangers.
Key Players in Ballistic Protection Market Are:
BAE Systems
Avon Protection
Point Blank Enterprises
SAAB AB
TenCate Advanced Armor
Rheinmetall AG
Ballistic Protection Market Size Breakdown by Segment
The study offers a comprehensive market segmentation analysis along with market estimation for the period 2017-2030.
Based on Platform
Land

Combat Armored Vehicles
Combat Support Vehicles
Unmanned Armored Ground Vehicles
Soldiers & Security Personnel
Base Stations

Airborne

Fixed-Wing Aircraft
Helicopters
Unmanned Aerial Vehicles
Base Stations

Marine

Destroyers
Frigates
Corvettes
Offshore Support Vessels
Aircraft Carriers
Submarines
Unmanned Surface Vehicles
Based on Application
Military
Homeland Security

Paramilitary Forces
Police Forces
Special Forces
Based on Technology
Based on Material
Metals & Alloys

High-density steel
Aluminum
Titanium

Ceramics

Aluminum Oxide
Silicon Carbide

Composites

Aramid Composites
Carbon Composites
Hybrid Composites
3D Composites

Bulletproof Glass
Fabric

Organic Cotton
Synthetic Nylon & Polyester
Based on Product
Personal Protective Equipment

Body Armor Clothing
Ballistic Helmets
Vests
Ballistic Boots
Ballistic Gloves

Ballistic Containers & Portable Shelters
Ballistic Blocks
Ballistic Barrier Systems
Hull & Body
Weapon Stations & Optronics
Fuel Drop Tanks & Ammunition Storage
Cockpit Ballistic Protection
Pilot Seat Protection
Ballistic Floors
Ballistic Windows
Ballistic Doors
Engine Protection
Based on Threat Level
Level II & Level IIA
Level III & Level IIIA
Level IV & Above
Geographical Analysis
North America
Europe

Germany
France
U.K.
Spain
Italy

Asia-Pacific

China
Japan
India
Australia
South Korea

Latin America
Middle East and Africa

South Africa
Saudi Arabia