Market Overview
The automotive piston market is valued at an estimated USD 4,199.2 million in 2023, which is expected to reach USD 5,806.1 million by 2030, growing at a CAGR of 4.8% during 2024–2030.
The demand for automotive pistons is increasing since the middle-class people can now purchase cars because of its rising disposable income and urbanization in emerging economies.
Additionally, globally, governments have enacted stringent rules to reduce greenhouse gas emissions, in response to the environmental concerns. Therefore, automobile manufacturers are now using cleaner and more-fuel-efficient engines to meet these rules. Modern piston designs and materials are essential to attaining these objectives, because they can enhance combustion efficiency and lower engine friction.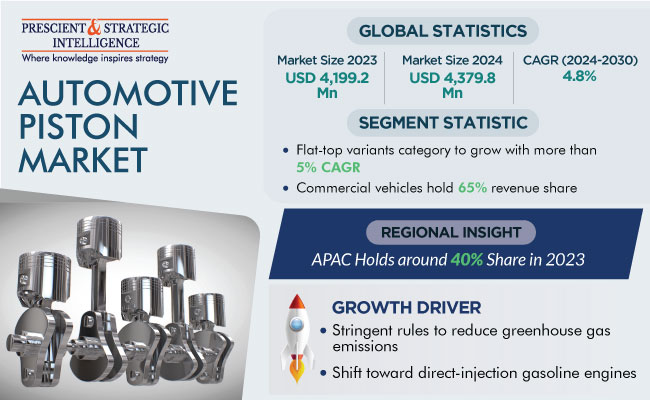 Lighter vehicles use less fuel to accelerate and maintain speed because they need less energy to do so, which increases fuel economy; engines with lighter pistons can be used to achieve this. This reduces greenhouse gas emissions, thereby bringing the vehicle's carbon footprint in compliance with the rigorous rules. By lowering reciprocating masses and enhancing engine responsiveness and acceleration, these lightweight components enhance the overall performance. Aluminum and other modern lightweight materials are being used to improve heat dissipation, thus reducing overheating and boosting engine dependability. They also provide design flexibility, lower internal friction, and enhance durability and strength under harsh operating conditions.
Due to the improvements in heat resistance and durability, pistons can now endure greater pressures and temperatures. Smoother movement within the cylinder is made possible by surfaces with lower friction, which boosts engine performance. Modern technologies have improved combustion chamber design and piston shape for effective air–fuel mixing and increased power production. Consistent dimensions and performance are guaranteed through precision engineering, using CNC machining and CAD.
Moreover, the aftermarket greatly influences the piston demand as the former enables affordable maintenance and performance improvements and offers replacement components for aging vehicles. The suitability of customizable components obtained from the aftermarket for a variety of vehicle models also encourages long-term support. The significance of the aftermarket goes beyond simply satisfying consumer demand; by providing fresh materials and layouts, it also encourages innovation and performance improvement.
Aluminum Category Holds Significant Share of Market
The aluminum category holds a significant share due to the lightweight nature of pistons made from this material than those made of cast iron and steel. This contributes to the weight reduction of the engine as a whole, which is essential for enhancing performance and fuel economy. Since the engine can revolve up and down more quickly with a lighter piston, acceleration and responsiveness also improve.
Essentially, because of its superior thermal conductivity, aluminum effectively transfers and dissipates heat. During fuel combustion, pistons experience tremendous temperatures. Due to aluminum's excellent thermal conductivity, this heat is swiftly dissipated, thus lowering the possibility of overheating and increasing the vehicle performance.
Moreover, due to the lower costs of manufacturing these components from aluminum than when doing so with forged steel or titanium, the automotive sector receives an economical option. Their suitability for mass production is further enhanced by the simplicity of their manufacturing process, via gravity casting or pressure die-casting. Additionally, the low friction coefficient of aluminum increases engine performance, while its resistance to corrosion maintains engine longevity. Additionally, the recycling potential of aluminum supports the sustainability objectives of the vehicle sector.
Automotive Piston Market Report Coverage

| | |
| --- | --- |
| Report Attribute | Details |
| Market Size in 2023 | USD 4,199.2 Million |
| Market Size in 2024 | USD 4,379.8 Million |
| Revenue Forecast in 2030 | USD 5,806.1 Million |
| Growth Rate | 4.8% CAGR |
| Historical Years | 2017-2023 |
| Forecast Years | 2024-2030 |
| Report Scope | Market Trends, Drivers, and Restraints; Revenue Estimation and Forecast; Segmentation Analysis; Impact of COVID-19; Companies' Strategic Developments; Market Share Analysis of Key Players; Company Profiling |
| Segments Covered | By Fuel; By Vehicle; By Material; By Component; By Shape; By Coating Type; By Region |
Explore more about this report - Request free sample pages
Commercial Vehicles Are Expected To Show High Growth Rate
Commercial vehicles hold a significant share, of 65%, in 2023, and their revenue contribution is expected to witness a CAGR of around 4.5% during 2024–2030.
The demand for commercial automobiles has greatly increased in the recent past due to the booming e-commerce activities and rapid trade globalization. Trucks are necessary for the timely delivery of commodities, which propels the demand for high-quality engines and their individual components. For commercial vehicles to run smoothly and be able to handle the demanding long-distance transportation jobs, reliable and durable pistons are essential.
Further, the infrastructure development initiatives and rapid urbanization in emerging economies drive the need for commercial vehicles in the logistics and construction industries. To operate under rigorous circumstances and with heavy loads, they require sturdy under-the-hood components.
Further, to address environmental concerns and lower air pollution, governments everywhere are putting tight emission rules in place for commercial automobiles. Hence, OEMs are using modern technologies and lightweight materials for increased fuel efficiency and decreased emissions. Modern pistons also have friction-reducing coatings, which let commercial vehicles run more efficiently, using less fuel.
Thus, as the fleet of commercial vehicles grows and needs overhaul, there will be a high aftermarket demand for all kinds of components. Urbanization and industrialization are influencing the demand for commercial vehicles in Asia and Latin America, which is boosting the opportunities for piston producers. Additionally, the considerable emphasis on fuel efficiency prompts the manufacturers of commercial vehicles to give priority to pistons that lower friction, weigh less, and optimize combustion, for better fuel economy.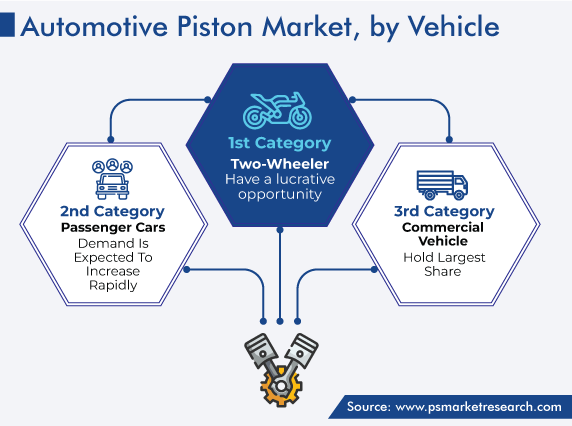 Flat-Top Variants Are Expected To Show Significant Growth in Demand
Under the shape segment, flat-top variants are predicted to witness rapid growth in the forecast period, due to their smaller surface area. This results in less carbon buildup, which keeps the engine clean and prevents knocking. Further, their increased compression ratio and smaller combustion chamber volume improve combustion efficiency. Moreover, their increased thermal efficiency results from less heat being lost via the cylinder walls. Furthermore, flat-top pistons have thicker crowns, which enhance the stability in high-performance engines.
Further, they can be rapidly and cost-effectively manufactured due to their straightforward design, and they are also lightweight, adaptable, dependable, and durable. Engine response and acceleration are improved by weight reduction, with their adaptability to different engines and fuels making them even more popular among automotive OEMs. They provide greater dependability and longer engine life since they have fewer moving parts. Moreover, for DIY enthusiasts, engine building and overhaul is made simpler by their easier installation and maintenance.
Piston Category Dominates Market
The component segment is dominated by pistons, as internal combustion engines rely on them to generate power. By converting the high-pressure gases from the ignited air–fuel combinations into rotational motion, they generate movement in the crankshaft. Both two-stroke and four-stroke engines, which are found in practically all vehicles, depend on them. Custom pistons made for performance and racing engines have improved output, higher revolution limits, and enhanced temperature management.
In trucks and buses, they are made to be dependable and long-lasting, to withstand enormous loads and regular use. Similarly, regardless of whether a motorcycle is a high-performance sports machine or a small-displacement commuting bike, customized engine component designs improve the ride quality.
Asia-Pacific Is Market Leader
The Asia-Pacific region holds the largest share, of more than 40%, in 2023, and its revenue contribution is expected to witness a CAGR of around 5.5% during 2024–2030.
The automotive piston market in the APAC region is propelled by China's expansive automotive industry. Moreover, with their rising automobile production and sales, India and South Korea also make major contributions. This is because these factors proportionately drive the demand for these vehicle parts among OEMs and aftermarket entities.
Their established production bases enable the production of automotive components in large numbers. Further, manufacturers here follow stringent guidelines and put an emphasis on precision and quality control. The principles of lean manufacturing simplify operations and cut expenses. The region also benefits from a talented workforce, partnerships with international companies, and flexibility to meet the changing market demands.
The rising demand for automobiles and their parts is essentially a result of the expanding middle class in APAC nations, which has a higher disposable income, enabling a higher expenditure. Essentially, the sale of automobiles is rising with the increasing transportation needs in the expanding metropolitan centers.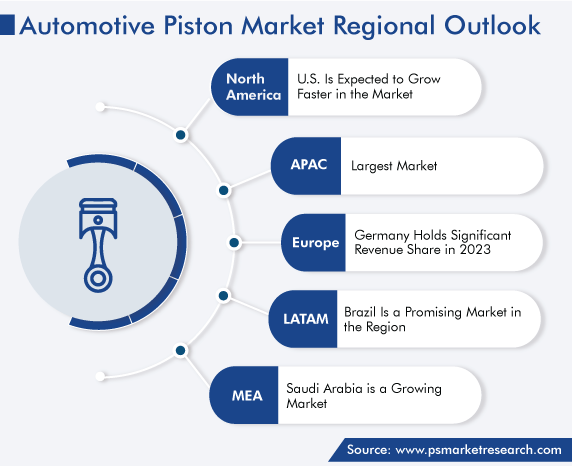 Key Market Players Are:
MAHLE GmbH
Aisin Seiki Co. Ltd.
Rheinmetale AG
Tenneco Inc.
Art Metal Mfg. Co. Ltd.
Continental AG
Riken Corporation
Hitachi Ltd.
Dongush Industrial Co. Ltd.
Shriram Piston and Rings Ltd.
Market Size Breakdown by Segment
This fully customizable report gives a detailed analysis of the automotive piston market from 2017 to 2030, based on all the relevant segments and geographies.
Based on Fuel
Gasoline
Diesel
Alternate Fuels
Based on Vehicle
Two-Wheeler
Passenger Car
Commercial Vehicle
Based on Material
Based on Component
Based on Shape
Based on Coating
Thermal Barrier
Dry-Film Lubricant
Oil Shedding
Geographical Analysis
North America
Europe

Germany
U.K.
France
Italy
Spain

Asia-Pacific

Japan
China
India
South Korea
Australia

Latin America
Middle East and Africa

Saudi Arabia
South Africa
U.A.E.