Automotive Hydrostatic Fan Drive System Market Size & Share
The global automotive hydrostatic fan drive system market is valued at an estimated USD 407.0 million in 2023, and it is predicted to reach USD 577.2 million by 2030, advancing at a CAGR of 5.2% during 2024–2030. The key factors driving the growth of the market are the prevailing government regulations for reducing emissions and the rising preference for compact, noiseless, and independently operating engine cooling systems. Additionally, the high disposable incomes in developing countries and the incorporation of cutting-edge technologies, such as variable-displacement-pump hydrostatic fan drive systems, are propelling the growth of the market.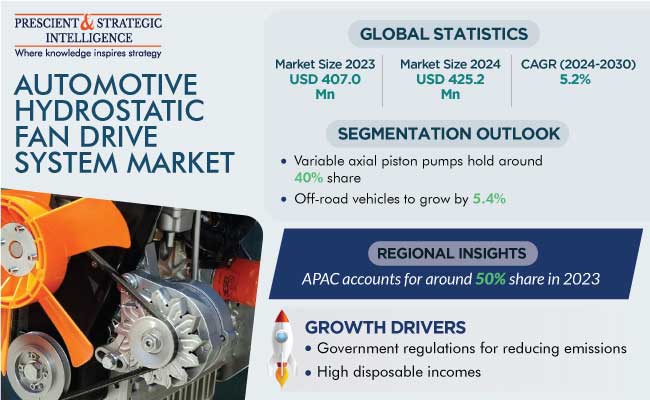 In a traditional fan drive, the fan is linked to the engine via a belt, or mounted onto the crankshaft, which means that it is dependent on the engine. Thus, the fan runs at a speed determined by the engine and not by the required cooling power. In an electric on/off installation, it either runs at full speed, when the engine temperature is above the cut-in limit, or stall, when the temperature falls below this limit. These systems work across a wide temperature range to cool the engine. However, in some cases, the cooling is even more than needed, which leads to the usage of more fuel and energy, as well as higher noise and emissions.
On the other hand, in a hydrostatic fan drive, the fan speed is controlled independently from the engine speed. Further, it only runs to supply the cooling power as required, neither more nor less. Additionally, the system has an integrated failsafe mechanism, which, in the case of a breakdown in the electrical system, connections, sensors, or control unit, instantly adjusts the fan speed to maximize cooling power and guard against the costly engine damage and overheating.
Growing Demand for Logistics Services
The growth of the logistics and construction sectors would drive the popularity of automotive hydrostatic fan drive systems. This is because they are mainly used in heavy-duty vehicles, such as trucks, as they help manage the engine temperature efficiently. Thus, the market is expected to witness growth in the coming years due to the swift economic advance in developing countries, such as China and India. In turn, the increasing construction and e-commerce activities will drive the demand for material transportation, thereby propelling the sale of commercial vehicles across the globe. For instance, in September 2023, according to a U.S. Census Bureau report, the total spending on construction in the country was about USD 1,996.5 billion, 0.4% higher than in August.
Moreover, the growing population is contributing to the increasing demand for buses among schools and hospitality firms. Moreover, buses for the transportation of company employees in metro cities are in an increasing demand, in turn, propelling the market. This is because the hydrostatic fan system helps keep the engine at the correct operating temperature and reduces the risk of overheating and failure, which could jeopardize passenger safety. Further, as buses widely ply through residential areas, where noise pollution can be a concern, the minimization of the noise level by this system can be advantageous.
Government Regulations to Reduce Emission of Harmful Gases
The permissible level of polluting gases from diesel engines, such as sulfur dioxide, nitrogen oxides, carbon monoxide, and carbon dioxide, is regulated by law and government and international regulations. For instance, following the Paris Climate Change Agreement, governments in Asia-Pacific have been actively promoting ecologically friendly vehicles. In addition to this, the EPA and NHTSA have released updated GHG emission and fuel efficiency guidelines for medium- and heavy-duty vehicles and engines through the model year 2027.
Variable Axial-Piston Pump Holds Largest Market Share
Based on component, the variable axial-piston pump category holds the largest share. Variable-axial piston pumps are available with different flange options, and they possess high volumetric and mechanical efficiency, with a maximum of 2,500 rpm. The ongoing innovations in axial pumps to reduce noise levels and enable clockwise or anti-clockwise rotation, to cover 180 degrees, for high-pressure applications is expected to increase the demand for these components.
Automotive Hydrostatic Fan Drive System Market Report Coverage

| | |
| --- | --- |
| Report Attribute | Details |
| Market Size in 2023 | USD 407.0 Million |
| Market Size in 2024 | USD 425.2 Million |
| Revenue Forecast in 2030 | USD 577.2 Million |
| Growth Rate | 5.2% CAGR |
| Historical Years | 2017-2023 |
| Forecast Years | 2024-2030 |
| Report Scope | Market Trends, Drivers, and Restraints; Revenue Estimation and Forecast; Segmentation Analysis; Impact of COVID-19; Companies' Strategic Developments; Market Share Analysis of Key Players; Company Profiling |
| Segments Covered | By Component; By Vehicle Type; By Pump Type; By Region |
Explore more about this report - Request free sample pages
Off-Road Vehicles Hold Larger Market Share
Based on vehicle type, the off-road vehicles category holds the larger hydrostatic fan drive system market share, and it is expected to register the faster growth, of around 5.4%, in the coming years. As off-road vehicles have a wide range of uses in the agriculture, mining, construction, and other sectors, they are expected to witness optimistic growth. Moreover, off-road vehicles are designed to travel on rough and tough ground, which means more effort for the engine. This can have a positive impact on the market as hydrostatic fan drive systems regulate the temperature inside the engine and prevent it from overheating.
Additionally, the growing industrialization and urbanization levels and the booming construction industry are driving the demand for construction equipment. Essentially, the demand for these machines is augmented by the rising construction of commercial and residential infrastructure. For instance, in 2022, around 71,000 residential housing and building construction permits were issued in South Korea.
Similarly, in India, the government is actively focusing on the construction of railway infrastructure, such as a metro line from Joka to Binoy Badal Dinesh Bagh in West Bengal. Similarly, in Nagaland, the Indian Railways is working on a new broad-gauge rail line between Dimapur and Kohima to enable rail connectivity in Assam, Arunachal Pradesh, and Nagaland.
Similarly, the mining industry continues to grow as minerals serve as essential raw materials for fundamental industries. Hence, the sale of off-highway commercial vehicles, such as dump trucks and excavation equipment, is rising in South Africa, which has a high mining output. This further propels the market as the engines of such automobiles generate high power and high heat.
Additionally, the government emission and fuel efficiency regulations around the world result in a high demand for low-emission off-highway and commercial vehicles, which enhances the market growth potential. For instance, the PROCONVE P-8 emission regulations for new heavy-duty vehicles have been created by Brazil's National Council for the Environment (CONAMA). A hydrostatic fan drive system can adjust the speed of the cooling fan based on the actual cooling requirement of the engine. When the engine does not require maximum cooling, the fan operates at a lower speed, thus reducing the power needed to drive it. This prevents the engine from consuming unnecessary fuel.
Variable-Displacement Pumps Hold Larger Market Share
Based on pump type, the variable-displacement pump category is expected to hold the larger market share in the coming years. A fan drive system with a variable-displacement pump is commonly used for larger and more-complex cooling systems as it reduces the displacement to match the flow, as per the cooling demand. Moreover, as this feature offers energy savings and creates less heat in the hydraulic fluid, it is preferred.
Furthermore, variable-displacement pumps are widely used for their higher energy efficiency, which, ultimately, reduces the vehicle's fuel consumption. They adjust the flow rate as required by the system, thus reducing the consumption of energy and minimizing fuel wastage. This lowers operating costs as well as the negative impact of hydraulic systems on the environment. In addition to energy efficiency, these pumps improve vehicle performance and allow them to last longer than enabled by fixed-displacement pumps.
Additionally, variable-displacement pumps are widely used due to their high-pressure efficiency, customizability to exact specifications, and better flexibility to regulate fluid flow rates for different operations.
Moreover, they are used in hydraulic systems where the flow requirements vary, such as in heavy machinery and industrial applications. By varying the pump's displacement, it is possible to match the hydraulic power output to the specific need of the system, which can improve efficiency and reduce energy consumption. With tightening environmental regulations, automakers are coming up with new solutions for energy and fuel management. The need for reliability, low maintenance, and integration with BEVs and HEVs is leading to the usage of a rising number of backup pumps in vehicles.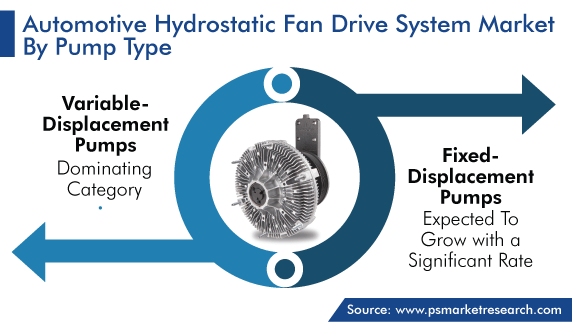 Asia-Pacific Makes Largest Contribution to Global Revenue Generation
Geographically, APAC holds the largest share, of 50%, in 2023, and it is projected to grow at the highest CAGR. This is mainly because China is the biggest hub for automotive manufacturing and has the largest customer base of passenger cars and commercial vehicles across the world. According to data from the Ministry of Industry and Information Technology, over 26 million vehicles were sold in China in 2021, including 21.48 million passenger vehicles, an increase of 7.1% from 2020. Similarly, commercial vehicle sales reached 4.79 million units.
Essentially, the growing disposable income, rising adoption of vehicles, and presence of numerous market players are propelling the growth of the market in this region. Additionally, construction equipment has registered significant sales growth here in the recent past, due to a rise in construction activities. For instance, in Japan, some of the major under-construction projects are Central Tokyo-to-Haneda Airport Rail Line, 2025 Osaka Kansai Expo Center, Kitakyushu–Hibikinada Offshore Wind Farm, Haneda Airport Terminal 2 North Satellite Building, and Logi Square Kyotanabe.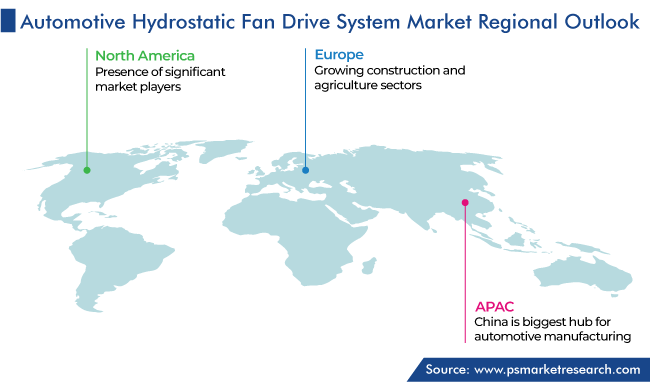 Europe also holds a significant market share as Germany has evolved into one of the key countries innovating high-tech automotive products. The growing construction and agricultural sectors and the increasing strictness of the federal regulations regarding emissions are also expected to raise the adoption of hydrostatic fan drive systems in commercial vehicles.
Key Players in Automotive Hydrostatic Fan Drive System Market Are
Eaton Corporation plc
Parker-Hannifin Corporation
JTEKT Corporation
Danfoss
Bosch Rexroth AG
Axiomatic Technologies Corporation
Bucher Industries AG
Concentric AB
Market Size Breakdown by Segment
This fully customizable report gives a detailed analysis of the automotive hydrostatic fan drive system market from 2017 to 2030, based on all the relevant segments and geographies.
Based on Component
Variable Axial Piston Pumps
Fixed Gear Motors
Engine Control Units
Oil Coolers
Hydraulic Valves and Sensors
Based on Vehicle Type
On-Road Vehicles
Off-Road Vehicles
Based on Pump Type
Fixed-Displacement Pumps
Variable-Displacement Pumps
Geographical Analysis
North America
Europe

Germany
U.K.
France
Italy
Spain

Asia-Pacific

Japan
China
India
South Korea
Australia

Latin America
Middle East and Africa

Saudi Arabia
South Africa
U.A.E.