Market Overview
The automotive fuse market is estimated to have valued at USD 2,648.6 million in 2023, which is expected to reach USD 3,043.9 million by 2030, growing at a CAGR of 1.8% during 2024–2030.
As each car needs several fuses to protect its electrical systems, the number of vehicles produced and sold determines the size of the automotive fuse industry. Advanced driver-assistance systems, which are more used in modern automobiles, also contribute to the rise in fuse demand.
Original Equipment Manufacturers (OEMs) are essential since they buy fuses for the construction of vehicles. The demand for this market is also influenced by a variety of vehicle types and segments, emerging markets, economic conditions, the industry's resilience, technical improvements, and the replacement market. The demand for specialized fuses grows as vehicle technology advances.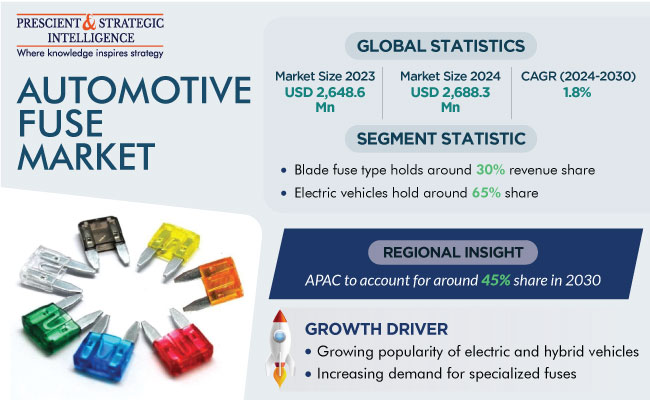 The boom in the use of hybrid and electric cars has increased demand for such fuses. These vehicles depend on high-voltage batteries and systems, which call for specialized fuse protection to ensure security and avoid electrical problems. With the growth of the market for electric and hybrid vehicles, fuses made specifically for their unique electrical requirements are becoming more and more essential. Like it adjusts to the shifting landscape of the automotive industry's propulsion technologies, this tendency has aided in the growth and evolution of the market.
Electrical systems are protected against overcurrent and short circuits by automotive fuses. The demand for sophisticated fuse technologies has increased as customers and regulatory agencies place more importance on car safety. Due to the extensive number of electronic components included in modern vehicles, dependable fuse protection is crucial to preventing electrical failures that could result in safety hazards.
Complex electronic systems, including sensors, cameras, radar, and communication modules, play a significant role in connected and autonomous vehicles. To ensure the continuous and trustworthy operation of these systems, reliable fuse protection is required. The demand for these fuses rises along with the demand for connected and autonomous vehicles.
The requirement for replacements and maintenance on current automobiles is what drives the aftermarket demand for automotive fuses. Due to wear and tear or damage, a vehicle's electrical system may need fuses replaced as it ages.
Improved fuse performance, efficiency, and miniaturization have been made possible through improvements in materials and fuse technologies. Due to these advancements, fuses that offer better protection, take up less space, and can sustain larger currents are now being produced. Automakers are eager to include these cutting-edge fuse technologies in their cars.
Automotive manufacturers are introducing electric and hybrid vehicles into their product lines in response to growing concerns about environmental issues and energy efficiency. Due to the increased need for such fuses in these vehicles to safeguard their electrical systems and guarantee effective energy consumption, this has happened.
Governments and international organizations have established strict guidelines and requirements for automobile safety. Since reliable electrical system protection is frequently a prerequisite of these rules, automakers are forced to make investments in cutting-edge fuse technology in order to comply.
Blade Fuse Dominates the Market
The blade fuse held a significant share, of 30% in 2023, and its revenue contribution is expected to witness a CAGR of around 2% during 2023–2030.
The measurements and specifications of blade fuses have been standardized. They are universally compatible with the majority of car types due to this standardization, which streamlines the supply chain and makes it simpler for automakers to find fuses for their vehicles.
Because blade fuses have a long history of dependable use, engineers and manufacturers have come to trust them, which has resulted in their widespread use in many different types of automobiles. Blade fuses' reputation for dependability is strengthened by their reliable technology, stringent testing, and adherence to safety regulations. Understanding blade fuses makes vehicle assembly and maintenance simpler.
Due to its low cost of production and availability of inexpensive materials, blade fuses are a popular choice among both customers and automakers. Their appropriateness for mass-produced cars contributes to their commercial dominance. Additionally, because they come in a range of current ratings, automakers may select the best fuse for each electrical component, assuring the best protection without having to spend too much on higher-rated fuses.
To restore the operation of the electrical system after a fuse blows because of an overcurrent or short circuit, it must be changed right away. Blade fuses don't require any specialized equipment or technical knowledge to replace; all that's required is to remove the old fuse and install the new one. Both car owners and service technicians will find this ease of replacement useful.
Due to their small size, blade fuses are simple to install in vehicles forced interior space, even in those with sophisticated electrical systems. Engineers, technicians, and customers have grown accustomed to and accustomed to them because of their universal use in the automotive industry. Blade fuses are still the go-to option for securing automotive electrical systems because of their practicality and lengthy history of use.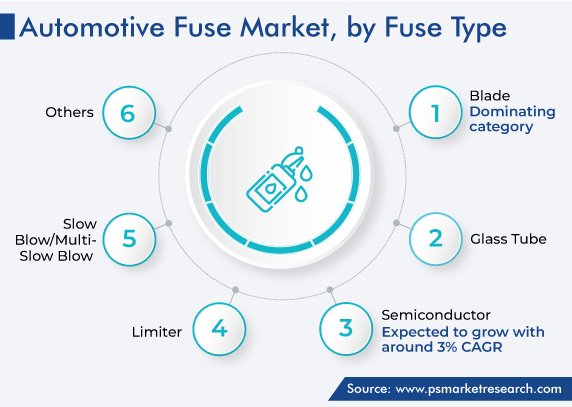 <40A Segment Dominates the Market
Vehicles of all kinds, including trucks, motorbikes, commercial vehicles, and passenger cars, can utilize fuses with current ratings under 40 A. The widespread use of 40 A fuses in the automotive business is a result of its broad applicability across various vehicle types.
There are numerous uses for fuses with current ratings lower than 40 amperes in vehicle electrical systems. Power windows, infotainment systems, headlights, taillights, interior illumination, infotainment systems, and electronic modules are just a few examples of the many parts and accessories that are commonly required to have fuses with lower current ratings. These fuses shield these crucial electrical circuits from overcurrent and short circuits.
>300V Segment Is Expected to Show High Growth Rate
As electric vehicles become more popular, there is a growing need for fuses that can withstand these high voltages. The need for >300V fuses is expected to increase as more electric and hybrid cars are put on the road, providing excellent potential for businesses who specialize in this area of the automotive fuse industry.
The move towards electric mobility is spurred by international initiatives to advance sustainability and lower emissions, which have increased the focus on electric cars as an environmentally beneficial transportation option.
These fuses are essential to the safe and dependable operation of the complex electrical systems of electric vehicles. Manufacturers serving this expanding market segment can profit from the rising demand for >300V fuses, helping to expand and develop the automotive fuse industry.
Increasing Adoption of Charging Inlet Fuses in EVs
The rising acceptance and popularity of electric and hybrid vehicles have been major growth drivers for the charging inlet fuse market. The demand for electric vehicles has increased as more consumers choose sustainable and energy-saving transportation options, which has directly contributed to an increase in the need for charging input fuses.
The demand for charging inlet fuses has increased as a result of growing safety concerns and the number of electric vehicles charging stations. Fuse protection for these outlets is increasingly necessary as governments and private businesses engage in constructing more charging stations throughout the world.
For the charging process to be secure and dependable, charging inlet fuses are crucial. They guard against issues like excessive current usage or short circuits in the vehicle's charging system.
OEM Segment Dominating the Market
Automotive fuses are mostly purchased by Original Equipment Manufacturers, who incorporate them directly into brand-new automobiles throughout the manufacturing process. Every car needs several fuses to protect its electrical systems, so the OEM market accounts for a sizeable portion of the industry's overall fuse demand.
The OEM segment controls the automotive fuse industry because OEMs oversee mass producing cars to satisfy consumer demand, which causes a corresponding rise in OEM demand for fuses as the global automotive industry expands. In order to ensure a steady supply chain and a consistent, dependable source of fuses for their manufacturing demands, OEMs arrange long-term supply contracts with fuse manufacturers, thus solidifying the OEM segment's dominance in the market.
Fuse manufacturers collaborate closely with OEMs manufacturers to develop customized fuses suitable for certain vehicle models and electrical systems. OEMs prefer standardized, dependable fuses that adhere to industry and safety requirements. Additionally, the inclusion of innovative technologies into modern automobiles necessitates the usage of specialized fuses to safeguard intricate electronic components. OEMs work with fuse makers to include these cutting-edge fuses into their vehicles, thus highlighting the importance of the OEM segment in the market.
OEMs frequently forge enduring partnerships with reliable fuse suppliers. OEMs' decisions to continue buying from particular suppliers are greatly influenced by criteria such as brand loyalty, dependability, and consistency in fuse performance.
Automotive Fuse Market Report Coverage

| | |
| --- | --- |
| Report Attribute | Details |
| Market Size in 2023 | USD 2,648.6 Million |
| Market Size in 2024 | USD 2688.3 Million |
| Revenue Forecast in 2030 | USD 3,043.9 Million |
| Growth Rate | 1.8% CAGR |
| Historical Years | 2017-2023 |
| Forecast Years | 2024-2030 |
| Report Scope | Market Trends, Drivers, and Restraints; Revenue Estimation and Forecast; Segmentation Analysis; Impact of COVID-19; Companies' Strategic Developments; Market Share Analysis of Key Players; Company Profiling |
| Segments Covered | By Fuse Type; By Current; By Application; By Sales Channel; By Vehicle Type; By Voltage; By Region |
Explore more about this report - Request free sample pages
APAC Held the Largest Share of Automotive Fuse Market
The Asia-Pacific region held a significant share, of 45% in 2023, and its revenue contribution is expected to witness a CAGR of 2.7% during 2023–2030.
The manufacturing of automobiles is now centered in APAC. To serve both the domestic and foreign markets, numerous well-known automakers have constructed production plants in the area. Due to the existence of these factories, there is a substantial demand for these fuses to help in the manufacturing of automobiles.
With nations like China and India emerging as significant auto markets, the APAC region's automotive sector is expanding quickly. Automotive fuses are in greater demand as a result of rising car production and sales. Additionally, the region's dense population serves as a sizable consumer base for the automotive industry, with rising car ownership and an expanding middle class fueling an increase in demand for automobiles and fuses.
APAC has demonstrated a strong interest in electrification and environmentally friendly transportation options. Many APAC nations have put rules into place to encourage the use of hybrid and electric automobiles. There is an increase in demand for such fuses in the area as a result of the fact that these eco-friendly automobiles frequently need specialized fuses to manage greater voltages and complex electrical systems.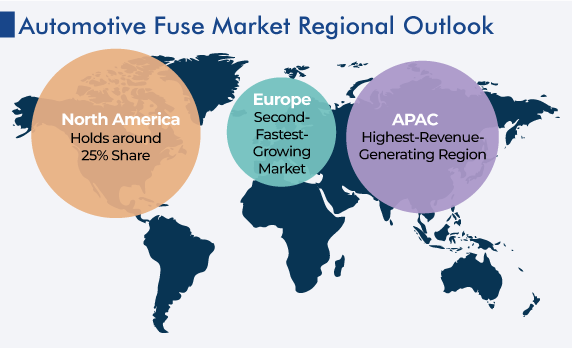 Top Automotive Fuse Manufacturers Are:
Eaton Corporation plc
SCHURTER AG
Littelfuse Inc
Sensata Technologies Inc
Mersen Corporate Services SAS
Optifuse
AEM Components (USA), Inc.
Blue Sea Systems
Pacific Engineering Corporation
E-T-A Elektrotechnische Apparate GmbH
Market Size Breakdown by Segment
This fully customizable report gives a detailed analysis of the automotive fuse market from 2017 to 2030, based on all the relevant segments and geographies.
Based on Fuse Type
Blade
Glass tube
Semiconductor
Limiter
Slow Blow/Multi-Slow Blow
Based on Current
Based on Application
Engine Compartment
Cabin Area/Under-the-Dashboard
Based on Sales Channel
Based on Vehicle Type
Based on Voltage
12 & 24 V
24–48 V
49–150 V
151–300 V
>300 V
Geographical Analysis
North America
Europe

U.K.
Germany
France
Italy
Spain

Asia-Pacific

China
Japan
Australia
India
South Korea

Latin America
Middle East & Africa

Saudi Arabia
South Africa
U.A.E