Automotive fuel transfer pump is one of the essential components of an automobile. Earlier automotive fuel transfer pumps were primarily used for transferring fluids; however, now-a-days they are finding application in the improvement of overall vehicle as they increase fuel efficiency of the vehicle. With growing environmental concerns, there is an increased demand for eco-friendly solutions, which is encouraging the pump manufacturing companies to develop efficient pumps for automobiles. Pumps are used in vehicle systems for various applications such as fuel, lubrication and transmission.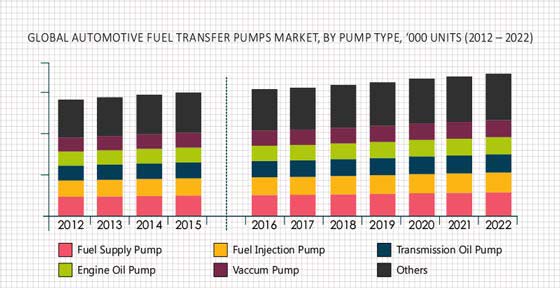 Stringent vehicular emissions regulations, increasing consumer demand for fuel efficient vehicles and engine performance is creating opportunity for the automotive fuel transfer pump manufacturers. Stringent regulatory framework is encouraging the automotive manufacturing giants to combine advance fuel injection systems. For instance, gasoline turbocharged direct injection serves the purpose of increased fuel efficiency, thereby improving overall vehicle performance. Gasoline turbochargers are likely to open up huge potential for vacuum pumps manufacturers.
Automotive fuel transfer pumps are set in motion by using either mechanical or electrical energy, and are accordingly categorized as mechanical or electrical pumps. However, some of these functionalities offered by brake booster or steering pumps can also be achieved by the means of using electric motors. Electric motors can substitute automotive fuel transfer pumps in few applications; thus restraining the growth of global automotive fuel transfer pumps market over the forecast period.
Among the various types of automotive fuel transfer pumps, the fuel supply pump held the largest share in 2015 in terms of value. The end use of fuel transfer pumps was the largest in passenger car segment, compared to other vehicle types. Based on technology of automotive fuel transfer pumps, electrical fuel transfer pump was globally the larger segment in 2015.
The global automotive fuel transfer pumps market was valued at $49,052.6 million in 2015, and it is expected to grow at a CAGR of 4.7% during 2016 - 2022. In 2015, Asia-Pacific accounted for the largest share in the global automotive fuel transfer pumps market; whereas the market in Middle East and Africa (MEA) is expected to grow at the fastest rate, during the forecast period. The major reason for the fast growth of the market in MEA includes increasing investments in technology up gradation and burgeoning demand for passenger cars and light commercial vehicles in this region. Europe was the second largest market for automotive fuel transfer pumps in 2015. The widespread presence of automotive manufacturing giants in Europe is expected to positively impact the market growth over the forecast period.
Some of the major players operating in the global automotive fuel transfer pumps market include Robert Bosch GmbH, Denso Corporation, Continental AG, Aisin Seiki Co. Ltd., Delphi Automotive PLC, Johnson Electric, SHW AG, Magna International Inc., Mikuni Corporation, and JTEKT Corporation.