Market Overview
The automated storage and retrieval system market size stood at USD 8,499 million in 2022, and it is expected to witness a compound annual growth rate of 7.4% during 2022–2030, to reach USD 15,012 million by 2030.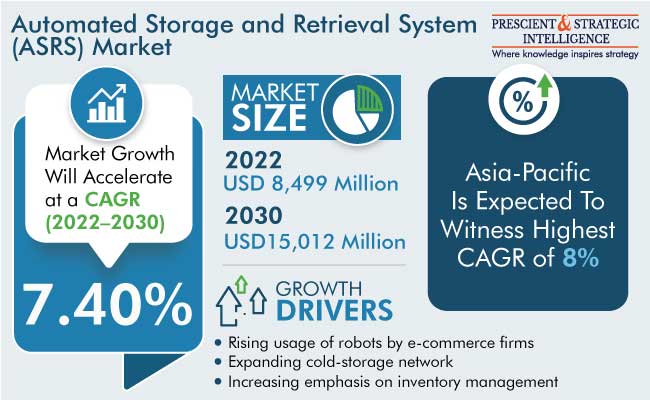 With the consistent evolution and adoption of unconventional technologies, such as AI, machine learning, and IoT, the warehousing industry has witnessed tremendous transformation in recent years. Warehousing automation optimizes the available storage space, reduces processing time, diminishes human errors and operational expenses, and improves worker safety, thus laying a huge positive impact, especially in the long term. The combination of all these technologies makes the implementation of automation easier and more beneficial. The major trends that support digital automation include the inclusion of robotics and IoT in warehousing, fleet management, and inventory transportation.
ASRS, a type of robotic system, is designed to store and retrieve goods and components automatically, for manufacturing, retailing, and wholesale. The market is majorly propelled by the augmenting demand for robotic storage solutions in warehouses, heightened sales on e-commerce channels, and the rising need to better utilize the warehouse space available. Further, the expanding manufacturing base of automobiles and consumer goods in Asian countries is largely supporting the demand for ASRS solutions. Further, the rise in the investment by logistics firms in building in-house storage and distribution facilities and increase in the interest of third-party logistics companies in automation technologies will make the market lucrative in the coming years.
Rise in Usage of Robotics among E-Commerce Firms
Since its emergence, e-commerce has played a dynamic role in redefining business operations across the globe, by positively impacting sales and profitability. Over the years, the usage of online sales channels has grown exponentially, and as per a research study, the e-commerce market value was more than USD 4 trillion in 2021. China leads the e-commerce market across the globe, accounting for more than 37% of world's digital buyers in 2022.
The surge in the demand for consumer goods, coupled with the rise in the purchasing power and ease of online ordering, is reinforcing the necessity for automated warehousing facilities. For high-volume order fulfillment, mini-load automated equipment, such as goods-to-person (G2P) systems and shuttle technology systems, offer solutions to overcome the challenges in e-commerce operations. Automated G2P solutions are applicable in an extensive array of industries, from pharma to industrial small parts, apart from retail & e-commerce. Such solutions are extensively useful for concentrated storage for fast-running SKUs and small pick quantities, offering flexibility in layout as per consumers' demand. These solutions are deployed to reduce time and cost and enhance labor productivity, to enhance customer satisfaction.
Expanding Network of Cold-Storage Facilities Creating Lucrative Opportunity
E-commerce companies are making efforts for capturing a larger chunk of customers, by leveraging the trending online shopping habits. In addition, the augmenting trade of perishables across e-commerce platforms is escalating the demand for cold warehouses to offer better-quality products to customers. Therefore, firms are emphasizing on reducing the time taken for order fulfillment exclusively for groceries. For this, refrigerated storage has developed as an indispensable part of supply chain management, when it comes to storing temperature-sensitive products.
Therefore, retail and logistics market leaders are using taller warehouses with temperature control, automation, and other technologies, in order to maintain their brand and market position. Mechanized cold-storage facilities restructure operative processes and help maintain both product and employee safety. The implementation of automation in cold-chain environments ensures the frequent inflow and outflow of products, while restraining the excessive exposure of workers to the extremely low temperatures.
Growing Emphasis on Inventory Control and Management
Owing to the movement of a large number of items in warehouses, managers are required to keep track of all the goods, to avoid inventory shrinkage due to damage, spoilage, or theft. Tracking solutions eliminate probable human errors and also promise transparency in the supply chain. Robotic solutions respond to reduced inventory levels to prevent stock shortages, while curtailing inventory costs.
Additionally, in an enclosed automated inventory room, the goods are kept clean and away from dirt, dust, and other contaminants, which results in minimal product damage and, in turn, the proper management of the inventory.
Further, various types of load-managing devices and equipment may be integrated with a facility's enterprise resource planning (ERP) system and warehouse management system (WMS) to closely monitor stock levels in real time. Furthermore, first in, first out (FIFO) and last in, first out (LIFO) picking processes can be executed through robotic storage and retrieving machines.
Escalating Need for Efficient Material Handling
Warehousing automation solutions have the capability of improving material handling processes at distribution centers. They enable GTP fulfillment by combining the shuttles with conveyor systems and GTP stations to decrease human involvement, thus improving warehousing efficiency. These automatic devices also ensure micro-fulfillment distribution, where the shuttle retrieves goods from aisles containing fast-moving inventory and delivers them directly to an operator station for picking and order consolidation.
Further, the product grouping and buffering by such automation techniques deliver the right products and quantities, as the process adjusts to the variations in the production process. Inventory buffering leverages a high-volume buffer shuttle system designed to keep shipping, receipt, and other downstream processes running smoothly.
Automated Storage and Retrieval System Market Report Coverage

| | |
| --- | --- |
| Report Attribute | Details |
| Historical Years | 2017-2022 |
| Forecast Years | 2023-2030 |
| Market Size in 2022 | USD 8,499 Million |
| Revenue Forecast in 2030 | USD 15,012 Million |
| Growth Rate | 7.4% CAGR |
| Report Scope | Market Trends, Drivers, and Restraints; Revenue Estimation and Forecast; Segmentation Analysis; Impact of COVID-19; Companies' Strategic Developments; Market Share Analysis of Key Players; Company Profiling |
| Segments Covered | By Load; By Type; By Function; By Industry; By Region |
Explore more about this report - Request free sample pages
Rising Investments in ASRS Solutions
One of the giant players in the contract logistics solutions market—DHL Supply Chain— announced an investment of around USD 150 million in November 2022 in automation and robotics solutions at its Australian warehouses. The funding is aimed at offering faster deliveries to customers, improving operational efficiency, and reducing employee workloads. This is one of the largest investments made in robotics and automation by the company in APAC, with the aim of deploying 1,000 robots by 2025. Further, GXO Logistics continues to deploy modular technology—Cabots, autonomous mobile robots, and G2P automation to improve warehouse productivity.
For instance, an Saudi Authority for Industrial Cities and Technology Zones has signed a deal in 2023 to build 14 new fully digital and automated warehouses, which will operate under a public–private partnership model. They will allow businesses to access their storage units via a smartphone app.
Unit Load Category Held Largest Share
Under the load segment, the unit load category captured the largest market share, of 46%, in 2022, and it is expected to grow at a CAGR of around 7.8% over the forecast period, attributed to the extensive range of applications of these systems in various industries, including automotive, electronics, food & beverage, FMCG, pharmaceuticals, and retail.
These type of ASRS consist of racks, storage & retrieval machines (SRMs) or stacker cranes, software, and/or AGVs (conveyors), which transport the required material to and from the system. Further, the three types of unit-load automated systems—shuttle, crane, and robot-based systems—are designed to handle extremely large and hefty loads ranging from 400 lbs to 7,000 lbs, supported by pallets, drums, gaylords, racks, and cases. These automated cranes and shuttle-based pallet systems provide an extensive storage density and efficiency with deep storage lanes, maximum utilization of vertical space, and the capability to operate multiple pallets simultaneously. Owing to this attribute, unit-load systems, particularly crane-based pallet systems, are widely used to store and handle automobile or boat frames, where maintaining human labor is difficult and carrying weights without carriage systems is impossible.
Followed by unit load, the mini-load category held the second-largest share, owing to the high demand for lightweight (mainly, FMCG) products, such as packaged foods, beverages, cosmetics, and toiletries, which have a high sales volume, driven by the inclusion of digital shopping platforms. G2P, shuttles, and robotic technologies and equipment are optimal solutions for faster-moving product SKUs. This kind of ASRS is specially designed for extremely high-speed handling of products, automatically, at raw material stores and distribution centers and hence strengthening the automated storage and retrieval systems market.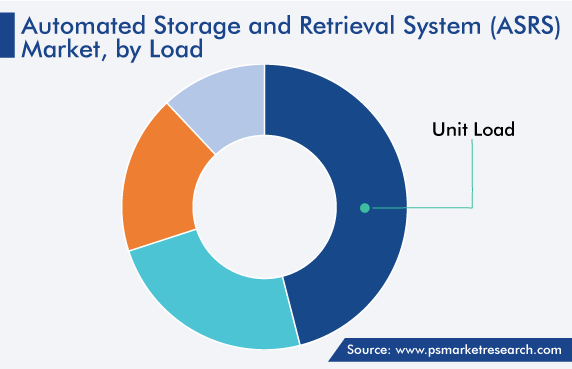 ASRSs Are Substantially Deployed in Automotive Industry
Over the past few years, automation has been redefining every step of automotive production, especially the assembly process—a phase of picking and mounting parts for models currently relying on human laborers. Warehousing transport systems offer an easily operatable and safe environment, which also lightens workloads and leads to flexible compatibility with layout adjustments, to boost efficiency.
Due to the presence of a large manufacturing base of automobile companies in APAC countries, such as China, Japan, India, and South Korea, the demand for ASRSs is booming. With the increase in the level of automation in automotive manufacturing and assembly, crane-based unit-load systems have come to be strongly preferred where high counts of SKUs and a low number of pallets per SKU are required which in turn bolstering the automated storage and retrieval system market.
Further, industrial carousels and VLMs are often used for slower-moving goods and processes, such as spare parts stocking and part assembly. Further, implementing warehouse automation in automotive manufacturing benefits companies with a compact footprint, reduced error in selecting material, increased throughput, greater inventory control, and assurance of manufacturing buffer.
APAC Market To Witness the Fastest Growth
The APAC ASRS market is projected to record the highest CAGR, of more than 8%, during the forecast period. This can be due to large production and consumer bases of ASRSs in China, India, Japan, and South Korea. The key industries in these countries include chemicals, retail & e-commerce, food & beverage, FMCG, semiconductors, automotive, electrical appliances, and metals & mining. After the automotive sector, robotic warehousing equipment is highly demanded in the e-commerce industry, due to the massive online sales driven by the growing number of online retailers across the globe and continuously evolving logistics industry.
Additionally, within the transportation industry, third-party logistics (3PLs) companies have conventionally focused on ports. However, with the growth in e-commerce sales and rise in the complexities in intralogistics, these service providers are gradually taking on more responsibilities, such as maintaining the commodities to ensure on-time deliveries. Further, the burgeoning demand for food & beverage products is strongly boosting the requirement for automated warehousing capabilities, to leverage the ever-changing consumer consumption behavior and food preferences. Therefore, storage firms are attempting to enhance their warehousing potential with the surge in the count of SKUs and thus, demanding robotic, shuttle, and G2P ASRS options for fast-moving consumer goods.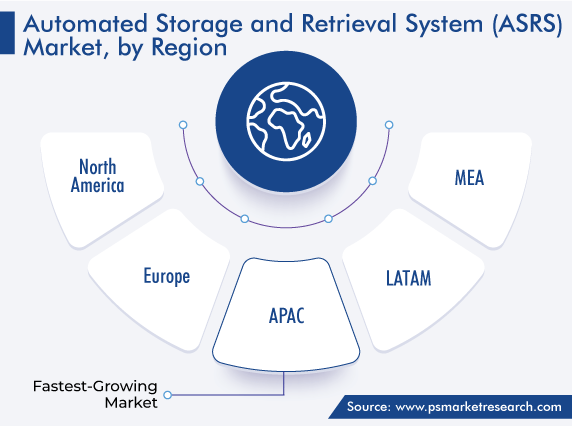 Key Automated Storage and Retrieval System (ASRS) Providers Are:
Bastian Solutions LLC
BEUMER Group GmbH & Co. KG
Daifuku Co. Ltd.
Honeywell International Inc.
Kardex Holding AG
KION GROUP AG
KNAPP AG
Kuka AG
Mecalux S.A.
Murata Machinery Ltd.
Market Size Breakdown by Segment
This fully customizable report gives a detailed analysis of the automated storage and retrieval systems industry from 2017 to 2030, based on all the relevant segments and geographies.
Based on Load
Unit Load
Mini Load
Mid Load
Based on Type
Vertical Lift Modules
Carousels
Crane-Based
Vertical Buffer Modules
Robotic Shuttles
Floor Robots
Based on Function
Storage
Distribution
Assembly
Based on Industry
Aviation
Automotive
Chemicals
Retail & E-Commerce
Food & Beverages
Healthcare & Pharmaceuticals
Metals & Heavy Machinery
Semiconductors & Electronics
Geographical Analysis
North America
Europe

Germany
U.K.
France
Italy
Spain

Asia-Pacific

Japan
China
India
South Korea
Australia

Latin America
Middle East and Africa

Saudi Arabia
South Africa
U.A.E.