Market Overview
Auto-injectors refer to a pen like medical device used for injecting a specific dose of drugs to patients. They are spring-loaded syringes that are especially designed for safe administration of the drugs with ease. These offer various added features over other traditional devices, which were not user friendly and led to frequent visits to doctors. The two types of auto-injectors currently available in market are prefilled and fillable. The prefilled auto-injectors has been the larger segment in the global auto-injectors market.
GLOBAL AUTO-INJECTORS MARKET, BY THERAPEUTIC APPLICATION, $M (2013 – 2023)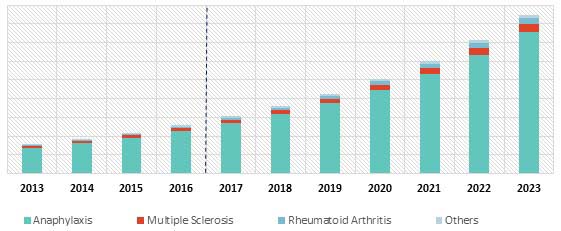 Based on manufacturing design, the global market is classified into the standardized auto-injectors and customized auto-injectors. Standardized auto-injectors held the larger share in the global auto-injectors market in 2016.Standardized injectors are designed to be easily assembled and perform the self-administration process of drugs without altering the primary packaging, using automated pathways, which further reduces the chances of accidental injuries and dose errors. These products find therapeutic application in treating anaphylaxis, multiple sclerosis, rheumatoid arthritis and other diseases, where anaphylaxis has been the largest therapeutic application area of auto-injectors and drives the growth of auto-injectors market.
Market Dynamics
The global auto-injectors market is expected to witness a CAGR of 18.6% during the forecast period (2017 – 2023). Rising prevalence of anaphylaxis and increasing healthcare spending are some of the key drivers for the global market growth. Additionally, emerging biologic drug therapies, minimized needle-stick injuries and growing aging population also support the growth of the global market. On the other hand, the auto-injectors market has been facing certain challenges such as high cost of auto-injectors, leading to low adherence and stringent regulatory requirements, which may impede its growth during the forecast period. Moreover, shifting interest of consumers from hospital to home for their healthcare needs is a key trend observed in the global auto-injectors market.
Opportunities
The increasing demand and penetration of auto-injectors in emerging economies offers enormous growth opportunities for the global auto-injectors market. With high economic growth and increasing government initiatives in Asia-Pacific, the major auto-injectors manufacturers are penetrating into the untapped market in the region.
Countries such as China and India have a huge growth potential for the auto-injectors market during the forecast years. The growth is expected to be driven by the increasing healthcare awareness, rising healthcare spending and regulatory initiatives for preventing needle-stick injuries. The countries, such as China, Brazil and India have a large population base but they still lack primary healthcare facilities. The incidence rates of various allergies are high in these countries, mainly due to lack of awareness. However, various initiatives have been taken globally to create healthcare awareness and accelerate the adoption rate of auto-injectors in the Asia-Pacific region. Prefilled and fillable auto-injectors play a vital role in treating various diseases such as, anaphylaxis, multiple sclerosis, rheumatoid arthritis and other diseases. Therefore, ease of healthcare access in these countries can create ample growth opportunities for the global market.
Growth Drivers
Needle-stick injury during drug administration can lead to blood-borne pathogen transmission, therefore healthcare workers can experience anxiety, fear and emotional distress. This risk associated with the use of the needle-stick is reduced by using auto-injectors. According to World Health Organization (WHO), approximately 16 billion injections are administered every year, globally; however, most of the syringes and needles are not properly disposed.
Similarly, according to WHO, every year unsafe injection causes approximately 1.3 million early deaths. The healthcare industry in various countries is following the mandatory use of devices with needle-stick prevention features. The increasing awareness about accidental needle-stick injuries is leading to increased emphasis on occupational safety. The innovation for safety from needle-stick is the major concern for regulatory bodies, since the number of logged needle-stick injuries in healthcare workers is on a rise. Therefore, new regulation in various regions would mandate the complete use of safety syringe to prevent needle-stick injuries. For instance, WHO hosts and coordinates the Safe Injection Global Network (SIGN), to promote and sustain injection safety worldwide. The increase in awareness about needle-stick injury leads to increased adoption of auto-injectors globally.
The self-administration drugs are mainly used for the treatment of rheumatoid arthritis, diabetes, multiple sclerosis and others. The demand for self-injection has been increasing, in order to reduce appointments and home visits, which acts as cost saver for healthcare authorities. Additionally, the usage of auto-injectors has decreased the overall medical expenses of the patient, which includes clinics visit for every injection.
The increasing number of diabetes patients would increase the number of people using self-injecting drugs. According to the World Health Organization (WHO), globally 422 million adults were living with diabetes in 2014. With an increase in number of cases for diabetes, the use of auto-injectors is expected to increase significantly. Auto-injectors are commonly used for home based treatment for major therapeutic areas, such as anaphylaxis, rheumatoid arthritis, multiple sclerosis and other diseases. The increasing awareness about various added features offered by auto-injectors leads to its increased adoption, driving the growth of the global market.
Competitive Landscape
Key player in the auto-injectors market are collaborating and acquiring other players to offer more advance solutions for treating anaphylaxis, multiple sclerosis and rheumatoid arthritis and other diseases. In March 2017, Eli Lilly and Company announced the successful completion of its acquisition of CoLucid Pharmaceuticals, Inc. The tender offer for all outstanding shares of common stock of CoLucid, at a price of $46.50 per share, expired on 28 February 2017. This acquisition will expand the Lilly's existing pain management portfolio by adding lasmiditan for the acute treatment of migraine.
Some of the key players operating in the global market include Mylan N.V., Antares Pharma Inc., Becton, Dickinson & Company, Eli Lilly and Company, Pfizer, Inc., Bayer AG, Novartis International AG, Bristol-Myer Squibb, Novartis AG, Amgen Inc. and Biogen Inc.
Scope for Customization
P&S Intelligence offers customization as per specific business requirements of clients. Illustrative customization within the scope of this report includes:
Period of Analysis – Increase in the study period, including historic and forecast years
Geographical Analysis – Increase in country coverage
Segment Analysis – More granular coverage related to:

Further analysis of product, manufacturing design and therapeutic application under auto-injectors by region

Company Profiles – Wider company coverage in terms of detailed analysis or additional company profiles
New custom report – A completely customized report can be provided on the market, specific to a region/ country/ segment