Asia-Pacific CAD Software Market Overview
The Asia-Pacific CAD software market valued $2.3 billion in 2018 and is poised to register a CAGR of 9.4% during 2019–2024. Factors such as surging demand for CAD software from the automotive industry, adoption of advanced technologies in the media and entertainment industry, and proliferating number of small- and medium-sized organizations that seek digitally advanced solutions to streamline their operations are boosting the market growth across the region.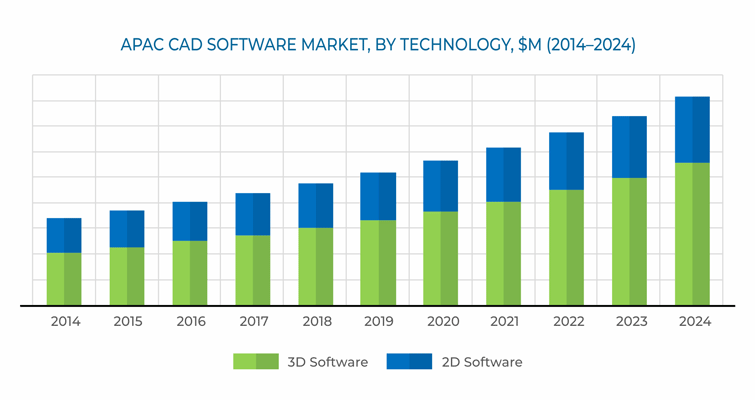 On the basis of model, the Asia-Pacific CAD software market has been categorized into wireframe, surface, and solid, of which the market for the solid modeling category is expected to display the fastest growth during the forecast period. Solid modeling supports enhanced simulation and visualization, which, in turn, encourages the wide adoption of CAD software for this type of modeling among the designers. CAD software for solid modeling is gaining traction at a significant pace and is also expected to continue holding the largest market share in the near future.
CAD software finds application across various industries, including aerospace and defense, manufacturing, automotive, media and entertainment, healthcare, arts, and others, where "others" include pharmaceuticals and chemicals. Of these, the aerospace and defense industry contributed the largest share, of 25.9%, to the Asia-Pacific CAD software market in 2018. Notable technological shift, industrial advancements, and emergence of new players in the region have led to the high demand for technology-driven CAD solutions in the industry.
China accounted for 31.9% share in the Asia-Pacific CAD software market in the year 2018. Continuous rise in research and development (R&D) spending, presence of large-scale industries, and increasing government initiatives to support product innovation and development are some of the major factors driving the growth of the Chinese CAD software market. Moreover, increasing adoption of CAD solutions for product prototyping in the manufacturing industry and growing user preference for advanced cloud-based CAD solutions are expected to provide impetus to the market growth in China.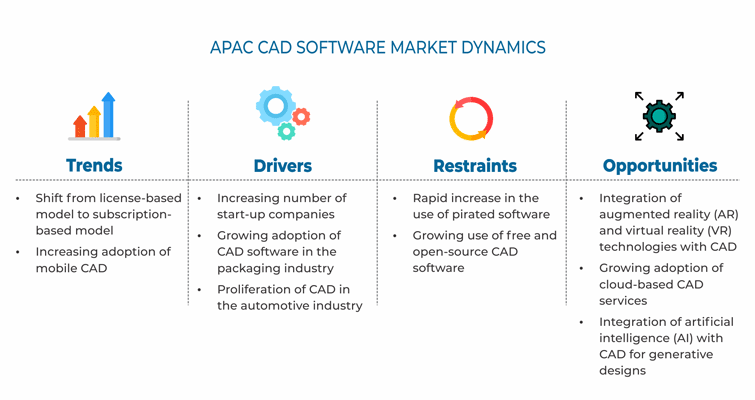 Asia-Pacific CAD Software Market Dynamics
Growth Driver
The automotive industry in the APAC region has witnessed a significant increase in demand for high-quality components owing to the increased incidence of product recalls in recent years. Automakers are, therefore, increasingly focusing on the quality of their products to offer enhanced passenger safety and meet changing customer preferences.
Besides, advancements in automotive technologies have led to the development of connected cars. With millions of connected cars expected to be on the road in the near future, designers are considering advanced solutions supported by CAD software to facilitate product development for error-free manufacturing. CAD software plays a pivotal role in the automotive industry by ensuring utmost quality and precision in component manufacturing, thus reducing the product failure rate to a great extent.
Moreover, a large number of automotive manufacturing plants are being set up in countries such as China and India. Companies such as Tesla Motors and Xpeng Motors are entering the electric car industry, which would require the use of CAD software to design new car models. Also, electric cars are witnessing high adoption in the APAC region, especially in China and Japan, which, in turn, is attracting foreign direct investments (FDIs) in these countries. Thus, with increasing competition among vehicle manufacturers and the launch of new vehicles, the demand for advanced CAD solutions is expected to further rise in the Asia-Pacific CAD software market during the forecast period.
Trend
Increasing adoption of mobile CAD has been observed as a prominent trend in the Asia-Pacific CAD software market. Mobile CAD software enables the use of CAD programs on a mobile device. The software comes in the form of an application through which the user can view, edit, and share his/her designs and drawings remotely. It not only allows engineers and designers to create 3D models and drawings of products but also enables them to improve productivity and efficiency through design execution.
Furthermore, it makes it easy for the engineers to solve the problem on the shop floor itself, thus reducing the scope of error and allowing for problem resolution in a shorter period. Some of the mobile apps supporting CAD are Solidworks eDrawings, Siemens PLM Solid Edge Mobile Viewer, PTC Creo View Mobile, and Autodesk ForceEffect.
Asia-Pacific CAD Software Market Competitive Landscape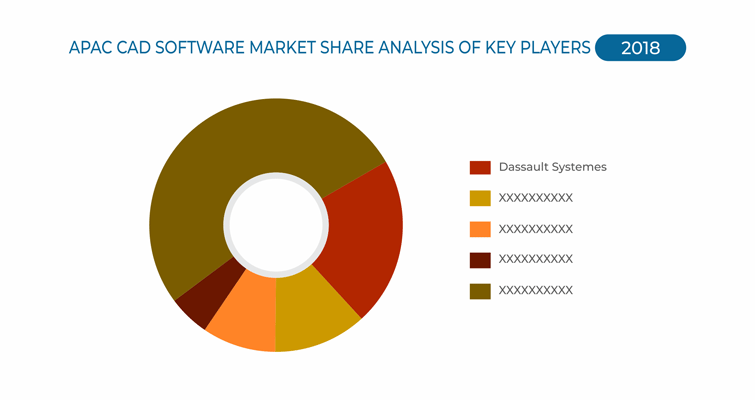 Some of the key players operating in the Asia-Pacific CAD software market are Autodesk Inc., Bentley Systems Inc., Dassault Systemes, 3D Systems Corporation, Hexagon AB, Siemens AG, and PTC Inc.
Mergers and acquisitions, and product launches have been the major activities of the key players in the Asia-Pacific CAD software market. For instance, in 2018, Dassault Systemes acquired Trace Software's product line of elecworks electrical and automation design software, which offers schematic design, electrical control panel design, and wiring–cabling–harnessing design capabilities. In the same year, PTC Inc. launched its new CAD software Creo 5.0 with advanced capabilities, including topology optimization, additive and subtractive manufacturing, and flow analysis.