Market Overview
The Asian green technology and sustainability market size stood at USD 5,816.3 million in 2023, and it is expected to grow at a CAGR of 11.1% during 2024–2030, to reach USD 12,072.6 million by 2030.
The region has a strong manufacturing base, which is why it is witnessing the rapid adoption of IoT in different verticals, which is majorly bolstering the demand for green tech solutions and services.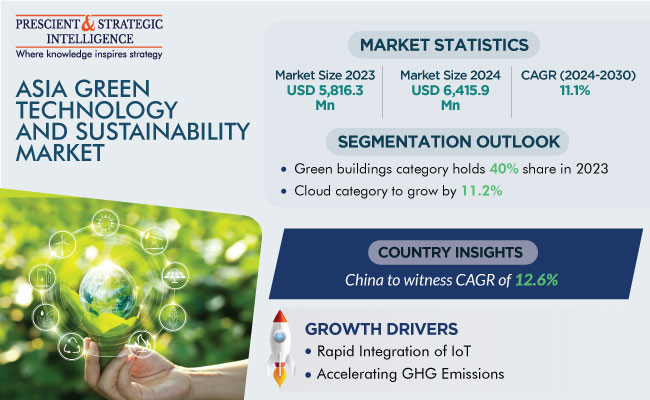 The combination of urbanization and population growth has led to a significant rise in the focus on smart city development in the region. It is a key area where intelligent solutions can increase productivity and reduce inefficiency, for streamlining operations. This is presenting opportunities for market players to bring sustainable developments through innovative building technologies.
In several countries, such as Japan and Singapore, there have been massive developments in terms of modernization and energy-efficient retrofits in recent years. For instance, there has been a huge demand from facility managers for a single platform to manage multiple building systems, for energy conservation. iSQUARE, a 31-story shopping mall centrally located in Hong Kong, demonstrates an integrated building management solution to optimize performance and maintain operational cost savings, by enabling a reduction in energy utilization.
China is the largest building construction market in the world, and its ongoing urbanization is expected to increase energy consumption. Thus, policymakers are continuously working on green building construction and the renovation of older ones with the latest green practices and solutions, on priority. With such efforts to promote high-quality development in urban and rural areas, in 2021, the total floor area of China's green buildings exceeded around 6.6 billion square meters. Further, the number of sustainable buildings is expected to increase in the coming years owing to the implementation of China's 14th Five-Year Plan, which aims to reduce emission intensity by 18% and sets a reduction target of 13.5% for energy intensity over a period of five years (2021–2025).
India's position in the green building movement is also remarkable, due to the country's aggressive plans to expand access to electricity, its explosive economic growth projections, unprecedented and rapid urbanization, and increasing environmental awareness. Therefore, the demand for green technology and sustainability solutions is increasing in the country.
Rapid Integration of IoT Propels Market Growth
The IoT category accounted for the largest revenue share, of 42.6%, in 2023, and it is projected to witness the fastest growth over the forecast period, owing to the benefits of this technology in terms of product sustainability and eco-friendly manufacturing.
The growth in the demand for IoT devices is attributed to the advancements in IoT sensor technologies, wireless connectivity, and the sustainable outcomes, which are encouraging a large number of companies to embrace digital transformation. With IoT solutions, companies are pivoting toward more-energy-efficient practices and organizing operational processes in a way that reduces waste. Companies are using IoT for sustainability in seven different ways—smart energy management, air pollution monitoring, smart waste management, fleet management, smart water management, smart farming, and cold chain monitoring.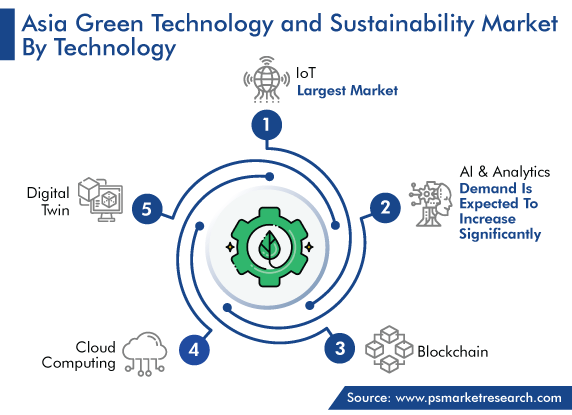 Accelerating GHG Emissions Drive Market
The main contributor to the increase in the carbon dioxide (CO2) concentration in the atmosphere is human and industrial activities, specifically the burning of fossil fuels, including coal, oil, and gas, as well as deforestation. Over the past few years, Asia, particularly China, has emitted carbon at an alarming rate, driven by the rapid economic growth and energy consumption. Among all the emission sources, coal accounted for more than 60% (7.96 billion tons) of the emissions from industries in the country in 2021.
Further, the expanding manufacturing base in developing countries, particularly China and India, drives carbon emissions. Due to the resulting environmental concerns, consumers are demanding eco-friendly products, which has given impetus to companies offering green solutions. Such solutions include carbon footprint monitoring software, crop monitoring software and devices, and air and water quality monitoring devices. Based on technologies such as AI, big data analytics, IoT, and cloud computing, these solutions help users monitor the carbon emissions from manufacturing and other activities.
Asia Green Technology and Sustainability Market Report Coverage

| | |
| --- | --- |
| Report Attribute | Details |
| Market Size in 2023 | USD 5,816.3 Million |
| Market Size in 2024 | USD 6,415.9 Million |
| Revenue Forecast in 2030 | USD 12,072.6 Million |
| Growth Rate | 11.1% CAGR |
| Historical Years | 2017-2023 |
| Forecast Years | 2024-2030 |
| Report Scope | Market Trends, Drivers, and Restraints; Revenue Estimation and Forecast; Segmentation Analysis; Impact of COVID-19; Companies' Strategic Developments; Market Share Analysis of Key Players; Company Profiling |
| Segments Covered | By Component; By Technology; By Organization Size; By Deployment Mode; By Application; By Country |
Explore more about this report - Request free sample pages
Rampant Construction of Energy-Efficient Green Buildings
Green buildings held the largest share, of around 40.4%, in 2023. With the augmenting commercialization and industrialization across Asian countries, the construction of buildings has been growing, in order to meet the space requirements of businesses and residents. As a consequence of the resulting rise in energy production, carbon emissions are increasing at an alarming rate. Therefore, to cope with the augmenting energy requirements without harming the environment, the integration of green technologies in buildings has been on the rise. Green buildings are crucial in mitigating the negative externalities associated with construction activities. From the perspective of reducing greenhouse gas emissions and energy use, green buildings have significant contributions, due to their usage of recyclable materials, renewable energy, and low-carbon components and sustainable operation and maintenance patterns.
These eco-friendly building technologies are primarily aimed at reducing the consumption of electricity and using only the energy produced onsite via rooftop solar, building-integrated PVs, and other similar renewable installations, such as energy-efficient windows, green roofs, and aluminum weather-resistant insulated access panels. By reducing waste generation and energy consumption, green buildings aid in lowering carbon emissions and, thus, contribute strongly to the demand for green solutions.
ESGB, LEED, and BREEAM have been adopted as green building evaluation standards in China. By 2021, there were approximately 24,700 green building projects with the ESGB certification, thus making the country a major contributor to green building construction. Further, the implementation of smart city projects has become more prevalent in an effort to transform urban areas, by deploying energy-efficient resources. The green solutions deployed in smart cities mainly include green buildings, smart waste management, leak management, and smart energy, which help in mitigating carbon emissions. Some Asian countries, such as China, India, Japan, the U.A.E., Saudi Arabia, and South Korea, are actively mandating sustainable smart solutions, which is supporting the demand for green solutions across the region to maintain sustainability.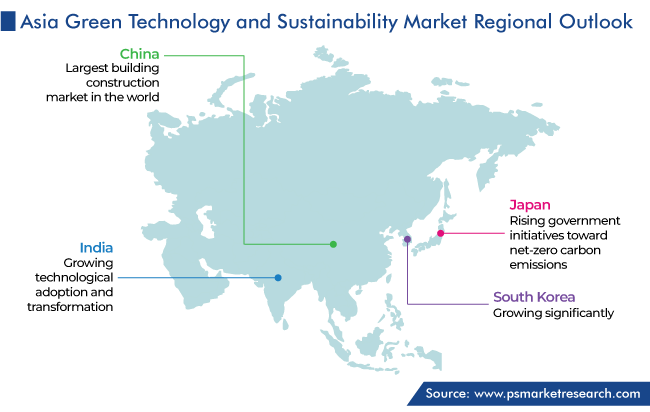 Top Green Technology and Sustainability Solution Providers in Asia Are:
Microsoft Corporation
Schneider Electric SE
Oracle Corporation
Salesforce Inc.
International Business Machines (IBM) Corporation
ENGIE Impact
Xylem Inc.
Wolters Kluwer N.V.
Tech Mahindra Limited
General Electric Company
Market Size Breakdown by Segment
The study uncovers the biggest trends and opportunities in the Asian green technology and sustainability market, along with offering segmentation analysis at the granular level for the period 2017 to 2030
Based on Component
Solutions
Services

Consulting
Support & maintenance
Integration & deployment
Based on Technology
Internet of Things (IoT)
Artificial Intelligence (AI) & Analytics
Blockchain
Cloud Computing
Digital Twin
Based on Organization Size
Small and Medium-Sized Enterprises (SMEs)
Large Enterprise
Based on Deployment Mode
Based on Application
Green Buildings
Carbon Footprint Management
Air Pollution Monitoring
Water & Wastewater Management
Weather Monitoring
Soil Conditioning/Crop Monitoring
Fire Detection
Forest Monitoring
Geographical Analysis
China
Japan
India
South Korea
Saudi Arabia
U.A.E.
Philippines
Singapore