APAC Memory Packaging Market Overview
APAC memory packaging market is estimated at $13,564.5 million in 2017, and is projected to witness a CAGR of 5.5% during 2018–2023.Increasing need for advanced architecture in consumer electronics; rising trend of miniaturization of electronic devices; growing market for smartphones, tablets, and gaming devices; and growing fabrication investments in China are some of the key factors driving the market growth.
APAC MEMORY PACKAGING MARKET, BY PLATFORM, $M (2017E-2023)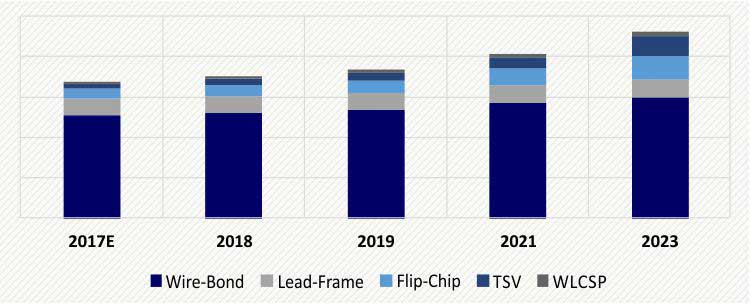 On the basis of packaging platform, the market has been categorized into wire-bond, lead-frame, flip-chip, through-silicon via (TSV), and wafer-level chip-scale packaging (WLCSP). Among these, the flip-chip packaging platform is projected to account for more than 12% share of the APAC memory packaging market in 2023, growing at a CAGR of 14.8% during the forecast period.
Rising adoption of the platform in the smartphone segment is expected to drive its market growth. According to the Mobile World Congress, APAC topped in terms of internet traffic to the smartphone in 2017. India, Malaysia, China, and New Zealand were the countries to witness immense growth in smartphone penetration in APAC in 2017.
TSV is also making inroads into memory packaging; during the forecast period, this platform is expected to witness the highest growth, with 26.5% CAGR, in the APAC APAC memory packaging market. TSV is being employed in high-bandwidth memory devices to address the need for low latency and high computing performance in various applications.
Based on application, the market has been categorized into Dynamic Random-Access Memory (DRAM) packaging, Negative AND (NAND) flash packaging, Negative OR (NOR) flash packaging, and 3D Through-Silicon Via (TSV) packaging. Together, DRAM packaging and NAND flash packaging are estimated to account for more than 73% of the APAC memory packaging market in 2017. However, during the forecast period, the memory packaging industry is expected to witness the highest growth in 3D TSV packaging. This can be attributed to the massive increase in the sales of compact and very compact consumer electronics in recent years.
TSV is gaining interest among semiconductor and electronics (S&E) companies because of its high operational efficiency and functionality. Electronic device manufacturers, such as Toshiba Corporation, Sony Corporation, Samsung Electronics Co. Ltd., OmniVision Technologies Inc., and STMicroelectronics N.V., have started introducing 3D TSV technology-integrated devices in the market.
APAC Memory Packaging Market Dynamics
Trends
The shifting demand from DRAM to 3D TSV packaging technology is one of the trends witnessed in the APAC memory packaging market in recent years. Consumers in the region have started realizing the advantages and capability of 3D TSV over DRAM for memory packaging in a variety of electronic devices.
Some of the factors responsible for the decreasing adoption rate of DRAM are increasing need for rebooting the computing device, highly complex manufacturing process of DRAM, and use of volatile memory in DRAM. In DRAM, the external circuitry is highly complex and the operational speed is quite slow. 3D TSV, on the other hand, not only offers more features as compared to DRAM but also overcomes the limitations observed in DRAM.
Drivers
Backed by billions of dollars of investments in semiconductor equipment and materials in China, the S&E market in the country is on the rise. Besides, the packaging and assembly infrastructure market has witnessed significant growth in recent years, with the expansion of manufacturing capacity by both international and domestic companies. Currently, China holds about one-third share in the annual global spending on assembly and packaging equipment. With heavy investments in the assembly and packaging industry, China has been significantly contributing to the APAC memory packaging market growth in APAC.
The major factor driving the growth of the Chinese APAC memory packaging market is the nation's efforts toward advancing its semiconductor industry by closing the gap between chip technology developers and foreign chipmakers. The Chinese government has also been focusing on investments in advanced memory packaging solutions. For instance, in 2014, the Chinese government introduced policies to promote the manufacturing of integrated circuits (ICs) and the expansion of the IC industry in the country.
Moreover, international memory packaging providers have been eying on China for investments, with equal interest shown by their Chinese counterparts for strategic company alliances. This is expected to positively impact the APAC memory packaging market growth in the country. For instance, companies such as Samsung Electronics Co. Ltd., Intel Corporation, and SK hynix Inc. are expanding their memory production capacity in China, which, in turn, is resulting in the increased demand for these solutions.
Opportunities
Technological developments in multi-level fan-out wafer-level packaging (FOWLP) are offering ample growth opportunities to the players operating in the APAC memory packaging market. Multi-level FOWLP is an advancement in the standard wafer-level memory packaging technology that can sustain higher levels of integration and bear a larger number of external contacts in many semiconductor devices, as compared to the standard technologies. With the rising adoption of small-sized system-in-package (SiP) solutions in mobile applications, the demand for FOWLP is set to increase in the coming years, which is expected to offer growth opportunities to the players operating in the market.
Development of the multi-level FOWLP technology is attracting investments from many industries, including healthcare, consumer electronics, and automotive, in the memory packaging market. For instance, in 2016, Apple Inc., a company dealing in consumer electronics, invested in integrated fan-out (InFO) memory packaging technology for its A10 processor for iPhone 7.
APAC Memory Packaging Competitive Landscape
Some of the key players in the APAC memory packaging market are Apple Inc., Dell EMC, Qualcomm Technologies Inc., IBM Corporation, Intel Corporation, Cisco Systems Inc., Samsung Electronics Co. Ltd., Winbond Electronics Corporation, Fujitsu Group, LG Electronics, Toshiba Corporation, SK hynix Inc., Nanya Technology Corporation, ASE Group, NEC Corporation, ST Microelectronics N.V., Micron Technology Inc., and Western Digital Corporation.