Anxiety and Depression Treatment Market Overview
The global market for anxiety and depression treatment products was valued at $17,770.9 million in 2020, which is projected to progress at a CAGR of 3.3% during the forecast period (2021–2030). The major factors responsible for the growth of the market include growing geriatric population, rising awareness about mental diseases and their treatment, and increasing number of product approvals.
Due to the COVID-19 pandemic, governments of several countries, worldwide, have implemented strong measures, such as lockdowns and social distancing, to ensure health threats. Quite evidently, manufacturers across the world, including those of anxiety and depression treatment products, have been negatively impacted by the economic crisis triggered by the pandemic. Additionally, the supply of raw materials has been severely affected, with the restrictions imposed by the governments on domestic and international trade, which leads to the disruption in the supply chain. Thus, it has further affected the production of active pharmaceutical ingredients (APIs) and raw materials for such drugs and devices, which has hampered the growth of the anxiety and depression treatment market.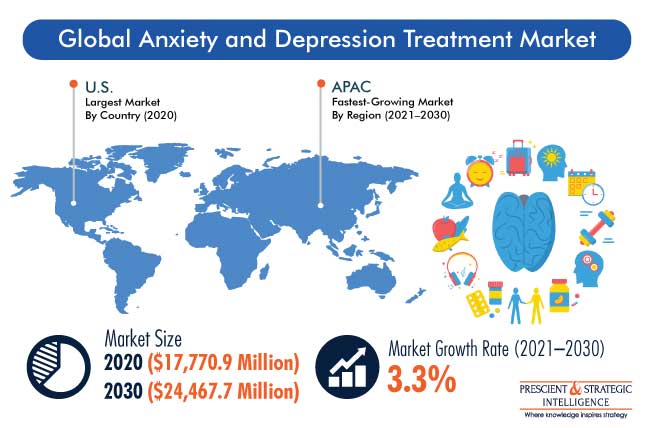 Due to Increasing Product Launches, Drugs Category Dominated the Market
Based on product type, the drugs category held larger share in the anxiety and depression treatment market in 2020, and it is also expected to retain its position in upcoming years. This is majorly due to the increasing number of product launches, initiatives taken by private and public health institutions to spread awareness about mental diseases, and research projects for mental disorders.
Major Depressive Disorder Category To Witness Fastest Growth, Owing to Large Number of Depressive Disorder Cases
Based on disorder type, the major depressive disorder category is expected to witness the fastest growth during forecast period in the market for anxiety and depression drugs. This can be mainly attributed to the rise in number of major depressive disorder cases, coupled with growth in public awareness on this issue, and surge in frequency of screening by individuals for better mental health.
Due to High Patient Influx, Hospital Pharmacies Category Led the Market
Based on distribution channel, the hospital pharmacies category held the largest share in the anxiety and depression drugs market in 2020, and it is expected to maintain the lead in the coming years. The high sales of anxiety and depression treatment products via this channel are mainly due to the increasing patients visits to look for professional help for their degrading mental health.
North America Accounted for Largest Market Share, Owing to Rising Incidence of Mental Disorders
Geographically, North America generated the largest share in the anxiety and depression treatment market in 2020, and is expected to maintain its position in coming years. This is majorly ascribed to the rise in number of cases of pain, coupled with the greater prevalence of anxiety and major depressive disorders, growth in awareness regarding mental health, high-disposable income, and increase in number of prescriptions for antidepressants, in the region.
Increasing Number of Mergers and Acquisitions Is a Key Market Trend
Mergers and acquisitions allow pharmaceutical companies to increase their portfolios, expand their reach, and enhance their workflow, in the anxiety and depression treatment market. Also, several key players are involved in mergers and acquisitions to accelerate the pace of drug discovery and development, in order to gain a competitive edge. For instance, in December 2020, Novartis AG announced to enter into an agreement to acquire Cadent Therapeutics. The acquisition will add two new drugs, which include CAD-9303, a NMDAr positive allosteric modulator; and MIJ-821, a NMDAr negative allosteric modulator, which are in clinical trial stage in the former's portfolio for neurology and psychiatry. Thus, these development strategies will create a diverse portfolio of depression and anxiety drugs in the market, leading to more demand for such drugs.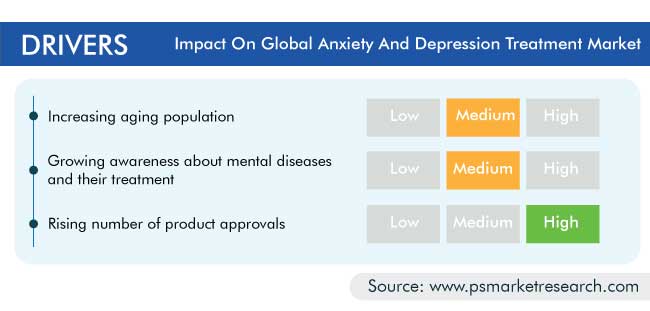 Increasing Aging Population Is Boosting the Market Growth
With the growing age, individuals go through a number of stress conditions. Some of which are common to all age groups, while some are old-age specific such as loss in capabilities to function properly. In addition, the elder people experience reduced socioeconomic status with retirement, which worsen the situation as it leads to isolation and loneliness. Thus, the older people are more vulnerable toward mental disorders, such as anxiety and depression. Thus, the rising cases of anxiety and depression in elderly population, across the world, would help the anxiety and depression treatment market growth.
Growing Awareness About Mental Diseases and their Treatment Driving the Market
The awareness about mental diseases has increased across the world, owing to the increased initiatives taken by private and public healthcare institutions. The World Health Organization (WHO) declared 10th October as the World Mental Health Day, in order to increase awareness, lessen the stigma, provide access to services, offer different treatment options, and support for mental health and related problems. Similarly, the National Alliance on Mental Illness (NAMI), a mental health organization involved in treatment, support, research, and awareness about mental illness, was established in 1979 in the U.S., to provide support and psycho education to improve the lives of people suffering from mental illnesses. Thus, such initiatives are propelling the demand for anxiety and depression treatment products.
| Report Attribute | Details |
| --- | --- |
| Historical Years | 2015-2020 |
| Forecast Years | 2021-2030 |
| Base Year (2020) Market Size | $17,770 Million |
| Forecast Period CAGR | 3.3% |
| Report Coverage | Market Trends; Revenue Estimation and Forecast; Segmentation Analysis; Regional Breakdown; Companies' Strategic Developments; Product Benchmarking; Company Profiling |
| Market Size by Segments | By Product Type; By Disorder Type; By Distribution Channel; By Region |
| Market Size of Geographies | China; India; Japan; South Korea; Australia; U.S.; Canada; Mexico; Brazil; Germany; U.K.; France; Spain; Italy; Saudi Arabia; South Africa |
| Secondary Sources and References (Partial List) | Alzheimer's Association; American Counseling Association; American Psychological Association; Brazilian Medical Association; Geriatric Mental Health Foundation; International Stress Management Association; National Alliance on Mental Illness; American Institute of Stress; World Federation for Mental Health |
Market Players Are Focusing on Product Launches to Gain a Competitive Edge
The global anxiety and depression treatment market has the presence of various key players, such as Novartis AG, Pfizer Inc., Bristol-Myers Squibb Company, Johnson & Johnson, Merck & Co. Inc., AbbVie Inc., Eli Lilly and Company, GlaxoSmithKline plc, and Sanofi.
In recent years, the players in the anxiety and depression treatment industry have indulged themselves in more product launches to offer a better product portfolio than other competitors.
In March 2021, Cipla Limited announced that it has received the approval for its Abbreviated New Drug Application (ANDA) for sumatriptan nasal spray, 20 mg, from the United States Food and Drug Administration (USFDA). It is a generic therapeutic equivalent version of GlaxoSmithKline plc's Imitrex nasal spray, a serotonin (5-HT1B/1D) receptor agonist (triptan) indicated for the acute treatment of migraine, with or without aura, in adults.
In December 2020, H. Lundbeck A/S announced the acceptance of its filing for Vyepti (eptinezumab-jjmr) by the European Medicines Agency (EMA) for Marketing Authorization Application (MAA) review. The filing seeks approval to introduce Vyepti to European citizens who live with migraine and are eligible for preventative therapy. Vyepti is designed to prevent calcitonin gene-related peptide (CGRP) from binding to its receptor, thereby preventing migraine attacks.
Key Players in Anxiety and Depression Treatment Industry Include:
AbbVie Inc.

Eli Lilly and Company

GlaxoSmithKline plc

Sanofi

H. Lundbeck A/S
Market Size Breakdown by Segment
The global anxiety and depression treatment market report offers comprehensive market segmentation analysis along with market estimation for the period 2015–2030.
Based on Product Type
Drugs

Antidepressants

SSRIs
SNRIs
TCAs
MAOIs
Others (atypical antidepressants and noradrenergic and specific serotonergic antidepressants [NaSSAs])

Anticonvulsants
Atypical antipsychotics
Benzodiazepines
Beta-blockers

Devices
Drugs Market, Based on Disorder Type
Major Depressive Disorder
OCD
Phobia
PTSD
Drugs Market, Based on Distribution Channel
Hospital Pharmacies
Retail Pharmacies
Online Channels
Direct Channels
Geographical Analysis
North America
Europe

Germany
France
U.K.
Italy
Spain

Asia-Pacific (APAC)

China
Japan
India
Australia
South Korea

Latin America (LATAM)
Middle East Africa (MEA)

Saudi Arabia
South Africa