Market Overview
The global animal pharmaceuticals market size stood at roughly $40.07 billion in 2021, and it is set to reach $72.74 billion by 2030, growing at a CAGR of 6.8% during 2021–2030. The major factors credited for the rising demand for veterinary drugs are the increasing consumption of meat and milk products, booming pet adoption trend, and growing incidence of zoonotic diseases.
Moreover, the increasing investment in vet R&D and mandates for the immunization of companion and production animals are expected to fuel the demand for veterinary medications, including vaccines. Furthermore, the rising demand for pet insurance, increasing expenditure on animal welfare, and surging number of initiatives by government agencies and animal welfare associations in this regard will drive the growth of the animal pharmaceuticals market.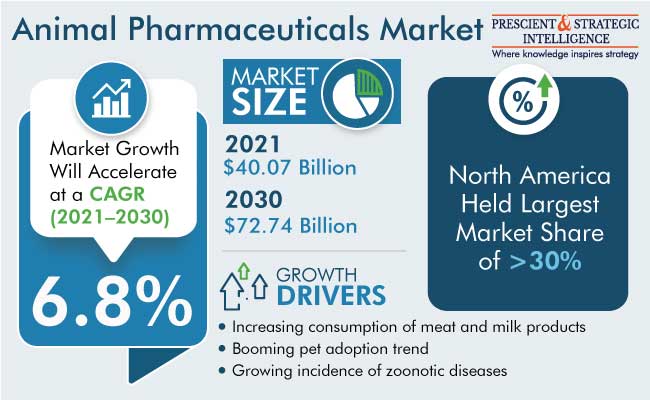 Production Animals Category Is Higher Revenue Contributor
The Production animals category, based on animal type, held a more than 52% revenue share in 2021, and it is expected to grow at a significant CAGR in the forecast period, due to the rising demand for protein-rich meals across the world. Production animals are reared for their skin (leather and fur), milk, wool, and meat. According to the United States Department of Agriculture (USDA) and the National Agricultural Statistics Service (NASS), the revenue from chicken, egg, broiler, and turkey sales, was $46.10 billion in 2021. Furthermore, the increasing spending on animal health, particularly in industrialized nations, is due to the widespread adoption of production animals.
Companion Animals Category To Witness Faster Growth
The companion animals category is expected to grow at the higher CAGR, of more than 8%, over the forecast period, due to the growing incidence of chronic diseases in animals. Moreover, companion animals receive more-specialized care and medical attention from their owners than production animals, which is a major factor boosting the market revenue of this category.
The demand for better treatment choices for companion animals is being driven by a rise in the number of pet owners, which is leading to an increase in the expenditure on pet healthcare. The American Pet Products Association reports that the overall spending on pets in the U.S. increased from $97.1 billion in 2019 to $103.6 billion in 2020 and that it will likely surpass $109.6 billion in 2022.
The companion animals category is further categorized into dogs, cats, horses, and others. The dogs category holds a significant revenue share due to the growing need for better treatment options for canines with chronic disorders.
Parenteral Category Holds Largest Market Share
The parenteral category, based on route of administration, held the largest revenue share, of around 45.0%, in 2021, owing to the easy availability of parenterally administered drugs and their rapid onset of action, usually within an hour of administration.
The oral category is projected to grow at a CAGR of around 8%, owing to the developments in the oral veterinary medicine field, such as chewable tablets. The oral route is most commonly utilized to provide medication to cattle, pigs, and poultry, as well as to companion animals. New oral delivery methods for flea and tick control medications are enhancing pet care, by making administration easier and more convenient for pet owners. Such drugs are available in the form of powders, tablets, capsules, boluses, granules, pastes, suspensions, and solutions.
Animal Pharmaceuticals Market Report Coverage

| | |
| --- | --- |
| Report Attribute | Details |
| Historical Years | 2017-2021 |
| Forecast Years | 2022-2030 |
| Market Size in 2021 | $40.07 Billion |
| Revenue Forecast in 2030 | $72.74 Billion |
| Growth Rate | 6.8% CAGR |
| Report Scope | Market Trends, Drivers, and Restraints; Revenue Estimation and Forecast; Segmentation Analysis; Impact of COVID-19; Segmentation Analysis of Countries; Companies' Strategic Developments; Market Share Analysis of Key Players; Company Profiling |
| Segments Covered | By Animal Type; By Product; By Mode of Administration; By Distribution Channel; By Region |
Explore more about this report - Request free sample pages
Anti-Infective Products Hold Largest Revenue Share
The anti-infectives category, based on product, held a market share of around 35.0% in 2021, owing to the increasing occurrence of bacterial illnesses in production and companion animals, particularly dogs. Moreover, the increasing pressure on animal owners to maintain veterinary health standards, in order to fulfill the demand for dairy products, fresh meat, and animal-derived nutritional supplements, is expected to escalate the use of veterinary anti-infectives in the coming years.
In addition, key anti-bacterial, agents such as cephalosporins, tetracyclines, penicillin, macrolides, quinolones, sulphonamides, and polymyxins, are widely prescribed for animals. The World Health Organization (WHO) is involved in a variety of programs aimed at addressing health hazards in the human–animal-ecosystem, such as antibiotic resistance and food-borne zoonoses. Furthermore, the increasing rate of pet adoption, along with the rising concerns about pet health, is expected to drive the growth of the market over the forecast period.
Increasing Prevalence of Zoonotic Diseases Drives Market
The rising occurrence of zoonotic illnesses and diseases in animals themselves, such as eastern equine encephalitis, a lethal infection affecting the brain, is expected to propel the growth of the market. Other serious zoonotic illnesses, which pass on to humans from animals, are rabies, salmonellosis, psittacosis, tularemia, plague, brucellosis, and Lyme disease. Animals are susceptible to many illnesses and environmental risks, and they can act as an early warning system for possible human infections. The global prevalence of zoonotic illnesses has grown during the last two decades as a result of the rising pet population in the emerging economies.
Veterinary Hospitals & Clinics Contribute Highest Revenue
Veterinary hospitals & clinics held a more than 70.0% market share in 2021. This dominance is owed to the advancements in diagnostic imaging, therapeutics, nuclear and regenerative medicine, laser diagnostics, and surgeries offered in vet hospitals & clinics. Veterinary hospitals provide day-to-day care, immunization & therapeutic vaccination, artificial insemination, surgical interventions, and other services to cattle, birds, and small animals.
Some of the other factors driving the growth of this category are the increasing use of animal antibiotics in hospital settings due to the rising incidence of infectious diseases, surging number of veterinary hospitals, growing ownership of companion animals, ballooning veterinary expenditure, and booming awareness about animal health in developing countries.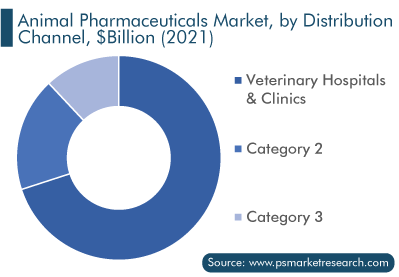 E-Commerce Category To Exhibit Fastest Growth
The e-commerce category, based on distribution channel, will advance at a CAGR of around 7.5% during the forecast period. This will be due to the increasing rate of digitization in the animal health business, shifting consumers preference toward online shopping, growing acceptance of veterinary telemedicine, and growing usage of e-commerce platforms as the preferred platform for buying goods.
North America Dominates Market
North America dominated the market, with a revenue share of more than 30.0% in 2021, and it is predicted to grow at a significant CAGR during the forecast period. This is owing to the growing pet ownership and high standards of living across the region. Furthermore, the rising awareness about veterinary diseases, coupled with the increase in the population of production and companion animals and the existence of major industry players in this region, will support the growth of the North American animal pharmaceuticals market during the forecast period.
Furthermore, the well-established animal health sector, rising occurrence of parasitic infections, and presence of a large number of hospitals and clinics across the region boost the growth of the market. Additionally, the increasing research & development funding and surging public awareness of animal health will play a key role in this regard.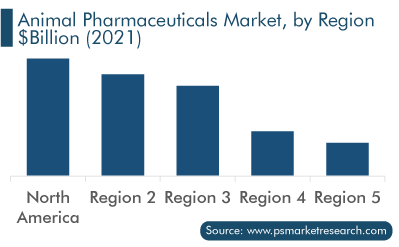 Asia-Pacific To Witness Highest Growth
Asia-Pacific is set to grow at a significant CAGR, of more than 8%, during the forecast period. The region is seeing a surge in the export of animal goods, which is putting pressure on farm owners and workers to keep the animals healthy, owing to the rigorous testing of animal products throughout the export process. Moreover, the rising living standards in nations such as India and China are contributing to an increase in the number of companion animals. Furthermore, the changing lifestyles in these countries have increased the adoption of production animals, thus supporting the growth of the animal pharmaceuticals market over the forecast period.
Top Players in Animal Pharmaceuticals Market Are:
Merck & Co. Inc.
Ceva
Vetoquinol
Zoetis
Boehringer Ingelheim International GmbH
Elanco
Virbac
Laboratorios Calier S.A.
Bimeda Inc.
Prodivet pharmaceuticals sa/nv
Market Size Breakdown by Segment
The study offers a comprehensive market segmentation analysis along with market estimation for the period 2017-2030.
Based on Animal Type
Companion Animals
Production Animals
Based on Product
Parasiticides
Anti-Infectives
Anti-Inflammatory
Analgesics
Based on Mode of Administration
Based on Distribution Channel
Veterinary Hospitals & Clinics
Pharmacies & Retail Stores
E-Commerce stores
Geographical Analysis
North America
Europe

Germany
France
U.K.
Italy
Spain

Asia-Pacific

China
India
Japan
South Korea
Australia

Latin America
Middle East and Africa

Saudi Arabia
South Africa