Market Overview
The global anastomosis devices market was valued at USD 2,912.7 million in 2022, which is expected to reach USD 5,535.1 million by 2030, growing at a CAGR of 8.5% during the projected period. This is attributable to the rising prevalence of target illnesses and the consequent surge in surgical procedures, the increasing demand for minimally invasive procedures, and the presence of a supportive regulatory environment.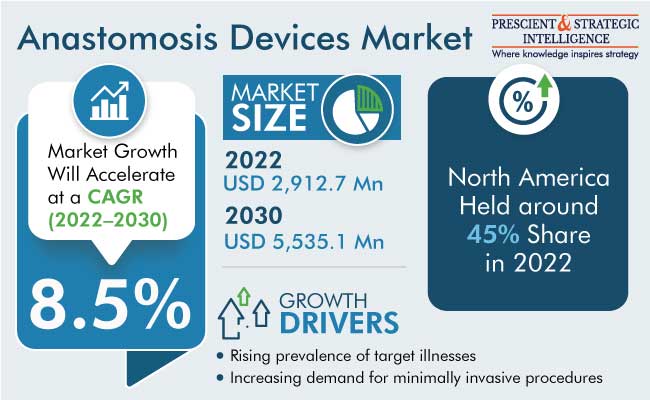 Patients are asking for more and more minimally invasive procedures that make use of highly advanced equipment to treat their medical conditions and shorten recovery times. Trans-catheters and drug-eluting stents are constantly being improved as a result, which will upsurge the adoption rate of anastomosis devices.
The number of procedures executed was delayed as a result of restrictions due to the COVID-19 pandemic. Currently, the majority of nations place severe limitations on elective operations. As a result, the devices would be in high demand, as these surgeries get underway. Additionally, the demand for enhanced patient outcomes will propel the development of cutting-edge technologies, such as anastomoses technology. For example, in October 2020, GI Windows Corp. raised USD 16.4 million in a Series A-1 funding that included participation from Johnson & Johnson Innovation and other investors. This money will be used to advance the development and clinical trials of the previously mentioned technology.
In addition, several companies, including Becton, CONMED Corporation, and Meril Life Sciences, are spending a lot of money on research and development (R&D) projects to create enhanced gadgets for better clinical outcomes. A positive picture for the sector is also being created by the expanding need for these appliances in other orthopedic, gynecological, and ophthalmology surgeries.
Myocardial infarction rates are predicted to rise, which will help the industry expand. In operations, the devices are crucial because chronic diseases are becoming more common, which will further boost the expansion of the market. Modern instruments can significantly reduce hazards that arise during surgical procedures. The benefits of using these gadgets, such as shorter operating times, greater surgeon convenience, reduced anesthetic exposure, and a lower chance of blood leakage, are driving their need. These instruments are also expected to be used by surgeons frequently if coronary bypass graft surgery (CABG) operations receive more funding.
Additionally, the lunch of advanced products supports the market growth. For instance, EEA Circular Stapler with Tri-Staple Technology was introduced in December 2020 by India Medtronic Private Limited, a fully owned subsidiary of Medtronic. This is the first 3-row circular stapler that is recommended for use during colorectal surgeries.
Moreover, advantageous reimbursement scenarios in heart operations, such as open-heart valve replacement and angioplasty, in developed nations are likely to have a positive impact on the demand for such products.
Upsurge in Number of Operations Performed Globally Drives the Market Growth
A surge in the number of operations performed globally is likely to fuel the growth of the industry. This is because of the worldwide increase in the senior population and a rise in the prevalence of lifestyle diseases such as cancer, diabetes, hypertension, obesity, and heart illnesses. Thus, the demand for anastomosis systems is expected to increase along with the rising number of these surgeries. Also, these tools facilitate less scarring, quicker healing, and less blood loss.
In addition, surgeons perform techniques using extremely minimally invasive methods, and these instruments are particularly useful in treating cardiovascular conditions. Thus, medical experts can execute surgeries with high precision by using such equipment, as these devices can make an operation safe and reliable even in the most complicated parts of the heart, which will further encourage their adoption.
The use of these appliances further minimizes the need for a number of elements that can lead to suboptimal patient outcomes, such as induced hypothermic cardiac arrest, extracorporeal circulatory support, and aortic cross-clamping, on top of that they also aid in making the mechanics of the processes simpler for medical professionals.
Anastomosis Devices Market Report Coverage

| | |
| --- | --- |
| Report Attribute | Details |
| Historical Years | 2017-2022 |
| Forecast Years | 2023-2030 |
| Market Size in 2022 | USD 2,912.7 Million |
| Revenue Forecast in 2030 | USD 5,535.1 Million |
| Growth Rate | 8.5% CAGR |
| Report Scope | Market Trends, Drivers, and Restraints; Revenue Estimation and Forecast; Segmentation Analysis; Impact of COVID-19; Companies' Strategic Developments; Market Share Analysis of Key Players; Company Profiling |
| Segments Covered | By Type, By Product Type; By Application; By End User; By Region |
Explore more about this report - Request free sample pages
Disposable Category Dominates the Industry
The disposable category dominated the market by holding the larger revenue share, around 80%, in 2022. This is due to a wider range of these items being offered and increased marketplace penetration. In addition, a large number of major players are engaged in the manufacture of disposable items.
Furthermore, these products lessen the possibility of SSI, cross-contamination, and other infections linked to healthcare. These disposable instruments also have the benefit of not needing to be reprocessed in between applications, which lowers reprocessing costs and expedites the overall procedures. Hence, the aforesaid advantages will drive the market in this category at a steady rate.
Cardiovascular and Thoracic Surgeries Category To Maintain its Dominance in Application Classification
Based on application, the cardiovascular and thoracic surgeries category accounted for the largest revenue share, over 60%, in 2022. This is because of the constant surge in the prevalence of CVDs, which are a key contributor to the rise in the number of heart surgeries. According to the WHO, there are approximately 17.9 million deaths occur due to CVDs.
On the other hand, due to the rising incidence of colorectal cancer and other gastrointestinal disorders that necessitate bowel resection, the gastrointestinal surgeries category, which includes large bowel resections and colorectal procedures, is expected to experience substantial growth of CAGR around 10% over the projected period.
Since colorectal cancer is becoming more common in the APAC region, the market has tremendous potential. It also noted that over the past 10 years, its incidence has increased two-to-four times in East Asian nations like Japan, China, South Korea, and Singapore. Additionally, a sizable number of items for usage in gastrointestinal anastomosis are projected to be introduced in the market throughout the projection period, offering several opportunities to industry players.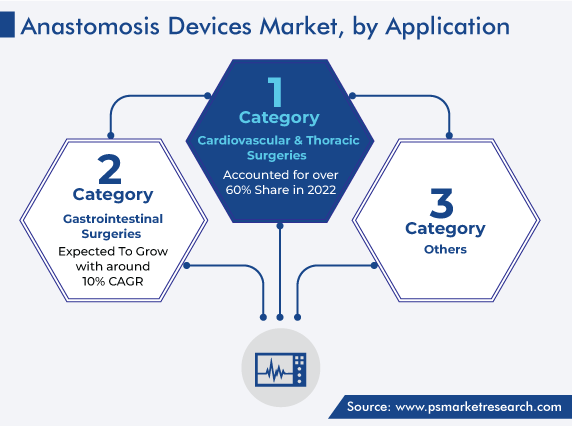 New Launches To Significantly Contribute To the Success of the Industry
In order to achieve a significant share and a competitive advantage, top competitors have raised their prospects through strategic alliances and collaborations and are working toward the introduction of new releases. For instance:
The SureForm 45 Stapler from Intuitive Surgical was given FDA approval on January 18, 2019.
Baxter International Inc. purchased the Pharmaceutical's PREVELEAK Surgical Sealant and RECOTHROM Surgical Hemostat and Sealant Portfolio from Mallinckrodt Pharmaceutical on March 19, 2018. With this acquisition, Baxter's selection of enhanced surgical sealants was expanded.
North America Is Largest Revenue Contributor
North America accounted for the largest revenue share, around 45%, in 2022. Multiple cardiovascular indications, such as CAD and strokes, and gastric malignancies, such as adenocarcinoma and lymphoma, are becoming more prevalent in the region, which has led to an increase in procedures and a consequent rise in the need for anastomosis systems.
Moreover, according to statistics released in January 2020 by the American Heart Association, approximately half of the people in the U.S. has a cardiovascular condition of some kind, such as cardiac disease and hypertension. Thus, these instruments for monitoring and diagnosing cardiovascular systems became necessary as heart diseases became more widespread. In addition, the growing elderly population with chronic illnesses and deskbound lifestyles is significantly contributing to the development of the regional market.
Furthermore, due to the rise in severe disorders brought on by the aging population, there is a corresponding rise in the demand for surgeries, which is responsible for the high usage of anastomosis devices in the region.
Europe is the second largest market for anastomosis devices, accounting for 30% of the market in 2022. The growth in the market is mainly attributable to the increasing aging population; rising prevalence of chronic diseases; presence of established players; and rapid number of product launches in the region.
Additionally, the European region has reported increasing number of hospitals and surgical centers where anastomosis devices are more common. There are many number of hospitals are planned to be inaugurated in the upcoming years which are expected to increase various types of systems and anastomosis devices.
Germany, France and the U.K. are cumulatively holding around 50% of the European anastomosis devices market. Companies in these countries are actively involved in developing innovative and advanced products to cater the demand. Moreover, these nations also have well-developed healthcare infrastructure which are equipped with all large-to-small sized systems including anastomosis devices.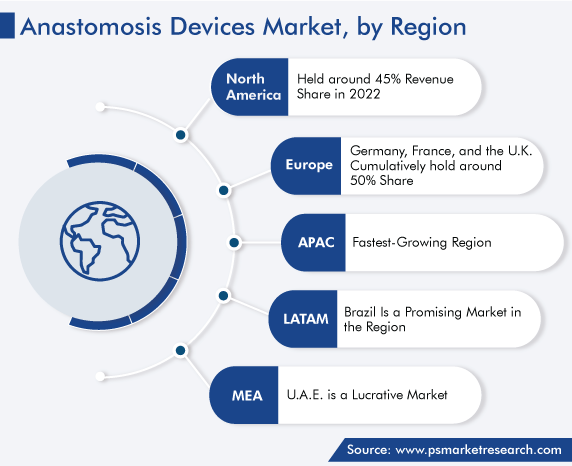 Top Anastomosis Devices' Companies Are:
Johnson & Johnson
Medtronic plc
B. Braun Melsungen AG
Smith & Nephew plc
Becton, Dickinson and Company
CONMED Corporation
Baxter International Inc.
Intuitive Surgical Inc.
Biosintex
Meril Life Sciences Pvt. Ltd.
Market Size Breakdown by Segment
The study uncovers the biggest trends and opportunities in the market, along with offering segmentation analysis at the granular level for the period 2017 to 2030.
Based on Type
Based on Product Type
Staplers
Sutures

Absorbable
Non-absorbable
Automated suturing devices

Sealants & Adhesives
Based on Application
Gastrointestinal Surgeries
Cardiovascular & Thoracic Surgeries
Based on End User
Hospitals
Ambulatory Surgery Centers & Clinics
Geographical Analysis
North America
Europe

Germany
U.K.
France
Italy
Spain

Asia-Pacific

Japan
China
India
South Korea
Australia

Latin America
Middle East and Africa

Saudi Arabia
South Africa
U.A.E.