Market Overview
The ammonium sulfate market size in 2021 was valued at $2,775.7 million, and it is projected to advance at a CAGR of 6.4% during the forecast period, to reach $4,847.9 million by 2030. The industry is very dynamic and constantly evolving, with various enterprises working in the global ecosystem to improve overall market intensity.
Technological advances in end-use sectors such as process innovations, geographical expansions of companies, and increase in manufacturing capabilities to cater to a larger marketspace, are also expected to fuel the market growth in the future years, worldwide. The growing reliance of the global farming community on various agricultural inputs such as fertilizers and pesticides has paved the way for advanced ammonium sulfate for use as a nitrogenous fertilizer.
In terms of its use in agricultural fertilizers, ammonium sulfate has no significant substitutes on the global market. However, its application has so far been limited to specific crops such as soybean and maize, and so the threat of substitution is seen as minor. Further, supplier bargaining strength in the market is regarded as moderate since the industry represents forward integrated operations of the majority of feedstock suppliers, including sulfuric acid and ammonia suppliers, creating a solid presence in the global agriculture sector.
The cheap availability of raw materials like sulfuric acid and ammonia across the important agrarian economies of APAC, MEA, and LATAM is a key benefit for ammonium sulfate producers. With the high market potential in these regions, corporations are investing extensively in improving their manufacturing and production capacities, either through partnerships or as a separate company, in order to achieve a larger market share.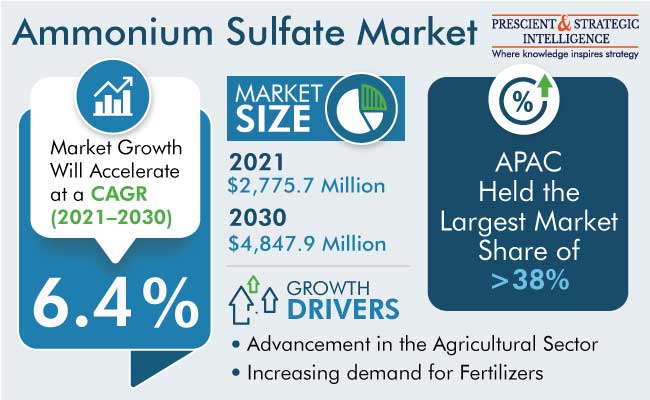 Solid Form of Ammonium Is Larger Revenue Generator in Market
The solid category dominated the ammonium sulfate market sales, with a share of more than 85%, in 2021. Because of their potential to improve sulfur deficit and soil nutrient content, solid ammonium sulfate crystals are widely utilized as fertilizers in alkaline soils, across the world. As a result, enhancing crop quality awareness and yield. Furthermore, ammonium salt is less expensive than its replacements, such as ammonium nitrate and ammonium chloride.
Whereas, ammonium sulfate in liquid form is commercially accessible as a pale yellowish substance, and it is known as a stable, non-toxic, and non-hazardous material. The usage of liquid ammonium sulfate in water treatment operations worldwide is increasing, and it is widely acknowledged as a universally acceptable material for chlorination. Thus, the category is expected to witness faster growth during the forecast period.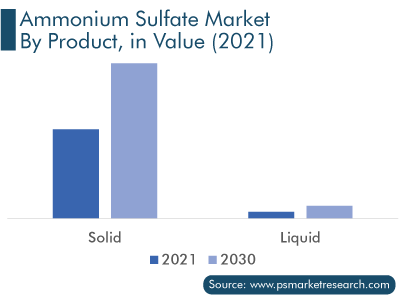 Fertilizers Application Holds a Significant Market Share
The fertilizers category accounted for the largest market share, of more than 60%, in 2021. The rising demand for food grain, as a result of the growing population and the provision of fertilizer subsidy schemes by governments around the world, has increased the consumption of fertilizers in the agriculture sector.
Moreover, the expanding pharmaceutical industry across the globe, particularly in Western Europe, APAC, and North America, is expected to pave the way for increased consumption of ammonium sulfate, which will be supported by the increased medicinal research conducted by key pharmaceutical companies in these regions.
In addition, feed-grade ammonium sulfate is gaining popularity around the world, due to its acceptance as a safe non-nitrogen source for cattle and other ruminants. Ammonium sulfate is widely used in the production of enzymes for feed and the removal of potassium from vinasse, resulting in high-quality feed for cattle.
During the forecast period, the water treatment category will propel at the highest growth rate. Ammonium sulfate is combined with chlorine in water treatment applications to produce monochloramine for disinfection. It is gaining popularity in the water treatment industry, due to its lower cost when compared to alternatives such as ammonia gas or aqua ammonia.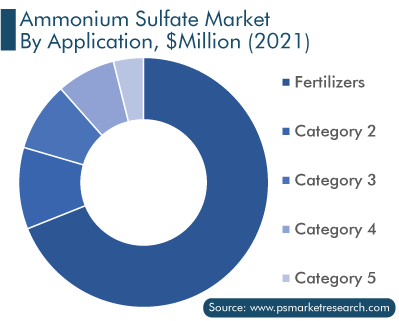 Regional Insights
The North American ammonium sulfate market accounts for a significant revenue share. This is because North America is one of the world's largest agricultural hubs and the most homogeneous region in terms of farmer profile and level of business intensification. The availability of water and fertile land, efficient infrastructure, and entrepreneurial farmers give the region a competitive advantage. Moreover, the U.S. leads the North American fertilizers industry, with ammonium sulfate and urea being the most widely used for fertilizer production.
In addition, Europe held the second-largest market share in terms of revenue in 2021. This is attributed to the increased demand for fertilizers used in crop production. Also, the requirement for ammonium sulfate is rising from downstream industries such as pharmaceuticals. Participants in the market are focusing on improving production capacity to meet its need in multiple regions and countries, either on their own or in collaboration with other players. Furthermore, as the demand for packaged food grows, so does the need for ammonium sulfate-containing food additives, in the region.
Geographically, APAC accounted for the largest revenue share, of more than 30%, in 2021, and it is also projected to continue showing its market dominance during the forecast period. This is because of the region's high agricultural production, increased reliance on nitrogen-based fertilizers, rise in food consumption, and rapid growth in the population. Furthermore, the presence of a large number of manufacturers in the region is likely to stimulate the industry growth rate. Also, the rising need to improve agricultural yield and food crop production in India, China, Indonesia, Japan, Bangladesh, and Pakistan, is expected to boost the demand for fertilizers and agrochemicals, supporting the ammonium sulfate market growth.
China is one of the key countries in APAC, with an agriculture sector that is constantly evolving and incorporating new technologies. Due to the high population growth, China's available arable land area has shrunk dramatically over the last two decades. This factor has increased fertilizer requirement, which has led to an increase in the ammonium sulfate demand.
Moreover, the LATAM and MEA markets are expected to grow steadily in the coming years, due to the surging need for ammonium sulfate-based fertilizers for the strong growth of crops, such as soybeans, grapes, wheat, and sunflower seeds.
Ammonium Sulfate Market Report Coverage

| | |
| --- | --- |
| Report Attribute | Details |
| Historical Years | 2017-2021 |
| Forecast Years | 2022-2030 |
| Market Size in 2021 | $2,775.7 Million |
| Revenue Forecast in 2030 | $4,847.9 Million |
| Growth Rate | 6.4% CAGR |
| Report Scope | Market Trends, Drivers, and Restraints; Revenue Estimation and Forecast; Segmentation Analysis; Impact of COVID-19; Companies' Strategic Developments; Market Share Analysis of Key Players; Company Profiling |
| Segments Covered | By Product; By Application; By Region |
Explore more about this report - Request free sample pages
Strategic Development by Market Players to Gain a Competitive Edge
The market is highly competitive, due to the presence of numerous players with a global presence. Several small and medium-sized businesses are forming strategic alliances with these multinationals at the regional level, in order to expand their market presence across key application points in their respective regions. With the increased demand for innovative products from fertilizer producers, water treatment plants, pharmaceutical organizations, and food additive companies, global competition is projected to rise during the forecast period. Strategic developments such as product launches, partnerships, and geographic expansions are undertaken by companies to gain a competitive edge in the market.
For instance, in July 2022, Evonik Corporation agreed to supply Interoceanic Corporation with blueSulfate, a liquid ammonium sulfate solution, from its Alabama facility. This agreement contributes to Evonik's strategy to concentrate on its core business of animal nutrition by marketing high-value co-products through Interoceanic Corporation.
Key Players in the Ammonium Sulfate Market Are:
BASF
Evonik Industries AG
Sumitomo Corporation
LANXESS AG
DOMO Chemicals GmbH
Arkema
Fibrant B.V.
Novus International Inc.
ArcelorMittal
Market Size Breakdown by Segment
The study offers a comprehensive market segmentation analysis along with market estimation for the period 2017-2030.
Based on Product
Based on Application
Fertilizers
Pharmaceuticals
Food & Feed Additives
Water Treatment
Regional Analysis
North America
Europe

Germany
U.K.
France
Italy
Spain

Asia-Pacific

Japan
China
India
South Korea

Latin America
Middle East and Africa

Saudi Arabia
South Africa