Market Overview
The global air brake system market revenue is USD 3,021.2 million (estimated) in 2023, which is expected to reach USD 4,079.8 million by 2030, growing at a CAGR of 4.7% during 2024–2030.
This is due to the extensive usage of these components in heavy commercial vehicles because they provide a reliable performance, powerful and simultaneous braking, independence from engine power, and many other advantages. The rapid urbanization and industrialization, combined with a rising population, are leading to the initiation of building & construction activities on a mass scale. This, in turn, creates a high demand for the transportation of raw material by trucks, trailers, and semi-trailer tractors, all of which employ this braking technology.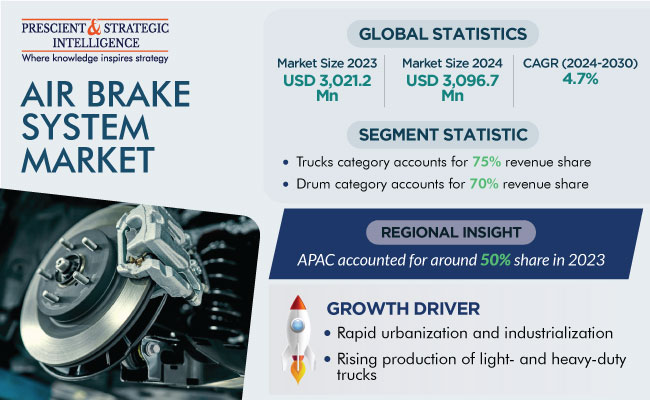 Air brake systems are used to slow down or stop vehicles efficiently and safely. They are designed for precise control and use compressed air, which mitigates the chances of brake fade and enables the simultaneous application of the brakes across multiple wheels. This way the technology improves stability and control during the process.
They are preferred in heavy-duty vehicles due to their reliability, capacity to handle heavy loads, and consistent performance under challenging situations. This is itself a response to the high road traffic accident incidence, which continues to increase. The WHO says that the number of road traffic deaths every year is 1.34 million, mostly people aged 5–29 years. Thus, governments globally are implementing rules and regulations regarding the safety of people and the driver. Many countries have placed an utmost importance on the maximum load-carrying capacities and mandated the installation of air brakes in heavy-duty vehicles.
They are used in pieces of machinery other than automobiles as well. Construction and mining activities are surging around the world due to the increasing population. Several kinds of equipment used in both these sectors use air brakes because they are effective even in dusty or muddy conditions and can handle the high braking loads common in these applications.
They also find usage in large agricultural equipment, such as tractors and combines. Food is crucial for humans; thus, agricultural activities continue rising in scale, in turn, leading to an increase in the demand for air brakes for a range of farming machines.
Surging Sales of Trucks amidst Safety Regulations
The market is primarily being driven by the increase in the production and sale of light- and heavy-duty trucks. Technological developments and the growing focus on increasing the production capacity have resulted in automated assembly lines; thus, automobile production continues to boom. Moreover, since trucks often carry heavy loads across mountains, air brakes are necessarily integrated into them.
Further, with the increase in the rate of urbanization, delivering goods in metro cities has become a challenge for retailers. Hence, light-duty trucks are witnessing a considerable growth in usage as they are used to deliver goods in congested areas. This has made way for automotive component manufacturers globally to produce improved and long-lasting components, for ensuring a longer life and stronger safety, for light-duty vehicles as well.
Moreover, the surge in the popularity of online shopping platforms, such as Amazon, Myntra, and eBay, has resulted in an increasing number of people ordering online. This leads to an increase in the demand for delivery services, where heavy- and light-duty trucks are widely used for long- and short-distance transportation, respectively.
By connecting manufacturers with clients around the world, e-commerce broadens the market's accessibility and reach and creates more potential for sales. Direct-to-consumer sales via e-commerce platforms also eliminate middlemen, which can increase profit margins and draw in more customers. This further creates a higher demand for vehicles, which, in turn, enhances the market growth prospects.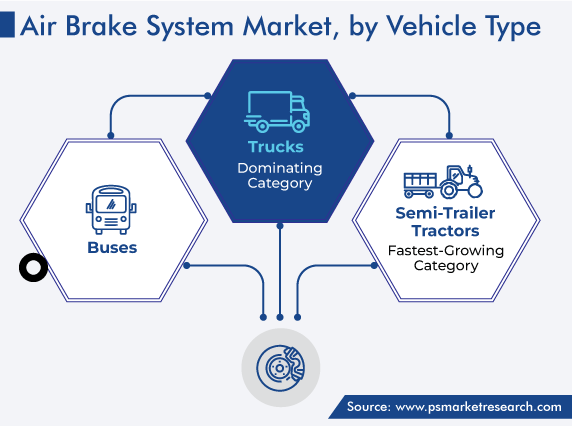 Drum Variants Dominate Market
The drum category accounts for the largest market share, of 70%, and it is expected to advance with a significant CAGR, of 4%, till 2030. This is due to the lower cost of drum brakes than the disc variants.
Further, the former are easy to manufacture and maintain, which is why they are especially preferred in price-sensitive markets. Additionally, they have been used for a long time in a variety of vehicles, including passenger cars, trucks, and trailers. Their versatility and familiarity essentially drive their usage in diverse applications. They also have a simple design and are durable and reliable, thus making them a perfect fit for off-road and heavy-duty applications. This is why they are widely used in Asia-Pacific and North America, with 85–90% of the heavy-duty vehicles in these regions integrated with these systems.
Further, there are many regulations and standards related to the usage of drum brakes in specific vehicle classes, which contributes to their prominence and adds to the market growth. Essentially, the surge in their usage is due to the growing focus on safety and increasing demand for high-load-carrying trucks in developed countries.
Moreover, Europe is a growing market for air disc brakes owing to its prominence as a major automobile manufacturing hub and the stringent regulations on the maximum vehicle stopping distance. Automakers in North America and Asia-Pacific are also working to deploy these systems in heavy-duty vehicles for safety and regulatory compliance. Road safety improves with these components as they have a higher braking power, shorter stopping distances, and better heat dissipation.
They also help in reducing weight and fuel efficiency, which is why fleet operators prefer them to reduce costs and comply with the strict safety and environmental regulations. Air disc brakes are becoming increasingly common in new commercial vehicle models as a result of the focus of OEMs on advanced technologies to strengthen their position. Thus, the development of advanced braking systems and increasing stringency of road safety regulations will benefit the market growth of air brake systems.
Trucks Hold Largest Share
The trucks category accounts for the largest share, of 75%, and it is expected to grow at a significant CAGR during the forecast period.
This is due to the extensive usage of air brakes in rigid-body and heavy-duty trucks. These vehicles are widely used to transport goods across long distances, which is why they require robust and reliable braking systems. Due to the wide variety of goods trucks can carry, they have to travel everywhere, whether it is highways, state highways, city roads, or mountains, with a lot of cargo. Owing to this much weight, they require high braking efficiency in order to prevent road accidents and ensure the safety of other vehicles, pedestrians, and drivers. Air brakes are good at handling such needs and, in turn, reducing the risk of the loss of life and valuable cargo due to accidents.
Additionally, trucks are frequently used to tow trailers and other heavy loads. Air brake systems are perfectly designed for trailer applications as they provide synchronized braking across the entire vehicle combination, thus ensuring stable and optimum braking performance.
The buses category also holds a significant share in the market, due to the growing popularity of long-distance and intercity buses. The surging awareness of environmental conservation globally has led to more people using public transportation. Buses consume high volumes of fuel and operate on state highways and city roads, thus leading to a requirement for air brakes, as they are more efficient than hydraulic systems. Asia-Pacific is the largest market for air brakes in buses due to its large population and surging urbanization rate.
Air Brake System Market Report Coverage

| | |
| --- | --- |
| Report Attribute | Details |
| Market Size in 2023 | USD 3,021.2 Million |
| Market Size in 2024 | USD 3,096.7 Million |
| Revenue Forecast in 2030 | USD 4,079.8 Million |
| Growth Rate | 4.7% CAGR |
| Historical Years | 2017-2023 |
| Forecast Years | 2024-2030 |
| Report Scope | Market Trends, Drivers, and Restraints; Revenue Estimation and Forecast; Segmentation Analysis; Impact of COVID-19; Companies' Strategic Developments; Market Share Analysis of Key Players; Company Profiling |
| Segments Covered | By Type; By Vehicle Type; By Region |
Explore more about this report - Request free sample pages
Asia-Pacific Dominates Market
The APAC region dominates the market with a revenue share of 50%, and it is set to showcase a growth rate of 5%.
This is because it is home to some of the world's largest automotive manufacturers, such as Tata Motors, Ashok Leyland, Zheng Zou Yutong, Toyota, and Xiamen Kinglong. This has made China, India, and Japan three of the most-prominent automotive markets in the world. Further, Asia-Pacific accounts for over 60% of the global commercial vehicle production. China produced a record 3.17 million commercial vehicles in 2022, while Japan, the second on the list, produced 1.27 million units.
The rapid industrialization and infrastructure development have resulted in the expansion of the logistics & transportation sector, which requires commercial vehicles to a wide extent in order to meet the surging demand for goods supply.
Moreover, India is expected to be the fastest-growing market in Asia-Pacific due to the rampant infrastructure development as a result of the fast urbanization. Manufacturers are investing heavily in advanced air brake systems to ease driving on difficult terrain and help overcome the tough braking circumstances drivers are subject too. This will also help large fleet owners in complying with the safety regulations implemented by governments to save lives, by decreasing the number of road accidents.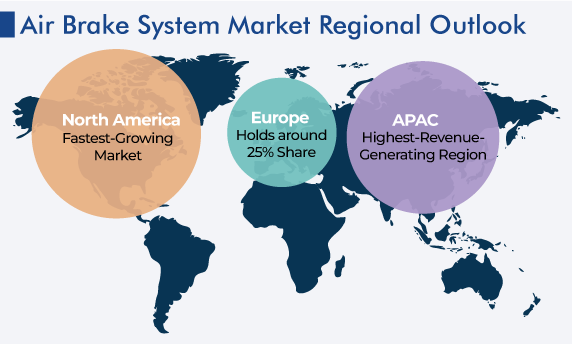 Top Companies Manufacturing Air Brak Systems Are:
Knorr-Bremse AG
Minda Nabtesco Automotive Pvt. Ltd.
Haldex Europe SAS
ZF Friedrichshafen AG
SORL Auto Parts Inc.
Meritor Inc.
Brakes India Limited
Airmaster Brake Systems
Yumak Air Brake Systems
Market Size Breakdown by Segment
The study uncovers the biggest trends and opportunities in the air brake system market, along with offering segmentation analysis at the granular level for the period 2017 to 2030.
Based on Vehicle Type
Trucks
Semi-Trailer Tractors
Buses
Based on Type
Geographical Analysis
North America
Europe

Germany
U.K.
France
Italy
Spain

Asia-Pacific

Japan
China
India
South Korea
Australia

Latin America
Middle East and Africa

Saudi Arabia
South Africa
U.A.E.