Artificial Intelligence in Medical Diagnostics Market Size & Share
The AI in medical diagnostics market size stood at USD 1,297.6 million in 2023, and it is expected to grow at a CAGR of 23.1% during 2024–2030, to reach USD 5,541.7 million by 2030. This is primarily ascribed to the increasing government initiatives for the uptake of AI-based technologies, the rising use of AI solutions by radiologists to decrease workload, the availability of funds to start AI-based startups, the influx of big data, and the surging number of cross-industry partnerships & collaborations.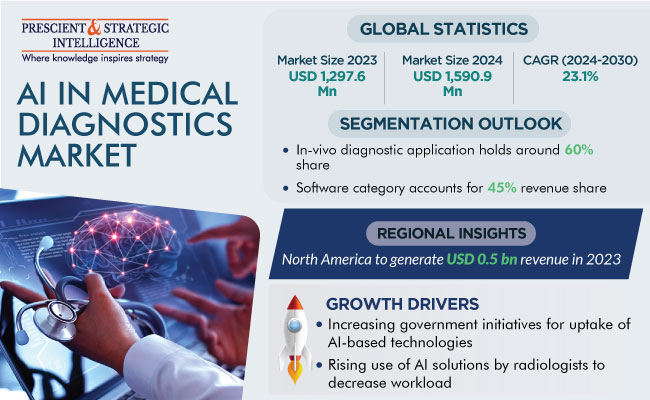 Furthermore, AI is the most promising and potentially transformative prospect for the life sciences sector and is a major investment target in the upcoming years for myriad organizations to avail its potential. Various pharmaceutical companies, including Johnson & Johnson, Pfizer, and other clinical research organizations, are progressively spending on AI solutions, due to their large number of applications.
Nowadays, many companies are also indulging in collaborative and joint ventures for upgrading their market potential and stay ahead of the competition. For instance, in February 2021, Humana Inc. and IBM Watson Health collaborated to simplify and improve the experience for Humana Employer Group members. As per the agreement, Humana deployed IBM's Watson Assistant for health benefits, built in the IBM Watson Health Cloud providing rapid, accurate, and helpful information with the conversational AI virtual assistant solution.
Besides this, key players are investing in research and development for better therapeutics by means of AI and machine learning. For instance, in November 2020, Zebra Medical Vision entered a strategic partnership with Clalit Health Services for bringing cloud-based imaging AI to a large-scale HMO for the health needs of the population. This promotes the use of AI to make bridges among radiologists, data, and referring physicians, enhancing patient care, reducing costs, and improving workflow efficiency.
Adoption of Big Data Approach Drives the Industry
The adoption of big data is being influenced by the rising digitalization and the development of advanced information systems in the medical industry, generating large and complex data at multiple stages of care delivery processes. Big data in the medical diagnostics area comprises information produced from clickstream and social media interactions; readings from medical instruments such as ECG systems, sensors, X-rays, and billing records; biometric data; and other healthcare claims, among other sources.
Moreover, with the surging adoption of electronic health records, high-resolution radiological films, and digital laboratory slides among healthcare professionals, analytical and big data solutions have exponentially become more advanced and increasingly utilized in the medical diagnostics field.
In addition to that, mainly in the U.S., healthcare is one of the main five industries using big data solutions. Further, the use of bidirectional patient portals, which enable patients to upload data and photos to their EMRs, is projected to generate a high volume of data in medical diagnostics in the upcoming years. Also, the medical sector is shifting its consideration to AI-based technologies to effectively handle the constantly growing volume of complicated diagnostic information.
Furthermore, several firms are creating and using AI solutions for the medical diagnosis of cancer and other conditions. For instance, in September 2021, Microsoft announced a strategic partnership with Truveta to accelerate the power of Microsoft Azure and AI to help Truveta's vision of saving lives with data.
Software Category Dominates the Market
Software emerged as the largest component category in the market, with around USD 0.5 billion in 2023, and it is also expected to retain its dominance during the forecast period. This is due to the surging requirement for AI solutions based on software in the medical diagnostics industry for delivering accurate results in a short span of time and the rising number of IT firms offering the same. In addition to that, the surging development of new software and novel AI algorithms, and the rising applications of AI-based software in several fields such as cardiology, radiology, neurology, ophthalmology, and gynecology, among others are fostering the growth of the market in this category.
Moreover, software solutions offer an option to earn a competitive edge to medical practitioners regardless of the difficulty of inadequate staff and the rising volume of imaging scans. Also, the rapidly growing incidence of various infectious disorders boosts the need for medical diagnostic services for testing, thereby resulting in high demand for software-based AI for easy diagnosis and rapid analysis of outcomes. For instance, according to the WHO report in January 2023, the global incidence of seasonal influenza is around 1 billion every year, among which 3­–5 million individuals experience severe influenza. As per the same source, approximately 290,000–650,000 deaths occurred due to flu.
AI in Medical Diagnostics Market Report Coverage

| | |
| --- | --- |
| Report Attribute | Details |
| Market Size in 2023 | USD 1,297.6 Million |
| Market Size in 2024 | USD 1,590.9 Million |
| Revenue Forecast in 2030 | USD 5,541.7 Million |
| Growth Rate | 23.1% CAGR |
| Historical Years | 2017-2023 |
| Forecast Years | 2024-2030 |
| Report Scope | Market Trends, Drivers, and Restraints; Revenue Estimation and Forecast; Segmentation Analysis; Impact of COVID-19; Companies' Strategic Developments; Market Share Analysis of Key Players; Company Profiling |
| Segments Covered | By Component; By Application; By End User; By Region |
Explore more about this report - Request free sample pages
In-Vivo Diagnostic Application Holds a Major Share
The in-vivo diagnostic category held a major revenue share, of 60%, in 2023, due to the increasing prevalence of infectious as well as chronic disorders, and maternity complications during childbirth. Among the in-vivo diagnostic applications, the neurology category exhibits the largest share, due to the advantages of AI in diagnosing multiple neurological conditions such as brain tumors and cancers. Moreover, AI benefits radiologists in interpreting medical images for quick and accurate diagnosis, minimizing noise in medical images, and producing high-quality images with lesser doses of radiation.
During the forecast timeframe, the ultrasound category is set to hold a notable share of the AI in medical diagnostics industry. This is due to the rising demand for ultrasound imaging test procedures for the identification of several disorders and conditions, coupled with the high level of accuracy in ultrasound, which is achieved via AI.
North America Makes Largest Contribution to Global Revenue Generation
North America leads the AI in medical diagnostics sector, with a revenue share of 45% in 2023. This is due to the high R&D investments, the surging adoption of technologically advanced solutions, and the presence of global players and their efforts to come up with innovative medical diagnostics technologies, in the region.
Additionally, the increasing prevalence of chronic disorders is further propelling the market growth in North America. For instance, according to the CDC's National Center for Chronic Disease Prevention and Health Promotion (NCCDPHP), 6 in 10 adults have a chronic disorder in the U.S. Moreover, as per the same source, 4 in 10 adults have two or more chronic disorders in the country. Since chronic disorders are the leading causes of death and disability, diagnosis plays an important role, thus boosting the demand for AI in medical diagnostics.
The U.S. leads the North American market. This is due to the high acceptance rate of AI in the healthcare sector by both public as well as private companies, the presence of an established network of researchers, and the significant adoption and development of technology-advanced diagnosis software for medical applications, in the country. For instance, in December 2022, according to researchers of Rutgers Robert Wood Johnson Medical School and Robert Wood Johnson University Hospital, a new AI-based ultrasonic imaging method can detect microscopic changes in heart structure to screen for early heart disease. In a recent article, the establishment of new biological markers for cardiovascular diseases is using a new AI-based imaging method.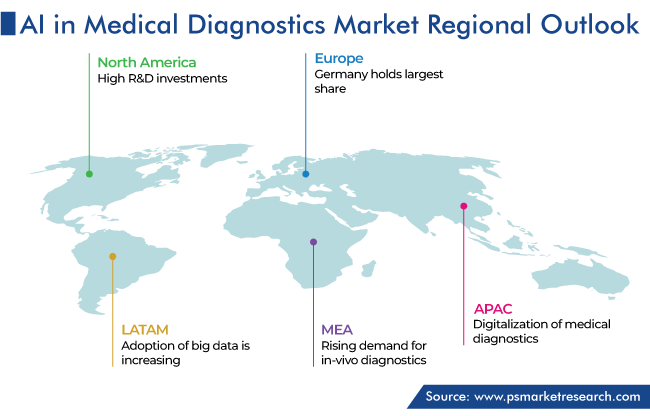 Hospitals Held Largest Revenue Share
The hospitals category accounted for the largest revenue share, of around 40%, in the market for AI in medical diagnostics in 2023. This is because a large number of diagnostic imaging treatments are utilized as standard procedures in hospitals, the increasing adoption of advanced imaging modalities to improve workflow, the surging inclination of hospitals for the digitization and automation of radiology patient workflow, the rising acceptance of minimally invasive procedures for a better quality of patient care, and the growing focus on patient-centric care in hospitals.
In addition, diagnostics laboratories are accounting for the second-largest market share, due to the presence of highly specialized diagnostic centers for visualization and diagnosis together with the availability of skilled staff, and the integration of cutting-edge technology, AI-based equipment, and electronic patient records. For instance, in April 2022, Mahajan Imaging launched an integrated diagnostics center in Delhi, offering precision and personalized treatment to patients. The new center has an AI startup and an R&D department equipped with a full-fledged pathology and genomics lab.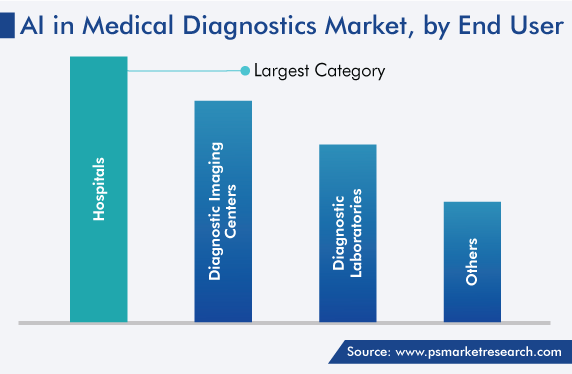 AI in Medical Diagnostics Companies:
Siemens Healthineers
IBM Corporation
GE HealthCare Technologies Inc.
Aidoc Medical Ltd.
Digital Diagnostics Inc.
Prognos Health Inc.
Butterfly Network Inc.
EchoNous Inc.
NovaSignal Corp.
Market Size Breakdown by Segment
This fully customizable report gives a detailed analysis of the artificial intelligence in medical diagnostics industry from 2017 to 2030, based on all the relevant segments and geographies.
Based on Component
Software
Hardware
Services
Based on Application
In-Vivo diagnostics
In-Vitro Diagnostics
Based on End User
Hospitals
Diagnostic Imaging Centers
Diagnostic Laboratories
Geographical Analysis
North America
Europe

U.K.
Germany
France
Italy
Spain

Asia-Pacific

China
Japan
Australia
India
South Korea

Latin America
Middle East & Africa

Saudi Arabia
South Africa
U.A.E.