The global artificial intelligence (AI) in education market was valued at $1.1 billion in 2019 and is projected to reach $25.7 billion in 2030, demonstrating a CAGR of 32.9% during the forecast period (2020–2030). Rising demand for personalized education based on AI and growing need for automating administrative tasks are the key factors driving the market.
Among all regions, North America held the largest share in the market in 2019 and is expected to continue maintaining its lead during the forecast period. Major factors contributing to the growth of the North American AI in education market include the highly developed educational infrastructure, rising spending on EdTech and AI technologies, increasing dependence on smartphones, tablets, and laptops to access teaching programs and course material, and the presence of a large number of market players in the region.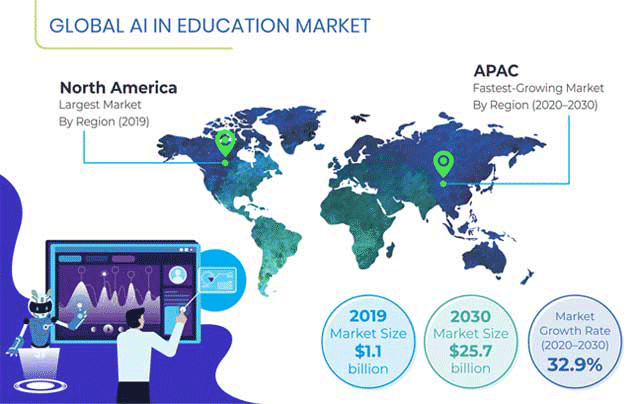 Factors Governing AI in Education Market
A key trend observed in the AI in education market is the growing focus on conversational learning. With the increase in focus on digitization and e-learning, conversational learning has become a crucial aspect of education across the world. Conversational learning is a concept in which content is presented as a two-way conversation. Teaching through conversational learning solutions makes the process more interesting, interactive, and customized for students. Chatbots, in this regard, play a pivotal role in the process of learning, as they can be programmed according to the learner's requirements.
Moreover, chatbots offer students relevant content, which further results in the successful completion of the course and helps save their time. For instance, in January 2019, Staffordshire University in the U.K. partnered with ANS Group Limited to deploy an AI-based digital coach application, Beacon, based on the intelligent chatbot technology. The students can interact with the chatbot through text or voice for information on course structure, timetable, and campus facilities. Besides, it connects students with personal tutors for other education-related queries.
Surging demand for AI-supported personalized education solutions is a key factor driving the growth of the AI in education market, globally. Personalized learning solutions facilitate a better understanding of students and their educational background, interests, and academic goals, which, in turn, helps in creating a customized educational experience for them. Students can design courses according to their needs and also obtain feedback related to their progress throughout the course. For instance, Course Wizard, an AI-powered language learning platform by Lingvist Technologies OU, allows the users to create and customize courses based on their hobbies, interests, and career, by typing or speaking keywords. With the help of ML algorithms, the platform decides which words or phrases the user is familiar with and which ones demand more practice.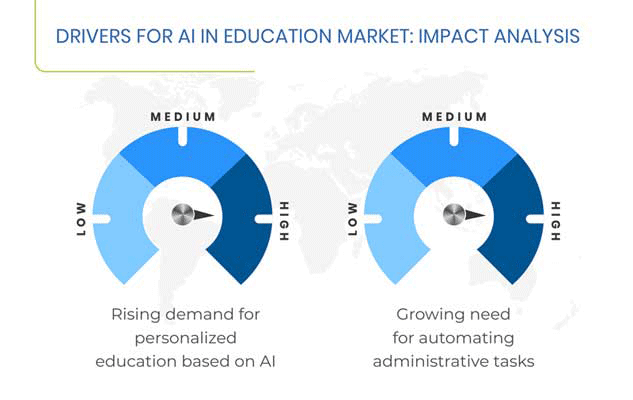 Segmentation Analysis of AI in Education Market
The solution category held the larger share in the AI in education market in 2019, when the market was segmented on the basis of component. This can primarily be attributed to the increase in demand for AI educational solutions to help educators automate administrative tasks and explore more possibilities of improving learning in classroom teaching.
As compared to the on-premises category, the cloud category contributed higher revenue to the market in 2019 and is also projected to witness faster growth during the forecast period. This can be mainly attributed to the increasing adoption of cloud platforms to support IT modernization and reduce the total cost of ownership. Moreover, cloud deployment offers several advantages, such as automated updation of software, 24x7 support availability, less capital expenditure, high scalability, and improved productivity.
Learning platforms, as an application, generated the highest revenue in the AI in education market in 2019. This can be mainly ascribed to the growing preference for online and distance education courses by working professionals and students, increasing trend of self-learning through online platforms, and rising focus on the integration of next-generation technologies in the education sector. As a result, market players are focusing on the launch of learning platforms that offer customized educational services.
AI in Education Market Report Coverage

| | |
| --- | --- |
| Report Attribute | Details |
| Historical Years | 2014-2019 |
| Forecast Years | 2020-2030 |
| Market Size by Segments | Component, Deployment, Technology, Application, End Use |
| Market Size of Geographies | U.S., Canada, U.K., Germany, France, Russia, Italy, China, Japan, India, South Korea, Australia, U.A.E., Saudi Arabia, Turkey, South Africa, Brazil, Mexico |
Explore more about this report - Request free sample pages
Global Scenario of AI in Education Market
Geographically, North America held the largest share in the AI in education market during the historical period. Moreover, the market in the region is expected to witness notable growth during the forecast period. This can be mainly attributed to the highly developed educational infrastructure in the region, in addition to the growing focus on reducing the burden on teachers with respect to administrative tasks, increasing spending on EdTech, rising need for personalized learning in classrooms, and surging demand for intelligent educational solutions to improve student engagement and the learning system at large.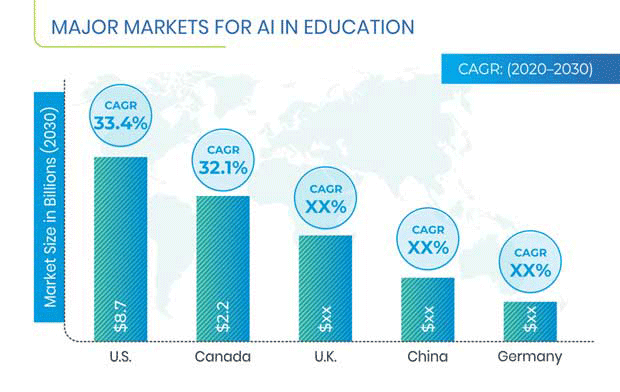 Competitive Landscape of AI in Education Market
Competition in the global AI in education market is gradually intensifying, on account of the increasing focus of higher education institutions, schools, and corporate offices on leveraging digital learning platforms in their environments. The market is characterized by the presence of major companies, including IBM Corporation, Microsoft Corporation, Nuance Communications Inc., Pearson plc, Carnegie Learning Inc., and Google LLC. Some of the other prominent players operating in the market are Blackboard Inc., Amazon Web Services Inc., Jenzabar Inc., and Cognii Inc.
Recent Strategic Developments of Major Market Players
Major players the AI in education market, including IBM Corporation, Microsoft Corporation, Google LLC, Blackboard Inc., and Carnegie Learning Inc., are focusing on product launches and partnerships. For instance, in June 2018, IBM Corporation partnered with Edmodo Inc., a U.S.-based educational technology company, to develop a personalized recommendation engine for integration in Edmodo's education platform. Leveraging the IBM Watson Classroom Cognitive Library solution, educators can teach students through customized educational content, based on students' grades and interests, on Edmodo's education platform.
Market Size Breakdown by Segment
The AI in education market report offers comprehensive market segmentation analysis along with market estimation for the period 2014–2030.
Based on Component
Solution

Hardware
Software tools and platforms

Service
Based on Deployment
Based on Technology
Natural Language Processing (NLP)
Machine Learning (ML)
Based on Application
Content Delivery Systems
Learning Platforms
Virtual Facilitators
Intelligent Tutoring Systems
Based on End Use
K–12 Education
Higher Education
Academic Research
Corporate Training
Geographical Analysis
North America
Europe

U.K.
Germany
France
Russia
Italy

Asia-Pacific (APAC)

China
Japan
India
South Korea
Australia

Middle East and Africa (MEA)

U.A.E.
Saudi Arabia
Turkey
South Africa

Latin America (LATAM)