Market Overview
The AI in genomics market was valued at an estimated $519.0 million in 2021, and it is expected to advance at a CAGR of 49.7% during 2021-2030. The major factors leading to the market advance include the increasing size of genomics research data sets, emergence of startups in the field, and extensive research and development (R&D) activities. Genomics research is expected to generate an astonishing amount of data, of 2 to 40 exabytes, in the next 10 years. The increasing size and complexity of DNA sequencing and other biomedical data sets have resulted in the need for AI computational tools to analyze it, to discover genetic diseases in patients. This helps in providing precision medicine treatment to them.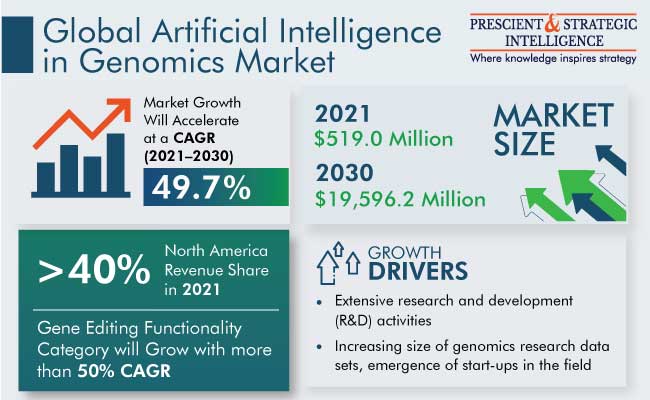 However, whole-genome sequencing, the advanced genetic test that allows for the study of the entire human DNA, is quite expensive, costing $500–$1,000. Thus, getting tested is not economically feasible for all income groups. As a result, Illumina Inc. is targeting to reduce the test cost to $100, by incorporating advanced AI. With the lower testing cost, 50–60 million people are expected to get DNA sequencing done every year.
As of now, traditional gene panel analysis takes around two weeks; however, researchers from Stanford University, University of California, Baylor College of Medicine, Google, Oxford Nanopore Technologies, and NVIDIA have developed a method to perform DNA sequencing in 5 hours 2 minutes, using AI for the end-to-end process. This would help clinicians identify genetic clues and inform patient care plans early, as it optimizes the diagnosis pipeline in 7–10 hours.
The COVID-19 pandemic boosted the overall AI industry; however, sectors linked closely to COVID-19 saw a strong increase in investments, with a year-on-year growth of 44% during 2020 compared to the 12% year-on-year growth in 2019. Thus, the R&D investments in and the adoption of AI in genomics also augmented. AI had been used to identify the sequence of SARS-COV-2 initially, as well as of its Delta and Omicron variants.
The formation of multiple mutations of the coronavirus has been one of the major roadblocks in controlling the pandemic. Thus, researchers have been trying to develop new technologies to identify the most-likely mutations of the same. For instance, in October 2021, the University of Waterloo announced the development of a new technology, with the help of AI, to predict the most-likely mutations of pathogens, such as SARS-COV-2.
Cloud-Based AI Solutions Becoming Increasingly Popular among Genomics Researchers
The cloud-based AI in genomics market is projected to witness the faster growth compared to the on-premises market. The major reason behind this growth is the ability of cloud-based solutions offer to access, analyze, and store data and compile all of it in a single location. Moreover, on-premises solutions are becoming unfeasible with the increasing size of genomics databases. The size of the raw data generated from a single human sequence is approximately 200 Gigabytes, and the increasing awareness about genome sequencing would result in a surge in the number of human genome sequencing studies conducted during the forecast period. This would make on-premises AI solutions even more difficult to work with, thus boosting the demand for their cloud deployment.
AI in Genomics Market Report Coverage

| | |
| --- | --- |
| Report Attribute | Details |
| Historical Years | 2017-2021 |
| Forecast Years | 2022-2030 |
| Market Size in 2021 | $519.0 Million (Estimated) |
| Revenue Forecast in 2030 | $19,596.2 Million |
| Growth Rate | 49.7% CAGR |
| Report Scope | Market Trends, Drivers, and Restraints; Revenue Estimation and Forecast; Segmentation Analysis; Impact of COVID-19; Companies' Strategic Developments; Market Share Analysis of Key Players; Company Profiling |
| Segments Covered | By Delivery Mode; By Functionality; By Application; By End User; By Region |
Explore more about this report - Request free sample pages
Gene Editing Functionality To Be Fastest Growing during Forecast Period
For the treatment of most genetic diseases, gene correction is required, rather than disruption. The technology developed so far for the same is clustered regularly interspaced short palindromic repeats (CRISPR), which slices DNA to treat diseases. Its systemic delivery in a human body was first demonstrated in a clinical trial in June 2021. Thus, gene editing is projected to witness the highest CAGR, over 50%, over the forecast period.
AI in Genomics Is Most Widely Used for Translational Precision Medicine
The concept of translational precision medicine integrates components of both translational medicine, i.e., mechanism-based early drug development; and precision medicine, i.e., patient-centric late drug development; into a drug development cycle guided by biomarkers. Biotechnology companies are shifting to AI for the discovery and development of drugs. Thus, artificial intelligence is widely used in the field of translational precision medicine which generated around $400 million revenue in 2021.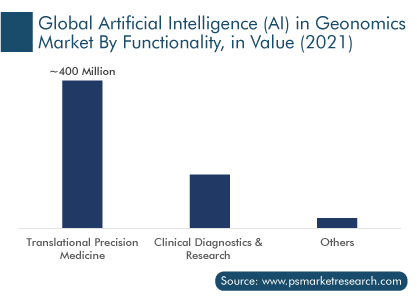 Pharma and Biotech Companies Are Generating Largest Proportion of Revenue
Pharma and biotechnology companies generate the highest revenue for the artificial intelligence in genomics market, and this category is expected to maintain its position during the forecast period. Companies are using AI for improving decision making and the efficiency of research and clinical trials, along with optimizing innovation and creating new tools for regulators, physicians, insurers, and consumers. According to a study conducted in 2021, 62% of the healthcare organizations were thinking of investing in AI, and 72% of the companies believe AI would be crucial to how they do business in the future. Additionally, 50% of the organizations plan to implement AI strategies and adopt them by 2025.
North America Dominates Market
North America dominates the AI in genomics market, with more than 40% market share in 2021, due to the heavy research funding received by biotech and IT companies from governments and private equity entities in the region. For instance, in March 2022, the CDC announced a new competitive cooperative agreement that would provide funding to establish the Pathogen Genomics Centers of Excellence (PGCoE) network in the U.S. Additionally, in April 2021, the U.S. government announced an investment of $1.7 billion for future genomic sequencing needs, with a focus on detecting, monitoring, and mitigating SARS-CoV-2 variants.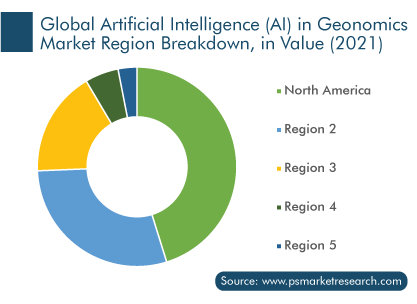 Business Opportunities
Investors are funding AI startups specializing in genomics. For instance,

A French cloud-based biotech company, named SeqOne Genomics, specializing in genomic analysis solutions for personalized medicine, raised $21.86 million (EUR 20 million) in its series A funding in 2022.
Deep Genomics received funding of $180 million in its series C round led by Softbank, in 2021

Drug discovery companies are realizing the potential of AI in the analysis of large databases, R&D, cost savings, and effective decision making. Large companies, such as Johnson and Johnson, Pfizer, and AstraZeneca, have been integrating AI in genomics to develop tools for pharmaceutical applications.
Key Strategic Developments of Market Players
In recent years, major players in the AI in genomics market have actively collaborated for R&D on new platforms, to analyze varied types of datasets for identifying rare genetic diseases. For instance:
In March 2022, Lifebit Biotech Ltd. partnered with Boehringer Ingelheim to build a scalable analytics and infrastructure platform for the latter. This partnership majorly involves Lifebit's CloudOS platform, which is used by research organizations and governments around the world.
In February 2021, Verge Genomics formed a research collaboration with the Sheffield Institute for Translational Neuroscience to accelerate the biological validation of novel drug targets and the screening of the new drug compounds being developed by Verge for the treatment of Parkinson's disease.
Key Players in AI in Genomics Market Are:
IBM Corporation
Microsoft Corporation
NVIDIA Corporation
Deep Genomics
BenevolentAI
Fabric Genomics Inc.
Verge Genomics
MolecularMatch Inc.
Lifebit
DNAnexus Inc.
Market Size Breakdown by Segment
The report offers comprehensive market segmentation analysis along with market estimation for the period 2017–2030.
Based on Delivery Mode
Based on Functionality
Genome Sequencing
Gene Editing
Based on Application
Translational Precision Medicine
Clinical Diagnostics & Research
Based on End User
Pharma & Biotech Companies
Genome Centers
Geographical Analysis
North America
Europe

Germany
U.K.
Italy
France
Spain

Asia-Pacific (APAC)

China
Japan
India
South Korea

Latin America (LATAM)
Middle East and Africa (MEA)

Turkey
Saudi Arabia
South Africa