Market Overview
The agricultural micronutrients market size stood at $4,321.9 million in 2022, and it is expected to grow at a CAGR of 8.5% during 2022–2030, to reach $8,322.1 million by 2030.
This is attributed to the deteriorating soil quality in agricultural fields. Nutrients are essential for plant growth and metabolic processes. By fortifying, enlarging, and supplying roots by supplying them organic chemicals and proteins, aids in the development of roots. It also improves the immunity of the plant. During the forecast period, all of these factors will accelerate market growth.
The market is also expanding as a result of factors, such as increasing public knowledge about the advantages of nutrients for crop productivity and yields. Additionally, the increase in these deficiencies in soil around the world and rising consumer concern about food security will fuel the market expansion over the course of the projected period.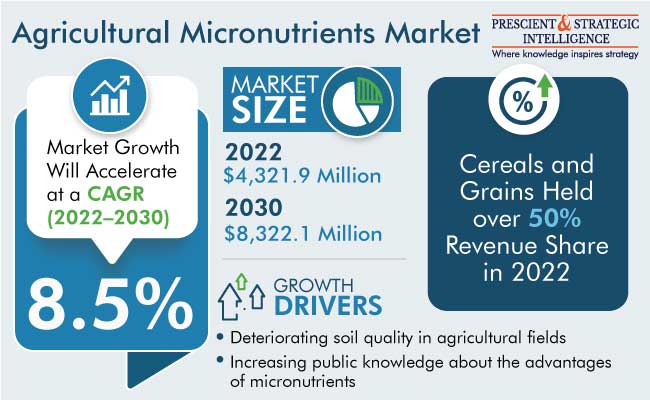 Deficiency of Micronutrients in Soil and Its After-Effects on Crop Yield
Plants are autotrophic organisms that have the ability to use solar energy to synthesize vital components for their growth and development from macronutrients, carbon dioxide, and water. The absence or low amount of nutrients can affect metabolic and physiological processes of crops, thereby affecting their growth.
Studies and reports by the FAO have reported that the frequent mineral stripping due to routine crop production, have contributed toward the creation of a net micronutrient imbalance in the soil composition.
If the micronutrient deficiencies stated above are transferred to crops, they affect the nutritional quality of food. Furthermore, micronutrient deficiencies pose serious challenges to food security and human health. These risks have contributed to the increase in investments in development of soil management and replenishment technologies. These include evolution of industrial fertilizers, micronutrient supplements, and mixed farming. These factors are likely to contribute toward increasing applications to replenish soil and improve the crop yield.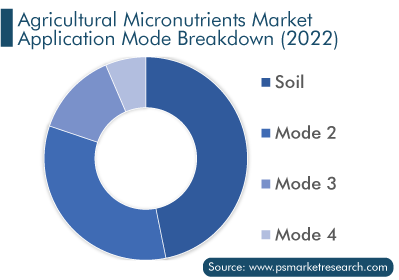 Cereals And Grains Category Contributes Highest Revenue Share
In 2022, cereals and grains were the largest category in terms of value, contributing a share of more than 50%. With increasing global population and shrinking arable land, there is an increased pressure to maximize crop yield, primarily, production of cereals and grains from existing farmlands. There is a need to improve productivity, but it is further hindered due to micronutrient deficiencies in plants and correspondingly, bio-magnification in food chain. These factors play a major role in improving plant growth and edaphic qualities of soil, and are thereby, expected to steer the demand in the coming years.
Furthermore, the increasing demand for cereals and grains, which are driven by increasing population and an ever-diversifying nutritional needs of population, is likely to propel the adoption rates for micronutrients thus boost the growth during the forecast period.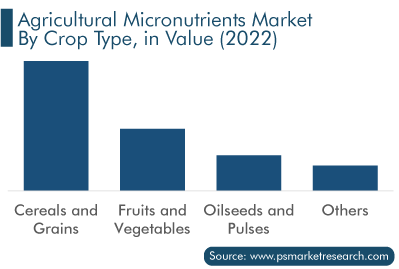 A Frequent Method for Applying Micronutrients In Agriculture Is Through Soil
Application via soil accounted for the significant share, around 50%, in terms of volume in 2022. The market is further expected to grow at a highest CAGR during the forecast period. The mode of application through soil is preferred due to the ease of application, low requirement of advanced machinery (such as sprays and drippers), and easy incorporation into fertilizers.
Furthermore, application via soil has a large number of economic advantages to farmlands and agricultural installations by reducing the time taken in in the application process. This is due to relative ease of application in the plants in developmental phase over application in fully-grown plants. Thereby, the application via soil category is likely to be propelled by numerous factors and is expected to also witness growth in the forecast period.
The APAC Region Dominates Industry
Globally, APAC accounted for more than 50% share in terms of value in the global agricultural micronutrients market in 2022.
This growth can be ascribed to increased application in countries such as India and China. Initiatives by governments and agrochemical manufacturers in these countries are likely to create awareness and augment product adoption among the local farmers. In coherence to same, different departments of government of India have launched numerous policies, such as subsidies on fortified seeds (seeds pre-coated with boron and zinc), initiation of SHCs, and regularization of contract farming. In the long run, these factors are likely to drive demand in the region.
As per a research study by the World Bank, India has highest levels of zinc and iron deficiency levels, globally. Further the report predicts, rising levels of carbon dioxide from human actions are making crops like wheat and rice less nutritious and this could result in 175 million population becoming zinc deficient and 122 million protein deficient by 2050, as per a research led by Harvard T.H. Chan School of Public Health. Around 50 million people in India are expected to become zinc deficient by 2050.
The addition of micronutrients to the soil are argued to counter these deficiencies. Recent regulations and government initiatives aimed at educating farmers and inculcating the addition of such nutrients to their farming practices is expected to encourage adoption rates of these chemicals in the region. In order to provide wholesome plant nutrition, the APAC region is expected to rely on these supplements.
Furthermore, North America constituted a market share of over 20% in terms of value in 2022, globally. The region has a presence of a large number of micronutrient manufacturers including FMC Corporation, BASF SE, Akzo Nobel N.V., Yara International ASA, and The Mosaic Company.
The agricultural crops (or produce) in North America are usually supplemented by a various micronutrients such as zinc, manganese, boron, and iron.
Furthermore, integration of technology in the agricultural ecosystem, as in soil testing, precision farming, and spray process are further likely to adopt the use of nutrients such as iron, zinc, and boron for sustainable and high-quality crops. This growth is attributable to factors including presence of micronutrient manufacturers and high degree of product differentiation, product knowledge among local consumers, and high adoption rates by farmers and other agrochemical applicators.
Agricultural Micronutrients Market Report Coverage

| | |
| --- | --- |
| Report Attribute | Details |
| Historical Years | 2017-2022 |
| Forecast Years | 2023-2030 |
| Market Size in 2021 | $4,321.9 Million |
| Revenue Forecast in 2030 | $8,322.1 Million |
| Growth Rate | 8.5% CAGR |
| Report Scope | Market Trends, Drivers, and Restraints; Revenue Estimation and Forecast; Segmentation Analysis; Impact of COVID-19; Companies' Strategic Developments; Market Share Analysis of Key Players; Company Profiling |
| Segments Covered | By Type; By Form Factor; By Crop Type; By Application Mode; By Geography |
Explore more about this report - Request free sample pages
Farmland Consolidation, Horticultural Expansion, And Intensification of Agricultural Production Drives Demand
The agricultural sector has witnessed an array of changes in recent times. During the last decade, there has been substantial increase in horticulture and production of high value crop such as fruits, nuts, and vegetables.
Horticulture crops also utilize greater quantities of such nutrients per hectare than other agronomic crops. Additionally, the agricultural sector has witnessed consolidation of farmlands. This has contributed in providing necessary impetus, such as availability of large amount of capital for raw materials, and means to apply micronutrients, which were previously non-existent.
Additionally, in congruence, in advanced economies, pastoralists and farmers have recognized the importance of optimized micronutrient management practices, which can improve disease resistance in plants and minimize application of fungicides and pesticides to combat crop failure. This earmarks a trend toward recognizing the potential value generated by application of it in the economies.
In relation to micronutrients, the agriculture sector has seen technological developments and intensification and integration of farming activities provide an opportunity to apply micronutrients in combination with herbicides or fungicides, development of precision bulk blending and granular-coating techniques, and monitoring of farmlands to identify soil health and areas. These factors have contributed in improving the ease of application, lowering costs, and realizing the potential advantages of using supplements to boost agronomic economy.
Top Agricultural Micronutrients Producers are:
The Mosaic Company
Yara International ASA
BASF SE
Akzo Nobel N.V.
SAPEC
Coromandel International Limited
Chambal Fertilisers and Chemicals Limited
Sinochem Group Co. Ltd.
Haifa Group
FMC Corporation
Agricultural Micronutrients Market Size Breakdown by Segment
This report offers deep insights into the market, with size estimation for 2017 to 2030, the major drivers, restraints, trends and opportunities, and competitor analysis.
Based on Type
Zinc
Iron
Boron
Molybdenum
Manganese
Based on Form Factor
Ethylenediaminetetraacetic Acid (EDTA)
Diethylenetriaminepentaacetic Acid (DTPA)
Ethylenediamine-N,N'-bis(2-hydroxyphenylacetic acid) (EDDHA)
Non-Chelated
Based on Crop Type
Cereals and Grains
Fruits and Vegetables
Oilseeds and Pulses
Based on Application Mode
Geographical Analysis
North America
Europe

Germany
U.K.
France
Italy

Asia-Pacific

China
India
Australia
New Zealand

Latin America
Middle East and Africa

South Africa
Saudi Arabia