Market Overview
The global acetyls market size was $26,574.00 million in 2021, and this number is expected to increase to $43,337.36 million by 2030, advancing at a CAGR of 5.58% during 2021–2030. This can be attributed to the increasing usage of such chemicals in numerous industries, such as paints & coatings, construction, and food & beverages; growing need for drugs and the resulting high R&D spending, and favorable government regulations for the pharma sector.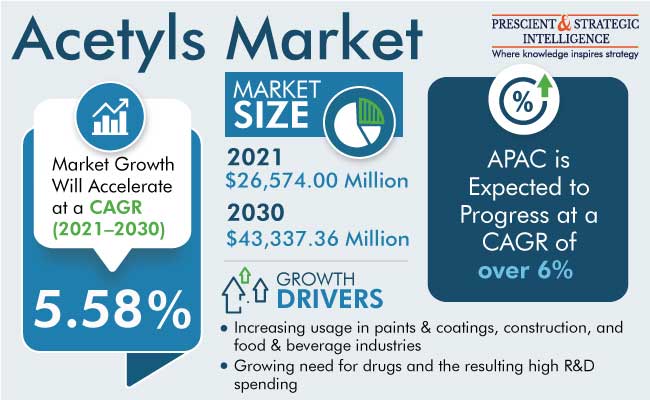 Acetic Acid Is Prime Revenue Contributor
Acetic acid accounted for the largest revenue share, and it is further expected to dominate the market during the forecast period. This is due to its widespread usage in the manufacturing of plastics as well as cosmetic products and as a solvent in organic and inorganic compounds. Moreover, the rising production of vinyl acetate monomer, ethyl acetate, butyl acetate, terephthalic acid, and monochloroacetic acid raises the acetic acid demand. Additionally, it is used to manufacture sealants, greases, polyesters, and coatings, all of which have wide-ranging applications in a variety of sectors, including packaging, electronics, and automotive.
Furthermore, vinyl acetate monomer held a significant revenue share in 2021. This can be attributed to the growing demand for adhesives and emulsions in the packaging and construction sectors. It is also used to manufacture various polymers, such as polyvinyl alcohol (PVOH), ethylene-vinyl acetate (EVA), polyvinyl acetate (PVA), ethylene-vinyl alcohol (EVOH), and acetate ethylene (VAE), because of its fiber-forming ability, high adhesiveness, optical clarity, colorlessness, and thermal conductivity.
Ethyl acetate will witness substantial growth in demand during the forecast period. This will be owing to its rising usage in the food & beverages industry as a solvent and artificial flavor enhancer and the growing paints & coatings, packaging, and printing ink industries in emerging economies.
Increasing Consumption of Adhesives in Key Industries
The global consumption of adhesives is rising significantly in different industries, ranging from bookbinding to automotive and aerospace. Asia-Pacific, Latina America, and the Middle East & Africa are the key regions offering a potential market for adhesives, owing to the rapid industrialization and expanding automotive and paints & coatings industries. Additionally, the paper & packaging industry is witnessing growth globally, which is further boosting the consumption of adhesives.
Acetyls Market Report Coverage

| | |
| --- | --- |
| Report Attribute | Details |
| Historical Years | 2017-2021 |
| Forecast Years | 2022-2030 |
| Market Size in 2021 | $26,574.00 Million |
| Revenue Forecast in 2030 | $43,337.36 Million |
| Growth Rate | 5.58% CAGR |
| Report Scope | Market Trends, Drivers, and Restraints; Revenue Estimation and Forecast; Segmentation Analysis; Impact of COVID-19; Companies' Strategic Developments; Market Share Analysis of Key Players; Company Profiling |
| Segments Covered | By Product Type; By Application; By Region |
Explore more about this report - Request free sample pages
Food & Beverages Industry Contributes Majority of Revenue
Food & beverages accounted for the largest revenue share, of around 25%, in 2021 and it is expected to dominate the market during the forecast period as well. This will be due to the growing consumer base in emerging economies, rising standards of living, and increasing need for polyester containers, bottles, and other plastic-based packaging, owing to the growing packaged food industry. Moreover, such chemicals are used as an artificial flavoring agent and shelf-life enhancer in food products.
Pharmaceuticals will witness a significant CAGR, of around 6%, during the forecast period. This can be ascribed to the widespread use of acetyls in the manufacturing of drugs, due to their capability to penetrate the blood–brain barrier, which improves the effectiveness of the drugs. The growth in the demand for medication is itself attributed to the growing elderly population and rising prevalence of diseases associated with the lifestyle. Moreover, the increasing R&D expenditure by governments and various industry giants to develop new drugs and expand production facilities across the globe drives the market growth.
Additionally, the paints, inks, waxes, & coatings category generated significant revenue in the market in 2021. This can be ascribed to the rising construction activities in emerging economies, rising production of environment-friendly packaging products, growing residential construction sector, and high investments by industry giants in setting up manufacturing facilities in developing nations, owing to the easy raw material supply as well as lower cost of labor.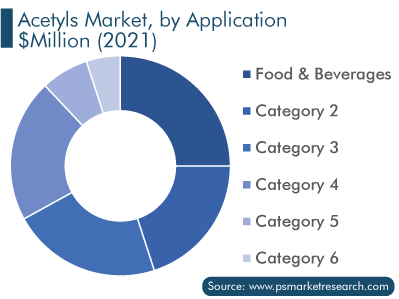 Increasing Acetic Acid Usage in Manufacturing Purified Terephthalic Acid and Ester Solvents
Acetic acid is the key raw material used in the manufacturing of purified terephthalic acid and ester solvents. PTA is itself predominantly used as a raw material in the manufacturing of polyester staple fibers, and polyester filament yarns, in conjunction with monoethylene glycol (MEG). Another key usage of PTA is in the manufacturing of polyethylene terephthalate (PET) bottle resin and polyester films, which are used in textiles and food & beverage containers. Using PTA offers economical benefits over the alternative dimethyl terephthalate (DMT) intermediate, which, ultimately, drives the demand for acetic acid.
Additionally, ester solvents, such as ethyl acetate, are used in coatings, inks, adhesives, and agrochemicals, for chemical reactions. Moreover, owing to its odor, ethyl acetate is generally used in cosmetics, specifically nail polishes. It is also used in confectionery, perfumes, and fruits because it evaporates at a high rate, leaving the pleasant scent.
APAC Generates Majority of Revenue
APAC accounted for the largest revenue share, and it is further expected to maintain its dominance during the forecast period. This can be ascribed to the huge population and high-speed urbanization and industrialization in the region. Moreover, the increasing buying power and rising living standards have allowed individuals to spend more on automobiles, processed food and beverages, furniture, housing, and electronic gadgets.
The emerging economies of China, India, Malaysia, Thailand, and Indonesia have witnessed incredible growth in their construction, automotive, chemicals, electronics, oil & gas, pharmaceuticals, food & beverages, paints & coatings, and packaging industries in recent years.
China contributes the majority of the revenue to the regional market owing to the large number of manufacturing facilities, due to the cheap labor; increasing infrastructure development activities, growing preference for ready-to-eat food, and booming paints & coatings industry.
North America had a significant acetyls market size in 2021 due to the growing pharmaceutical industry, itself owing to the increasing need for drugs, rising demand for healthcare services, and high R&D expenditure in the healthcare sector. Additionally, the high investment by governments in the oil & gas sector drives the consumption of acetyls in the region.
The U.S. contributed the majority of the revenue in the continent in 2021, and it is expected to dominate the regional market during the forecast period too. This will be owing to the presence of a large number of chemical manufacturers, well-developed healthcare infrastructure, increasing number of packaging companies, and growing need to improve the production of such chemicals due to the increasing demand for drugs.
Europe will also witness substantial growth during the forecast period due to the high demand for paints and coatings in the automobile industry, growing food & beverages industry, owing to the rising population; and booming chemical industry. Moreover, the demand for such chemicals from the textile and construction industries is rising.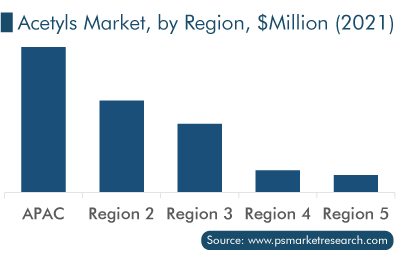 Key Players in Acetyls Market Are:
Eastman Chemical Company
The Dow Chemical Company
Jubilant Ingrevia Limited
LyondellBasell Industries Holdings B.V.
HELM AG
Wacker Chemie AG
Celanese Corporation
Daicel Corporation
Market Size Breakdown by Segment
The study offers a comprehensive market segmentation analysis along with market estimation for the period 2017-2030.
Based on Product Type
Acetic Acid
Vinyl Acetate Monomer
Ethyl Acetate
Acetic Anhydride
Formaldehyde
Based on Application
Food & Beverages
Oil & Gas
Pharmaceutical
Paints, Inks, Waxes & Coatings
Furniture
Geographical Analysis
North
Europe

Germany
France
U.K.
Italy
Spain

Asia-Pacific

China
India
Japan
South Korea
Australia

Latin America
Middle East and Africa

Saudi Arabia
South Africa