The global market for acetyl was estimated at $22,004.7 million in 2015 and it is expected to grow at a CAGR of 6.9% during the forecast period. The global acetyls market is witnessing significant growth owing to increase in demand of acetic acid for the manufacturing of ester solvents and purified terephthalic acid (PTA). An increase in consumption of adhesives in end user industries is expected to further boost the demand of vinyl acetate monomers. Additionally, increasing usage of photovoltaic cell is expected to further ramp up the demand of vinyl acetate monomer, thereby benefitting the acetyls market.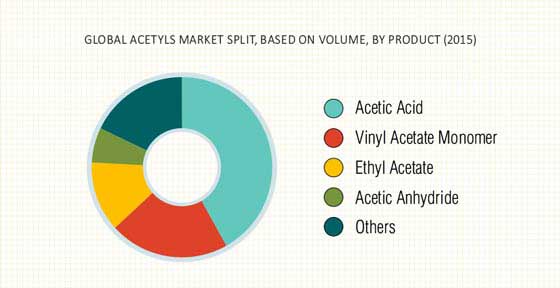 Acetyls are organic compounds consisting of methyl group reacted with a carbonyl by having single bond. This compound is basically present in acetylsalicylic acid, acetylcholine, acetaminophen, acetylcysteine, and acetic acid. Acetylation is a chemical process of formulating acetyl group into a molecule. Acetyl groups for acetic acid, acetic anhydride, and vinyl acetate monomers are used in the intermediates of several applications including solvents, inks, water-based paints, and adhesives.
By product, acetic acid segment dominated the market by accounting for the largest market share in global market, in terms of both volume and value in 2015, and it is expected to continue its dominance throughout the forecast period. Further, acetic acid serves as a vital ingredient for manufacturing several chemicals including acetic anhydride, ester solvents, and PTA; which are then used in end-use industries including inks, synthetic fibers, textiles, and food & beverages. Vinyl acetate monomer (VAM) segment is expected to have a significant growth in the coming years due to its usage as an intermediate for manufacturing of several copolymers and homopolymers; including polyvinyl acetate, ethylene vinyl alcohol, and polyvinyl acetate. These copolymers have applications in end-user industries including paper and packaging, paints & coatings, adhesives, and textiles. Additionally, VAM's are used in the manufacturing of adhesives. Moreover, increasing industrial base of furniture, construction, and packaging in emerging economies such as India, China, South Africa, Malaysia, and Brazil are expected to further boost the demand for vinyl acetate monomers.
Geographically, Asia-Pacific dominated the global acetyls market with the largest market share of 52.4% in 2015; China is expected to be the largest consumer of acetyls in the region. Increasing demand from paints and coatings industry, increasing consumption of adhesives in furniture and construction industry, and growth of textile and packaging industry are some of the major driving factors for the acetyls market. Additionally, the huge size of chemical industries of economies in Asia-Pacific drives a significant demand for acetyls. Hence, such factors are expected to boot the acetyls market during the forecast period.
Some of the leading players in the global market for acetyls are Eastman Chemical Company, The Dow Chemical Company, Jubilant Life Sciences, BP PLC, Celanese Corporation, LyondellBasell Industries Holdings B.V., Helm AG, DuPont, Saudi International Petrochemical Company (Sipchem), and Wacker Chemie AG.
Key Questions Answered:
What is the current and future scenario of the global acetyls market?
What are the major factors major driving the global acetyls market?
What are the upcoming opportunities for the players in the global acetyls market?
Which product type is expected to dominate the global acetyls market during the forecast period?
Which region is expected to witness the fastest growth during the study period?
Who are the major players in the global acetyls market?