Market Overview
The acetone market size stood at USD 5,421.9 million in 2022, and it is expected to grow at a compound annual growth rate of 7.4% during 2022–2030, to reach USD 9,590.9 million by 2030.
Acetone, also referred to as dimethyl ketone and 2-propanone, is water-white, combustible, volatile, and miscible in water. Owing to its high rate of evaporation and excellent usability as a solvent, it is used to dissolve both natural and synthetic oils, gums, resins, waxes, and other additives. It is prominently used as a solvent in adhesives, paints, inks, and other chemicals.
The market expansion is attributed to the increase in the usage of dimethyl ketone in the solvents used across various verticals, such as pharmaceuticals, paints and coatings, automobiles, and cosmetics. Being a good solvent, it is abundantly used for producing numerous plastic and homecare products. Moreover, its usage as a key ingredient of methyl methacrylate (MMA) and bisphenol-A (BPA), which are heavily used in industrial manufacturing, is offering opportunities for further product development for various industries.
Further, the demand for (CH3)2CO is supported by the growing count of mergers and acquisitions among the leading market players, which is expected to lead to the creation of more grades of this chemical and an expansion of the customer base during the forecast period.
Highest Revenue Coming from Solvents Category
Dimethyl ketone is the key ingredient of a range of solvents, including BPA, methyl isobutyl ketone (MIBK), and MMA. The solvents application category captured the largest revenue share, of around 40%, in 2022, owing to the increase in the demand for solvents in pharmaceuticals, paints and coatings, automobiles, and other industries. The base chemical is extensively used in industrial manufacturing upon being added to numerous paints and coatings and many other products. The key purpose of solvents is to dissolve binders, pigments, and other soluble additives. When solvents are added to these intermediates, they encourage rapid evaporation of the liquid and allow for the formation of a reliable film of coatings on the surface, which dries quickly and gives the structure an enhanced visual appeal.
Further, adhesives hold a considerable market share, as solvent-based adhesives are frequently used in automotive parts, adhesive tapes for medical applications, and packaging. These adhesives are popular for their flexibility, durability, and ease of application.
Solvent-based adhesives are extensively used for manufacturing tapes and a host of healthcare devices. Many medical products and devices require protective coverings that stay on even if they get exposed to chemicals or diluters. These requirements make solvent-based adhesives especially suitable for drug delivery products, such as transdermal patches.
Further, the BPA category is expected to witness commendable progress in the forecast period. It is due to the significant dimethyl ketone usage in the production of BPA, which is further used as a major ingredient of polycarbonates, polymerization inhibitors, PVC, polyester epoxy resins, and other chemicals. Thus, the growing requirement for BPA in the plastic industry due to its durability, good thermal insulation, low weight, and UV protection is expected to propel the market.
Owing to their above-mentioned properties imparted by BPA, polycarbonates are widely used in the production of plastic lenses for eyewear, automotive components, greenhouses, medical devices, and other products. Further, food containers, infant formula and milk bottles, dinnerware, refillable water bottles, and many other types of storage containers are made of polycarbonates.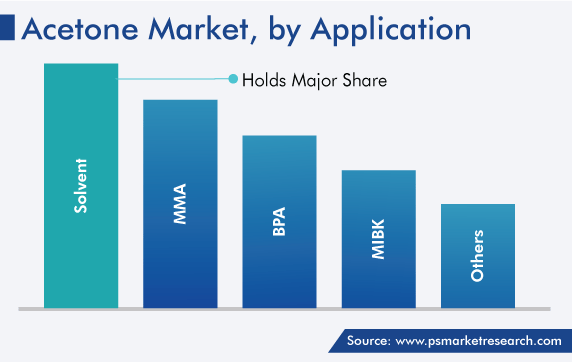 Substantial Demand for Acetone in Manufacturing Acrylic Polymers
Acetone is also increasingly being used in the production of acrylate-based polymers, including polymethacrylate (PMA), polymethyl methacrylate (PMMA), and polyethyl methacrylate (PEMA).
The extreme durability, clarity, low weight, and high temperature resistance of PMMA have resulted in its several industrial and household applications. Further, acetone is used for manufacturing MMA, which is itself used in the production of PVC, to enhance its properties. MMA is central to the manufacturing of acrylic-based polymers, and it is used in a variety of products, such as adhesives, lenses and optical devices, food and beverage analysis & testing devices, exterior paints, medical manifolds and microfluidic devices, and vinyl impact modifiers.
High-Volume Usage of (CH3)2CO in Paints and Coatings
(CH3)2CO is also used in paints and polishes, as well as the chemicals used to dilute and remove epoxy resins, adhesives, inks, and varnishes. It is also used to thin and clean fiberglass resins. Other advantages of this chemical is quick evaporation and the fact it leaves no residue. It can also be used to clean up uncured lacquers, dried latex paint, and adhesives.
Moreover, Paints and coatings are used in massive volumes in various key industries, such as general manufacturing, construction, automotive, and aerospace. Thus, with the corresponding growth in such industries, the booming demand for paints and coatings containing acetone is expected to boost the market revenue.
Acetone Market Report Coverage

| | |
| --- | --- |
| Report Attribute | Details |
| Historical Years | 2017-2022 |
| Forecast Years | 2023-2030 |
| Market Size in 2022 | USD 5,421.9 Million |
| Revenue Forecast in 2030 | USD 9,590.9 Million |
| Growth Rate | 7.4% CAGR |
| Report Scope | Market Trends, Drivers, and Restraints; Revenue Estimation and Forecast; Segmentation Analysis; Impact of COVID-19; Companies' Strategic Developments; Market Share Analysis of Key Players; Company Profiling |
| Segments Covered | By Application; By End Use; By Region |
Explore more about this report - Request free sample pages
Growing Usage of 2-Propanone in Cosmetics
Over the past few years, the surge in the adoption of skincare and personal care products has propelled the market expansion. 2-propanone, the scientific name for acetone, is extensively used as an additive in cosmetics and skin creams, gels, and lotions as it helps prevent dirt and oil buildup on the skin. Moreover, it is extensively used in nail paints and nail paint removers, fragrances, bath and cleansing products, and haircare and skincare products.
The rise in the aesthetic consciousness among the millennials and the growth in the geriatric population are fueling the demand for skincare products, which, in turn, is boosting the consumption of acetone among personal care product and cosmetics manufacturers. Further, the constantly changing fashion trends and momentous innovations in cosmetic formulations are contributing to the market's development.
Pharmaceuticals Generate Considerable Revenue
In pharmaceuticals, solvents are a key component as they are used as the medium in which the chemical reaction takes place that leads to the creation of APIs. Additionally, they are used to separate the desired chemical products from the undesirable ones, thereby maintaining the drug purity level.
(CH3)2CO is often used as a solvent in active pharma ingredients and blending fillers to ensure the accurate dosage of the medicine in the pill and liquid forms. Without this chemical, it would be harder to compact some pills to the correct density, with the partially dissolved APIs making some pills more potent than the others. Thus, the chemical is used to ensure consistent efficacy across all the pills in a bottle or blister pack.
The growing patient and aging populations are creating a huge demand for medicines and medical devices, which, in turn, is creating a substantial demand for acetone. Apart from being a good solvent, it is a major ingredient of the polycarbonates used in medical device manufacturing.
In 2022, APAC Dominated Global Market
The global market was dominated by APAC, with a revenue share of 45%, in 2022, and it is expected to grow with a remarkable CAGR during the forecast period. This is credited to the increase in the (CH3)2CO demand to produce different derivatives for various industries. The major demand for the chemical is coming from emerging economies, such as China and India.
China is expected to witness high dimethyl ketone consumption owing to the increase in its utilization as an ideal and cost-effective solvent in paints and coatings, adhesives, cosmetics, chemicals, and petrochemicals.
Further, the market advance is supported by the growing automobile demand and production, flourishing pharma industry, with the government initiatives to boost local drug production, rising health expenditure, and enhancing personal care awareness. In this regard, the growing working population and its increasing disposable income are expected to boost the usage of acetone in the region.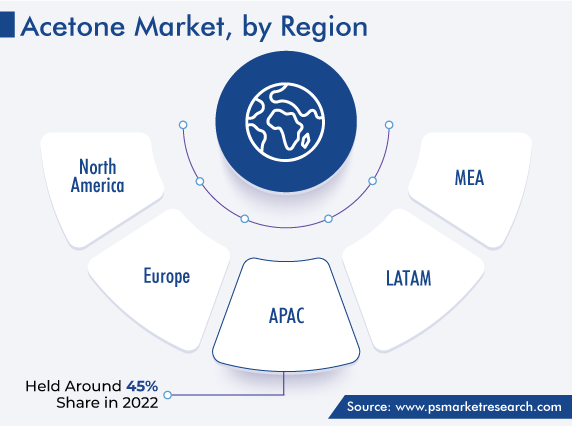 Key Acetone Manufacturers Are:
INEOS A.G.
Honeywell International Inc.
CEPSA QUÍMICA S.A.
Mitsui Chemicals Inc.
SABIC
Arkema
Solvay SA
Formosa Chemicals & Fibre Corporation
Sasol Limited
Altivia
Kumho P&B Chemicals Inc.
Market Size Breakdown by Segment
This fully customizable report gives a detailed analysis of the acetone industry from 2017 to 2030, based on all the relevant segments and geographies.
Based on Application
Solvent
Methyl Methacrylate (MMA)
Bisphenol-A (BPA)
Methyl Isobutyl Ketone (MIBK)
Based on End Use
Paints & Coatings
Plastics
Automotive
Adhesives
Pharmaceuticals
Cosmetics & Personal Care
Electricals & Electronics
Geographical Analysis
North America
Europe

Germany
U.K.
France
Italy
Spain

Asia-Pacific

Japan
China
India
South Korea
Australia

Latin America
Middle East and Africa

Saudi Arabia
South Africa
U.A.E