Market Overview
The A2P messaging market was valued at USD 64.1 billion in 2022, which is expected to reach USD 79.9 billion by 2030, growing at a CAGR of 2.9% during 2023–2030.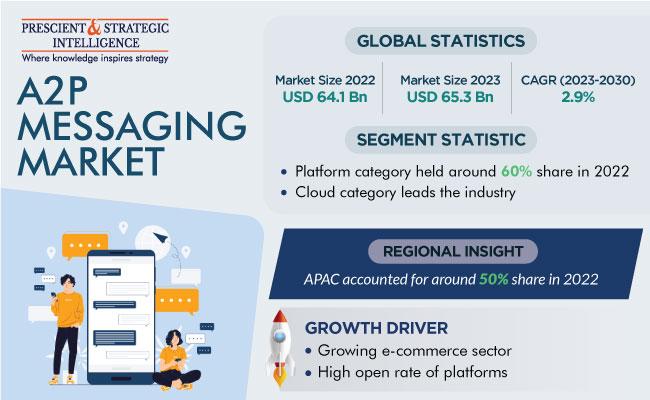 Application-to-person(A2P) messaging depicts the exchange of instant messages sent from an application to a specific individual's cell. In correspondence, messages are conveyed to clients by a computerized framework or application. Most frequently, it is used for secure confirmation, transaction records, and the arrangement of meetings. It provides a convenient and personalized correspondence channel through SMS, MMS, or other informative channels. Continuous, computerized, and focused communication between apps and people are enabled by A2P informing. Because of the growing mobile penetration and demand for safe, ongoing communication, the market is expanding.
The e-commerce industry fundamentally boosts the development of the market. The ascent of web-based business has prompted an expanded requirement for organizations to speak with their clients progressively, refresh requests, send value-based data, and convey limited-time messages. It has emerged as a dependable and compelling means for organizations to meet these correspondence needs.
Moreover, there has been an expanded reception of A2P SMS by over-the-top (OTT) players in recent years. OTT refers to advanced stages or administrations that convey content and correspondence over the web, bypassing usual media communications suppliers. These OTT players, for example, informing applications and web-based entertainment stages, have perceived the value of such SMS as a correspondence channel and have coordinated it into their contributions.
Platform Holds a Larger Market Share
The platform category held around 60% share in 2022. The growth is ascribed to the wide-ranging application of these platforms across numerous sectors such as media & entertainment, travel & tourism, BFSI, and healthcare.
For firms at the middle level, these messages are typically employed for describing a variety of products, and promotions, as well as supplying updates. For new product engagement, it will perform well for the two sides. It also helps enterprises retain loyal consumers. From funding to retail, these platforms can play a significant role in numerous industries.
Whereas the A2P services category is projected to witness faster growth in the coming years. This can be ascribed to the surging demand for smartphones, the growing OTT businesses, and the increasing need for MNOs. Mobile phone adoption is increasing globally, which expands the potential user base for these services and gives service providers a bigger market. This strategy provides businesses with a practical and affordable means to interact with their clients, send notifications, deliver transactional data (such as banking alerts and delivery updates), and run marketing campaigns.
In addition, such services are frequently used for two-factor authentication (2FA) and verification, ensuring safe access to numerous online services, and defending user accounts. A one-time verification code or a special link is sent to users' mobile devices once they input their password or login. Once the authentication process is finished, they must input the code or click the link to access the chosen application or service.
Cloud Category Dominates the Market
The cloud category leads the industry. This is because an effective, cohesive marketing campaign that helps in improving customer communication is made possible by the utilization of cloud based A2P messaging. Also, cloud platforms simply combine MMS, SMS, phone, and other solutions to offer a secure mobile messaging experience. Moreover, such messaging exploits the scalability and flexibility given by cloud computing. It allows enterprises to scale their messaging capabilities up or down based on demand without the need for large infrastructure investments. Cloud platforms can dynamically allocate resources to manage variable message volumes, maintaining smooth message delivery.
In addition, high delivery rates and reliable message transmission are ensured by these customer engagement systems. The distributed infrastructure and flexible features of cloud platforms are used to reduce message failures and optimize delivery paths. This improves the general consistency of message delivery to end users. Furthermore, this approach does not require administration, deployment, maintenance, and scaling of hardware and software required by the on-premises contact centers. Thus, this reduces stress on businesses.
A2P Messaging Market Report Coverage

| | |
| --- | --- |
| Report Attribute | Details |
| Market Size in 2022 | USD 64.1 Billion |
| Market Size in 2023 | USD 65.3 Billion |
| Revenue Forecast in 2030 | USD 79.9 Billion |
| Growth Rate | 2.9% CAGR |
| Historical Years | 2017-2022 |
| Forecast Years | 2024-2030 |
| Report Scope | Market Trends, Drivers, and Restraints; Revenue Estimation and Forecast; Segmentation Analysis; Impact of COVID-19; Companies' Strategic Developments; Market Share Analysis of Key Players; Company Profiling |
| Segments Covered | By Component; By Deployment Model; By Application; By SMS Traffic; By End User; By Region |
Explore more about this report - Request free sample pages
Customer Relationship Management Generates the Largest Revenue
The CRM category leads the market. This is because CRM software helps maintain a relationship of a company with its clients, users, employees, or suppliers, throughout the interaction and helps in attracting new clients, enhancing its business, and supporting the relationship through offering assistance and extra services.
Moreover, CRM software aids in managing marketing campaigns, uncovering sales possibilities, tracking service issues, and storing all information in one specific site. Thus, the productivity of a company can be enhanced with simple access and visibility of data. Also, a CRM framework can provide a reasonable outline of clients. Thus, a company can perceive everything in one spot such as a basic, customizable dashboard that can provide clients' history like their orders, issues, and others.
On the other hand, the authentication service category is projected to witness significant growth in the coming years. This can be because the delivery of secure and reliable messages is the primary goal of authentic services. This ensures the accuracy and reliability of information sent between organizations and people.
Businesses are concentrating on the adoption of authentication services to preserve sensitive information and confirm the validation of messages, due to the surge in cyber risks, fraud attempts, and privacy concerns. By confirming the sender's and the recipient's identities, authentication services give an extra degree of protection, promoting safe and dependable communication. Organizations can reduce the risk of unauthorized access, safeguard their brand reputation, adhere to industry regulations, and offer customers a secure messaging experience by using authentication services. Thus, these factors drive the market for A2P messaging in this category.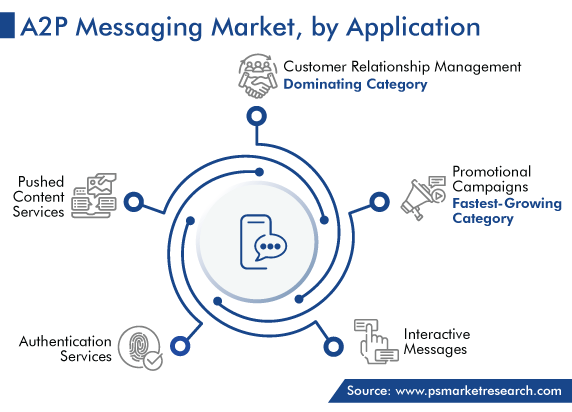 Promotional Campaign Category To Record the Fastest Growth
The promotional campaign category is projected to witness the highest CAGR during the forecast period. This can be because promotional offers and discounts can be sent through A2P marketing. With timely recommendations based on the interests of clients, it enables businesses to reach their target audiences and create more individualized experiences.
Businesses are taking advantage of this trend by emphasizing mobile advertising, as mobile devices have become an essential part of people's lives. A2P messaging is an effective means for business entities to execute marketing campaigns because it enables a direct and cost-effective means to reach a broad audience. Moreover, such messages are delivered immediately and have a high open rate if compared to other channels like email. This fastness and high visibility make A2P messaging an effective method to deliver time-sensitive promotions and capture customers' attention.
National Category Dominates the Market
The national category dominates the market. During the pandemic, businesses and stores were closed and sectors like retail marketing suffered losses; however, the rise in transactions, alerts, and notifications resulted in increased message traffic in accordance with the growth in the e-commerce sector.
Moreover, wide-ranging national SMS services often enable messages to be sent to clients across the whole nation. National SMS is an excellent option for companies trying to reach a large audience because of its broad reach. SMS is still a common way for mobile users to exchange information, and many individuals still choose to get essential alerts and notifications by text message. The dominance of national SMS traffic in the market is a result of this customer desire.
On the other hand, the multi-country category is expected to witness faster growth in the coming years. This is because serving clients from different countries, numerous businesses run on an international basis. They may simultaneously send alerts, updates, and promotional messages to clients in several regions by using this communication approach. In addition, interaction between companies and clients, partners, and employees located abroad is common. A2P messaging enables smooth cross-border communication, allowing enterprises to effectively communicate with their international stakeholders.
Asia-Pacific Is the Market Leader
Globally, the APAC A2P market holds the largest revenue share. The expansion of e-commerce and mobile financial services, the rise in demand for notifications and alerts, regional enterprise expansion, advancements in technology, infrastructure development, and the affordability and reach of such communications are just a few of the factors that are driving the market in the region. These components work together to encourage the use of A2P messaging services, giving businesses the opportunity to interact with clients efficiently, provide real-time updates, and support secure transactions in the area.
Moreover, the market's expansion is due to the increasing utilization of A2P messaging in a variety of applications, including customer relationship management and marketing campaigns, among others. Additionally, the untapped potential of the region is creating new possibilities for investment in telecom carriers and advertising. Additionally, due to the large consumer base and a large number of internet subscribers in APAC, international corporations concentrate on business expansion in the region.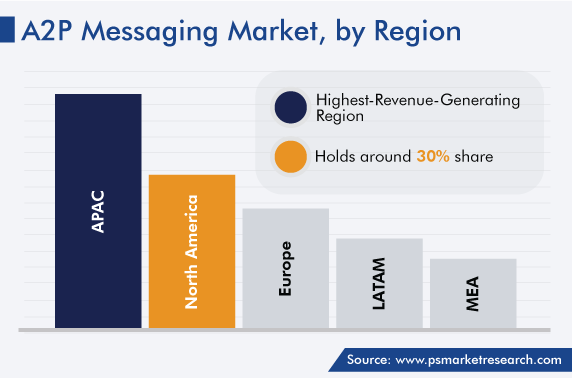 Key Market Players Are:
AT&T Inc.
Sinch
China Mobile Ltd.
Orange
TATA Communications Ltd.
CEQUENS
BICS
Silverstreet International Pte Ltd.
Twilio
Infobip
Market Size Breakdown by Segment
The study uncovers the biggest trends and opportunities in the A2P messaging market, along with offering segmentation analysis at the granular level for the period 2017 to 2030.
Based on Component
Based on Deployment Model
Based on Application
Customer Relationship Management
Promotional Campaigns
Interactive Messages
Pushed Content Services
Authentication Services
Based on End User
BFSI
Retail & E-Commerce
Healthcare
Travel & Hospitality
Media & Entertainment
Government
Telecommunication
Based on SMS Traffic
Geographical Analysis
North America
Europe

Germany
U.K.
France
Italy
Spain

Asia-Pacific

Japan
China
India
South Korea
Australia

Latin America
Middle East and Africa

Saudi Arabia
South Africa
U.A.E.