Market Overview
The global 5G security market size stood at USD 1.63 billion in 2022, which is forecast to rise to USD 24.89 billion by 2030, at a CAGR of 40.60% between 2022 and 2030. This is primarily attributed to the growing security concerns for 5G networks due to the rising count of attacks on them and the increasing demand for fast network connection. Moreover, opportunities for growth are expected to arise from the need for private 5G networks among businesses, the government, and the industrial sector, as well as the rising operator investments in dynamic infrastructure.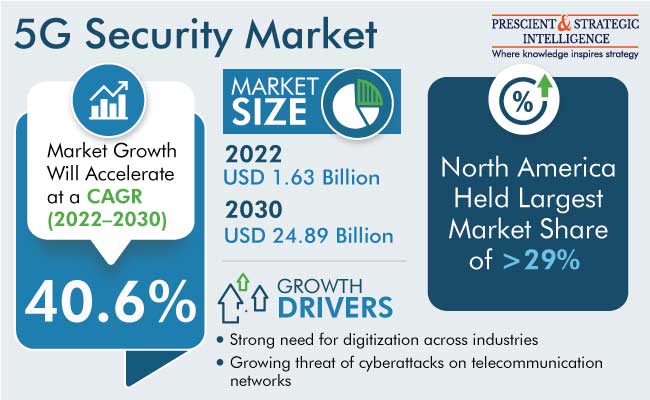 In today's world, everything is connected, particularly businesses and mobile networks, which are essential in establishing this connectedness. In terms of data connectivity, the evolution of mobile networks from 3G to 4G and, now, fifth generation serves, makes the lives of both consumers and enterprises easier. The industrial internet of things, connected vehicles and healthcare, driverless cars, edge computing, and use cases for smart cities are just a few of the next-generation applications that are being powered by the fifth generation of telecom technology.
With its unique encoding method, 5G offers numerous additional benefits, including 100 times faster speeds than 4G and the ability to connect more devices to mobile networks. Additionally, the fifth-generation technology offers substantially lower network latencies and uses less energy than 4G, which is advantageous for devices with limited resources.
MVNOs Focusing on Protecting Carrier Networks
In light of the rise in network threats, many operators have upped their focused on protecting their carrier networks. For instance, in 2017, O2 Telefonica in Spain engaged 660 analysts and 1,100 personnel to work in seven security operations centers (SOCs) around the world, in the wake of a bank heist. In the same way, British Telecom (BT), which has 15 SOCs globally and holds a license from the U.K. government to audit its network systems, employs 3,100 cybersecurity specialists. Further, BT uses artificial intelligence (AI) to safeguard its customers' data. The company's robot-assisted cyber threat scanning solution uses visual representations to find and understand cybersecurity vulnerabilities across large datasets. These measures will result in a huge increase in the expenditure on network safeguarding measures.
5G Security Market Report Coverage

| | |
| --- | --- |
| Report Attribute | Details |
| Historical Years | 2017-2022 |
| Forecast Years | 2023-2030 |
| Market Size in 2022 | USD 1.63 Billion |
| Revenue Forecast in 2030 | USD 24.89 Billion |
| Growth Rate | 40.60% CAGR |
| Report Scope | Market Trends, Drivers, and Restraints; Revenue Estimation and Forecast; Segmentation Analysis; Impact of COVID-19; Companies' Strategic Developments; Market Share Analysis of Key Players; Company Profiling |
| Segments Covered | By Component; By Architecture; By Network Component Security; By Deployment; By Application; By Industry; By Region |
Explore more about this report - Request free sample pages
Services Category To Witness Faster Growth
Based on component, the services category is predicted to expand faster over the projection timeframe, at a rate of around 41.2%. The service demand among end users has increased with the evolving technological trends. The management of a 5G security network from the beginning to the end is necessary because it is new to telcos and businesses.
Expertise and specialized skill sets are needed to create robust 5G security networks, which fuels the demand for implementation, consultancy, and support & maintenance services for assistance with efficiently securing their 5G infrastructure, in order to achieve the desired business results. Additionally, advanced telecommunications solutions aimed at particular business verticals, including automotive, healthcare, media, and financial services have fifth-generation security enabled across a variety of industry verticals. 5G security services give stakeholders the flexibility to create adaptable business structures and creative partnership models.
5G NR Non-Standalone Architecture To Remain on Top in Architecture Segment
The fifth generation NR non-standalone architecture category accounted for more than 64.0% share of the global revenue in 2022. The first 5G network rollouts are non-standalone setups, which emphasize improving the broadband, to provide more-stable connectivity and higher information transmission capacity. They comply with the 3GPP's decision that early 5G network and device rollouts be subject to NSA action, which means that the present 4G framework will support the 5G network. Therefore, with the increase in the adoption of 5G, specialized businesses that need to be the first to supply 5G connectivity will start with the NSA. Because of the aforementioned factor, 5G NR non-standalone architecture is less expensive than the 5G standalone architecture. Due to its affordability, businesses are eager to invest in a 5G security system that uses a non-standalone architecture.
In the coming years, the standalone 5G category is going to gain more traction, as beyond providing a higher capacity, the SA 5G core design offers Ultra-Reliable Low Latency Communications (URLCC), a crucial component for applications needing nearly real-time responsiveness, such as machine vision, precise robotics, and autonomous vehicles. Massive IoT, which uses specialized machine-to-machine protocols, is another significant aspect of standalone 5G. Moreover, operators require standalone 5G because it enables the slicing of the network into customized virtual pieces, which can be tailored to the unique needs of particular businesses, while maximizing their own operational efficiency, in order to deliver a combination of URLLC and massive IoT to enterprise customers.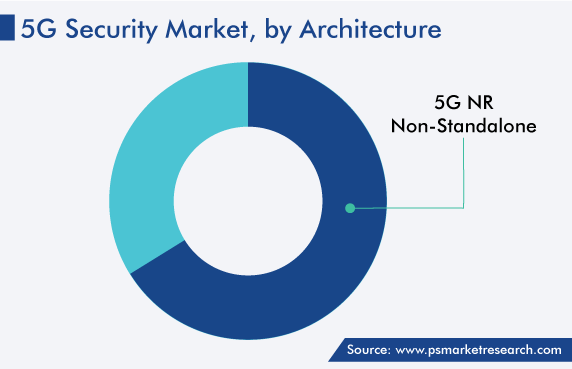 Cloud Deployment Is Gaining Popularity among Organizations
The cloud category held the larger revenue share, of 69%, in 2022, and it will also be the fastest growing, with a CAGR of 42%. The main reason credited is the affordability of the cloud, especially for SMEs. Since they allow users to focus on their core competencies, rather than allocating resources to secure their network infrastructure, SMEs, in particular, are utilizing cloud services, which make use of scrubbing and detection to locate and halt network intrusions. DNS management, website traffic security, and traffic rerouting are made easier by the cloud deployment architecture.
Moreover, using 5G protection solutions deployed on the cloud, businesses can save money on software, storage, hardware, and other technical aspects. Significant performance improvements across applications such as network slicing, cloud-based resources, and virtualization are just a few advantages that cloud-based 5G security offers. In the last several years, more cloud-based installations have been used to help customers protect their data. The cloud deployment type can change from case to case, depending on the client's requirements, and is frequently used for both private and public clouds.
North America Is Dominant Region
The 5G security market is dominated by North America, as significant 5G technology advancements have been made and security measures implemented to stop leaks in the region. Spectra for 5G are being distributed effectively across North America, both in the high-band and low-band ranges. On the other side, it is behind in terms of mid-band spectrum distribution. Mid-band spectrum must be repurposed for 5G in North America, in order for it to stay competitive in the new digital age.
Despite evolving national security requirements governing spectrum allocations, some current owners of the spectrum may object to repurposing. Because of this, the use of 5G security is expanding. North America is competing in a world where technological and economic leadership are just as important as military strength.
In the North American region, the U.S. is predicted to have a strong CAGR, of around 40%, over the forecast period. The 5G security approach provides a much more-effective way to address network improvements, thus increasing the country's technological ability to contribute and develop, while preparing government plans to support and complement those qualities.
APAC is the second-fastest growing region globally, as it has a large mobile subscriber pool, on account of its huge population. The region is home to the most mobile users worldwide, and the regional countries will keep expanding their telecom networks in the future. The size, strategic leadership, and economic diversity of nations such as Singapore, China, Australia, South Korea, and Japan will be the primary causes of the market growth.
Nations producing the most automobiles, IT and networking equipment, and electronic goods are China and Japan. Thus, China's 5G security market is set to grow at a significant CAGR over the projection period. China presently has more than 500 million 5G subscribers and 1.43 million 5G base stations. The cost-effectiveness of implementing 5G security to ensure data safety is determined by the number of customers. The Chinse government will collaborate with a variety of national and international partners to advance 5G applications in numerous sectors that focus on data security. Moreover, given that the People's republic is vulnerable to cyberattacks, significant progress in 5G security is expected from it.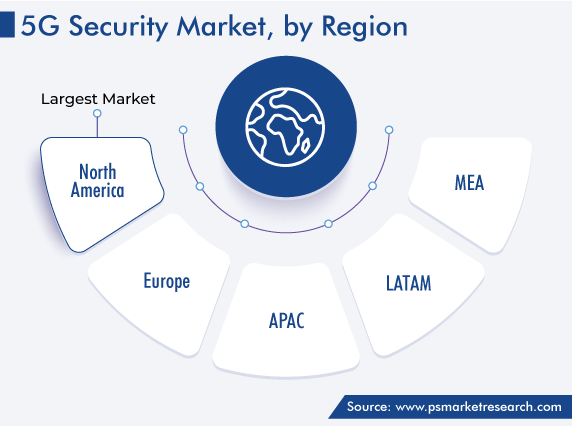 Top Players in 5G Security Market Are:
Telefonaktiebolaget LM Ericsson
Palo Alto Networks Inc.
Cisco Systems Inc.
Allot Ltd.
Huawei Technologies Co. Ltd.
A10 Networks Inc.
Nokia Corporation
F5 Inc.
Juniper Networks Inc.
Spirent Communications plc
Market Size Breakdown by Segment
This fully customizable report gives a detailed analysis of the market from 2017 to 2030, based on all the relevant segments and geographies.
Based on Component
Based on Architecture
5G NR Standalone
5G NR Non-Standalone
Based on Network Component Security
Radio Access Network Security
Core Security
Based on Deployment
Based on Application
Virtual & Augmented Reality
Connected Automotive
Smart Manufacturing
Wireless eHealth
Smart Cities
Based on Industry Vertical
Manufacturing
Healthcare
Energy & Utilities
Retail
Automotive & Transportation
Public Safety
Media & Entertainment
Geographical Analysis
North America
Europe

U.K.
Germany
France
Italy
Spain

Asia-Pacific

China
Japan
Australia
India
South Korea

Latin America
Middle East & Africa

Saudi Arabia
South Africa
U.A.E.