What All Goes into Starting a Car Rental Business in Saudi Arabia?
Published Date:

October 16, 2023
Saudi is a growing economy to say the least. When we think about Saudi, we think of mostly oil. But now the things have changed, and there are other things apart from oil which contributes to the development of Saudi Arabia. The country that is continuously going from strength to strength with regards to development has a sophisticated road network and transport infrastructure, and this holds true about Saudi Arabia also.
Talking of car rental business in Saudi Arabia, it may not be as big as some of the countries like India, but there is certainly much scope for the car rental market to prosper. There is a high rate of urbanization and growing young population, both of them are powering the demand for car rental services.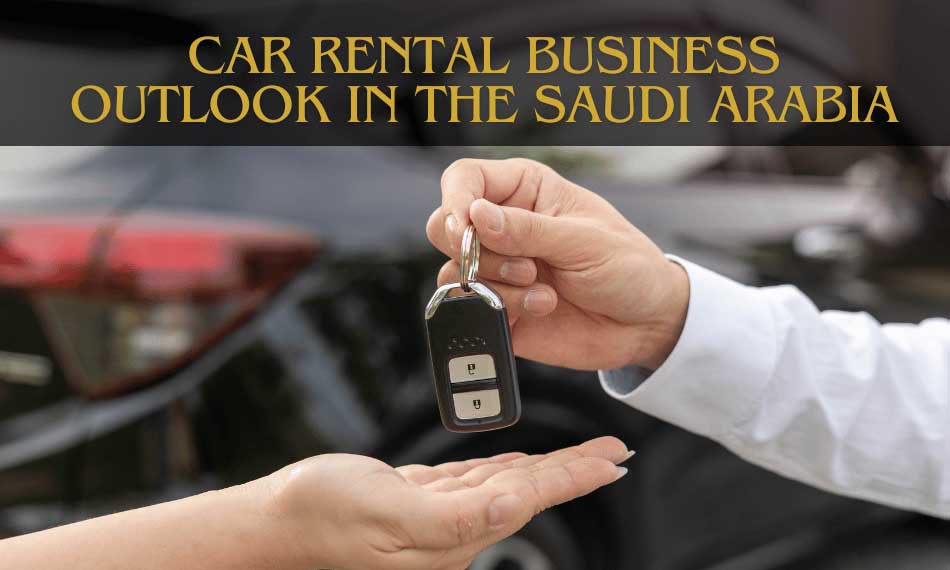 Not only that, Saudi Arabia is also enormously popular among tourists from all over the world for excursions or for religious pilgrimage known as Haj, and many of them choose to rent a car to go around the country.
Different Types of Car Rental Business
Car rental business in Saudi Arabia has not only got one model but different types of models. There are corporate car rental companies, airport car rental companies and luxury car rental companies.
Out of these three types of car rental businesses, Airport car rental companies are the most common, and they have a range of vehicles to choose from. Corporate car rental companies offer discounts to businesses renting more than one car. Luxury car rental companies, as the name suggests, specialize in offering high-end luxury cars to people.
If there is any business doing good, then it is a fact that the customers are liking it. This is also the case with car rental business in Saudi Arabia, and now after the types, we will have a look at the benefits of a car rental business.
Benefits of Renting a Car in Saudi Arabia
It is possible for you to easily go from place to place in the country with a rented car. Plus, there is no need to worry about finding a parking space, which you otherwise would. As discussed earlier that, Saudi Arabia has a good road network, and with a rented car you can travel places without much fuss.
Renting a car is much more affordable than any other mode of public transport, particularly if there is a group of people or if the duration or a car rental is longer than usual car for a longer period of time.
If you are renting a car, then there is a choice of picking a car that is suitable for your needs. If you are traveling with family, you can rent an SUV. If you are on a business tour with a client, a sedan or SUV can serve the purpose well. And if you want to have a luxurious experience while travelling with someone special, renting a luxury SUV or a sports car is just fine.
Starting a Car Rental Business in Saudi Arabia
If starting a car rental business in Saudi Arabia is on your mind, a few things need to be done. The very first thing is obtaining all the necessary permits and licenses, as you cannot start a business without having all the approvals up your sleeve. Now, from where you can get all the permits and licenses, well this can be done by contacting the Saudi Ministry of Commerce and Industry.
After you have got all the approvals, there is a need to choose the right location for your business. It is always important to finalize a location that is easily reachable to customers and that is in the close vicinity to airports and rail stations.
Now, that you have got all the approvals for starting a business and you have also finalized a place, it is the time to acquire a fleet of vehicles, that are the most important assets of the business. You can purchase all kinds of cars vehicles from a dealership or if you want to take the vehicles on lease, it can be done with the help of leasing company.
Once, you have got all the things in place and are about to start a business, make people know about your business. This can be done with the help of a website or giving print or electronic advertisements. This is the most important thing to ensure that the business does good.
And, customers are the heart and soul of any business, and if the customers are impressed by your advertising and feel that you are the right service provider, then be rest assured that your business will do well.
Tips: If You are To Rent a Car in Saudi Arabia
A business needs two entities, an entrepreneur and customers. In the previous section, there is all about what is the prerequisites of starting a car rental business in Saudi Arabia, Now, in this section, we will talk about the customer aspect, that what all things should be kept in mind by the customers while choosing a car rental service.
If you are a customer, always choose a trustworthy car rental company. There are numerous different car rental companies in Saudi Arabia, so it is important to select a reputable corporation with a good customer base and proven track record.

A car should always be inspected carefully before driving it. Always check for any sort of damage to the car and to report that to company before you sit on the driving seat.

You should always read the car rental agreement carefully. This will give you all the information pertaining to your rights and responsibilities as a renter. Only sign the agreement, once you have read and understood all the terms and conditions.

Insurance should always be purchased once you rent a car in Saudi Arabia provide you compensation in case of an accident or theft. Anyways, driving a car without an insurance is a punishable offence in Saudi Arabia, as in most of the countries of the world.

Make sure that you are aware of the local traffic laws. The traffic rules or laws in Saudi Arabia are bit different from those in many other nations. If you are not well aware of these, then you could end up breaking some of them unknowingly, and then end up in legal trouble. There could be an imposition of fine or in some cases, you might find yourself behind the bars.
Summing Up the Scene
If you are to travel around in Saudi Arabia, renting a car is a fantastic way to get around the nation and explore different tourist attractions. If you know about what is to be done for renting a car, and follow the tips mentioned above, the experience could be rather comfortable and enjoyable.
As we have talked about in this blog that car rental business in Saudi Arabia is growing because of the growing urbanization and young population, the car rental business will continue to grow in the years to come.
Furthermore, the Saudi government is investing profoundly in infrastructure development, further boosting the industry.