Li-Fi: A Revolutionary Technology that Will Make even High-Speed Wi-Fi Obsolete
Published Date:

October 28, 2022
Li-Fi is quite similar to the Wi-Fi technology, and it is the future of wireless communication. The key feature of this technology is that it is entirely networked, high-speed wireless, and bi-directional.
These days, the trending domain in wireless communication is Li-Fi, and the count of people using the internet is also increasing with each passing year. Offering better speed, bandwidth, and efficiency, Li-Fi technology has progressed with time.
The transmission of data in this technology is done with the use of light, since the light concentration changes much quicker than the human eye can comprehend. Data transmission in Li-Fi is almost 100 times faster than that of Wi-Fi.
This presents an opportunity to transmit information from one system to another with the help of visible light! For this, LED lights are put to use for transmitting the signals and a photodetector for receiving them.
The key benefit of this technology is the transmission of information under complete security. The waves of the light cannot pass through walls, thus offering a relatively shorter range for data transmission; though, the data remains much more secure from hacking compared to with Wi-Fi.
Li-Fi involves 5G communication through light. It makes the use of light from LEDs as a medium for delivering data to mobile and wireless communication devices, similarly to Wi-Fi. Li-Fi is used as an internet access point, to extract data from Wi-Fi networks.
For transmitting information from one system to another, it makes the use of visual light communication (VLC). This system is built around white LEDs, which use the THz visible light spectrum to provide both lighting and wireless access. The signals of VLC work by the switching the bulbs on and off.
There is an enormous potential in this new technology, and semiconductor as well as consumer appliance companies are seeking to take complete advantage. In this regard, pureLiFi received an outlay of GBP 10 million from the Scottish National Investment Bank in 2022.
Working of Li-Fi
Li-Fi's working is not much complicated; it is merely an advanced version of optical communication. There is an LED transmitter at one end and a photodetector at the other. The data is fed into the LED transmitter by varying the rate at which the LEDs flicker, for generating diverse strings of 1s and 0s.
The on–off activity of the LED transmitter, seeming invisible, allows data transmission in the light form, in conformity with the received binary codes: when we switch on an LED, the binary value generated is '1'. Conversely, switching it off generates the value of '0'. By changing the rate at which the LEDs flicker, data can be programmed into the light in diverse groupings of 1s and 0s.
In a characteristic setup, the transmitter is linked to a data network, and the receiver obtains the data as a light signal and interprets all the information, which is then displayed at the device linked to the receiver.
The receiver records a binary '1' when the transmitter is switched on and a binary '0' when the transmitter is switched off. Thus, flashing the LED many times, or the usage of an array of LEDs, will ultimately deliver data rates of 100s of Mbps.
Henceforth, all that is required is an LED or a collection of a few of them and a controller controlling/encoding data into those LEDs. All a person has to do is vary the rate of flickering of the LEDs, contingent upon the input of data to the lights.
Additionally, data rate augmentations can be done in this process with the use of an array of LEDs, preferably mixtures of green, red, and blue LEDs, for achieving light of many frequencies, each encoding a dissimilar data channel.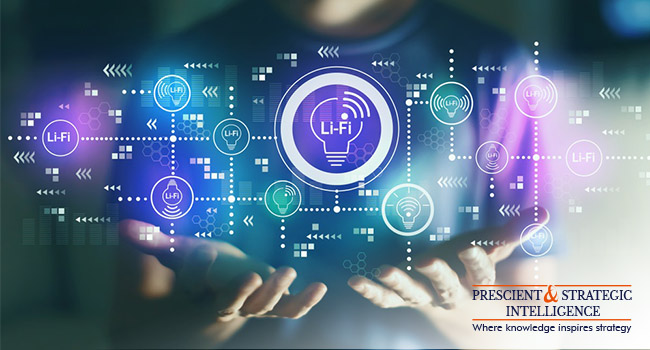 What Are Advantages of Li-Fi?
Stronger Security
Different from radio waves, light waves do not infiltrate walls. That means the data transmitted over Li-Fi can be limited inside a physical space, thus making it difficult for unauthorized entities to hack into it.
On the other hand, similar to RF-based networks, Li-Fi devices can operate on specific channels, thus further reducing the probabilities of data leaks, as devices functioning on one channel would be inaccessible from data on an alternative channel.
Low Interference and High Safety
Since the spectrum of light is much wider as compared to the radio spectrum, the danger of interference when the devices try to send dissimilar data on the same frequency simultaneously is nearly non-existent with Li-Fi.
Greater Reliability
Lower interference risks are another reason Li-Fi is dependable. The other reason is that the Li-Fi technology supports higher bandwidths compared to radio waves.
Li-Fi could relegate areas where radio waves are too weak to allow feasible communications. It will also permit an endless number of people or devices to share a single Li-Fi connection, without running out of bandwidth.
Support for Intentional Connections
It is possible with Li-Fi to direct data at targeted devices. A wireless network can be created to only work with designated devices, thus further strengthening data security.
It is not possible for radio waves to offer this precision. With radio waves, data is sent in all the directions, and the only way to confine which devices can be a part of the network is to use authentication technologies. By using the high drop off of light, it is possible to ensure location and direction, for authentication.
In-Place Wireless Connections
Because of the risk of low bandwidth and high interference of radio waves, the use of Wi-Fi is impractical for connecting stationary devices. For that, people depend on cables or, worse, use up the radio range. If something is radio and not mobile, the radio spectrum is goes to waste being used on a motionless device.
Li-Fi, though, changes this calculus. By enabling data to be sent at high speeds and between devices, Li-Fi can give you an environment where your monitor or digital sign, for instance, can connect to the computer through the wireless mode.
Precision
Li-Fi connections can be located in a manner in which the radio waves cannot. This means one knows exactly what every device is doing over a Li-Fi connection, which is highly beneficial for highly private information.
Various Applications of Li-Fi
Aeronautics: The dexterity of Li-Fi devices permits aeronautical companies to offer passengers a powerful internet connectivity during the flight, without interfering with the frequencies being used by other onboard apparatus, such as the GPS or ground contact systems.
Education: With powerful and unchanging connectivity, Li-Fi is transforming education. In a class of a number of students, everybody can access the internet easily and securely, with negligeable requirement for equipment installation.
Health: Since it does not bring about radiofrequency pollution, Li-Fi is an understandable choice for day care centers and hospitals, as they host patients for whom RF could be a risk.
Use Case of Li-Fi Technology
Conventional radio-based networks pose certain issues for militaries. Sending data with the use of radio waves can disclose their location to a foe. Furthermore, if the foe can capture and decode the radio waves, any transmitted data can be deciphered. The fact that radio waves can be blocked for stifling communications only degrades the usage potential of radio waves for the military.
The Li-Fi technology resolves all of these issues, as directed, accurate Li-Fi connections allow militaries to send information with a lower interference or detection risk. Security is significantly higher, as light waves are comparatively harder to intercept.
pureLiFi recently closed a contract worth $4.2 million with the U.S. Army in Africa and Europe for delivering a secure wireless communication system that makes use of light, not radio frequencies, for transmitting data.
Radio waves have been an effective way of communication for well over a century. But, they have issues regarding the safety, dependability, and performance of internet infrastructure depending only upon radio waves.
This is the reason several companies are exploring the usage of the light spectrum for data transmission. LED costs are decreasing, and they are easy to install, but light-based and radio-based infrastructure can coexist with the use of standards-based roaming. This gives out a clear picture that the shift to Li-Fi can be made progressively and without any problem.