Thanks to Advanced Tech, Smart Classes Are the New Face of Education
Published Date:

December 06, 2022
Over the past several years, there has been a considerable advancement in education. The word "education" now refers to more than just textbooks; it also encompasses the setting in which someone learns and grows.
The quality and atmosphere of "learning" have greatly improved thanks to computer technology. The introduction of digital and audio textbooks, which allow people to study even in their homes, has greatly revolutionized the way nations shape their present and future.
Teachers can provide all the study material in the electronic form, so that students can comprehend topics more thoroughly and solve problems more easily, all thanks to EdTech. Modern classrooms or 'smart classes', which prioritize refining each student's performance, utilize advanced technology, from books in the electronic form to the animated 3D models of complex scientific concepts. Additionally, students may access course materials from any location using e-learning technology tools.
Teachers in the U.S. say that smartphones are somewhat or extremely beneficial for schoolwork in 12% and 32% of the cases, respectively. And, this was a survey conducted in 2018–2019, when the pandemic hadn't even struck. Two years since the havoc created by COVID-19, many more teachers and students in many more countries now have a similar opinion on how the usage of computers and the internet can transform the way knowledge is given and gained.
Thus, driven by the need to make learning more accessible, the education technology market will hit a $998.4 billion value by 2030.
Although schools continue to use the pen-and-paper way of learning, the educational system is continuously transforming with digital technologies, which is enhancing the way students learn, with all the study material at their fingertips.
Education Revisualized by Digital Technology
By calculating the percentage of 10-year-old children who are unable to read and comprehend a straightforward tale by the end of primary school, the World Bank calculated the levels of "Learning Poverty" worldwide. "Learning poverty" is 53% in low- and middle-income countries, compared to an average of 80% in the world's poorest nations.
Technology has played and will continue to play a crucial part in providing kids with education outside of the classroom. An impressive feat seen during the pandemic was that all nations successfully adopt remote learning methods, utilizing a combination of television, online, radio, and mobile platforms.
Moreover, the three most-significant developments in educational technology are machine learning, the internet of things (IoT), and big data. Therefore, online learning has emerged as the dominant trend since the beginning of COVID. Now, e-learning is being used by the majority of businesses, institutions of higher learning, and even primary schools, to ensure successful learning.
Additionally, the gamification trend is paving the way for better learning prospects. Using games and puzzles to comprehend both simple and complex topics is a trend that Edtech firms are constantly promoting. The gamification of challenges has been shown to increase learning outcomes by up to 89.5%.
Role of AI in Edtech
Artificial intelligence (AI) is not a new technology or topic. Science fiction films and several historical writers have foreseen its ascent to recognition. Following this forecast, by 2030, the market for AI in education is expected to reach $25.7 billion, with a compound annual growth rate of 32.9%.
The increasing emphasis on conversational learning is another significant trend, credited to the strong focus on digitization and e-learning. Content is given as a two-way dialogue, as part of conversational learning. The process of teaching is made more engaging, dynamic, and personalized for students when using conversational learning solutions.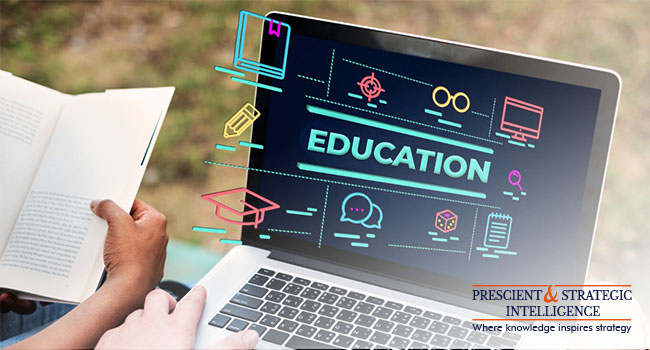 In this sense, chatbots are essential to the learning process because they can be programmed to meet the needs of the learner. Additionally, chatbots provide students with pertinent knowledge, which contributes to their performance in the course and helps them save time.
Conventionally, teachers don't only educate; they spend time arranging resources and materials for lectures, grading exams, submitting the required paperwork, creating progress reports, etc. They eventually get overburdened, since they are spending so much time on things other than teaching. AI automates all such tasks, to free up more time for teachers to pay attention on their core responsibilities of teaching.
IoT Applications in Education
Just like AI and ML, IoT is making education more practical, successful, and, in some circumstances, go beyond the confines of academic institutions.
Automatic Attendance Recording
Teachers are always concerned about students' attendance, and in schools, this is a daily responsibility that cannot be shirked. This difficult task of tracking attendance and computing it for multiple purposes can be carried out with the aid of IoT.
As students enter the classroom, their biometric attendance can be automatically recorded, using their identity card number. There is essentially no danger of inconsistency and storage in this manner. Similarly, for distance learners, the activity of students' tablets, with the specific EdTech application installed, can be tracked, to ascertain if they are 'present' in the class or not.
Distance Learning
IoT-based systems can store and formulate data in an application, with specialized software. Moreover, with the sign-in feature of websites, anybody from anywhere can view the information issued by the institution to their distance learning students.
This can assist everyone who wants to complete their educational program, but is unable to enroll in a legitimate educational institution. Live classes, recorded lessons, timer-based online assessments, and portal usage monitoring can all contribute to a holistic strategy for distant learners.
Close Monitoring
There is always the possibility to track the activities of and time taken by a student on a certain topic, whether the online portal is utilized from inside the school or someplace else.
IoT-based sensors gather data and automatically recommend academic subjects that students might find interesting, for further study. Additionally, it is simple to identify those engaged in each evaluation and monitor progress and scores.
Increasing Adoption of Interactive Learning Ignites Stimulating Demand for Edtech
The demand for EdTech is progressing because of the extensive financial aid provided by governments in emerging economies, such as China and India, as well as the expansion of the student access to digital gadgets.
For instance, to raise the country's educational standards, the Indian government installed some 20,000 digital boards in Delhi in January 2022.
The expansion of this demand is being fueled by an increase in the count of vendors offering services for remote learning, rising number of students, and rapid uptake of cutting-edge technology.
In addition, China has the largest educational system in the world, with over 500,000 schools and 280 million pupils, as well as about 18.0 million instructors, which reflects a massive demand for EdTech solutions.
Impact of Internet Penetration on EdTech
The advent of 5G technology and smartphone penetration are also driving the shift to 'smart' means of education.
Further, the usage of the blockchain technology allows users to securely retain student and learner records, enabling educators to examine the trends in students' use of the available resources and make data-driven decisions.
Students can now access information and educational resources with ease on their smartphones. The demand for mobile learning platforms has risen in both developed and developing nations as a result of the increase in the disposable income and the high internet accessibility.
Moreover, the adoption of cutting-edge technology, which has caused a change in the education sector by making it easier for individuals to read and study anywhere on the globe, has also led to a higher reliance on gadgets, including tablets and smartphones, to pursue talents.
The requirement for the internet has been fueled by the decline in internet data prices in emerging economies, as well as the rising consumer affluence and social development. The need for tech-based education is, hence, expected to considerably increase as a result of the ease of accessibility to education advanced technologies offer.