Drone Analytics Beyond the Military: What Are Prospects for Solution Providers in Commercial Sectors?
Published Date:

September 15, 2021
Aerial imagery is a good way to view large areas and gain real-time insights into any structure or event. However, using a full-fledged plane or helicopter for this purpose is costly, and it involves much ado. In this regard, the arrival of unmanned aerial vehicles (UAVs), also called drones, has made the job a lot easier. Users don't really need to worry about fuel and emissions, relocating those massive aircraft from one place to another, hiring specialized pilots, screwing and unscrewing thousands of bolts to attach and detach cameras, and then spending time transferring the data from the aircraft hard drive to the computer for analysis.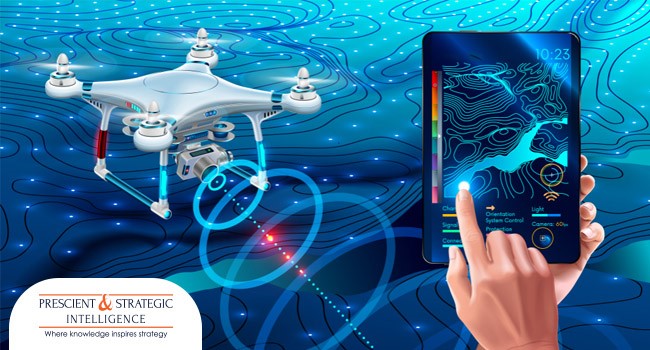 Plus, while undertaking a mission, be it reconnaissance, attack, or search and rescue, with a conventional aircraft behind enemy lines, there is always a danger of coming under fire, which can not only damage expensive equipment but also take human lives. This is another problem that is eliminated by UAVs, since the operator is usually far away from the action, controlling the UAV remotely. Thus, the rising usage of UAVs because of all these advantages is the primary reason the drone analytics market already valued $2,815.6 million in 2020.
This is because to study the visual data gathered by UAVs, specialized software is required, which can be bought as a single program for a specific purpose (point solution) or a complete package offering the entire spectrum of features and functionalities (end-to-end solution). Naturally, end-to-end solutions are more popular among users, which is, in turn, prompting software companies to offer more of them. For instance, Propeller Aero and SZ DJI Technology Co. Ltd. began a partnership in 2018 to create an end-to-end drone analytics solution, named Propeller PPK solution, for the DJI Phantom 4 RTK UAV.
Drone Analytics in Defense & Security
The key applications of drone analytics software in the defense & security sector, which is its largest user, are patrolling of the borders, tracking of illegal activities, identification of areas prone to attacks, continuous surveillance, planning of search and rescue operations, and monitoring of crowds and traffic. With the deteriorating political and security situation around the world, governments are rapidly procuring drones for defense forces. The U.S. has extensively used UAVs in Pakistan, Libya, Yemen, Somalia, Afghanistan, and Iran in recent years for conducting airstrikes. Thus, before any such operation can be carried out and even while it is being carried out, drone analytics solutions are essential for careful planning and execution.
The Current UAV Boom
Historically, UAVs were exclusively used by defense forces, but in recent times, they are being increasingly seen in non-military usage, such as in the construction, media & entertainment, and oil & gas sectors. This is because governments around the world are recognizing the utility of such aerial platforms and amending their laws to allow their commercial usage. For instance, as per the latest Indian law, nano-drones, which weigh less than 250 grams, do not require a license or permit to be flown for non-military purposes.
Here is a list of the major countries where non-military UAV usage is allowed in some capacity:
Countries with Unrestricted Non-Military UAV Usage
| | | | |
| --- | --- | --- | --- |
| Canada | Argentina | Chile | Ireland |
| Portugal | Spain | Netherlands | Germany |
| Norway | Sweden | Finland | Poland |
| Switzerland | Italy (banned in Vatican City) | Greece | Turkey |
| South Africa | Myanmar | Malaysia | Singapore |
| Indonesia | Philippines | Hong Kong | South Korea |
| Macau | Japan | Australia | New Zealand |
Countries with Restricted (but Legal) Non-Military UAV Usage
| | | | | |
| --- | --- | --- | --- | --- |
| U.S. | Mexico | Colombia | Venezuela | Brazil |
| Peru | U.K. | France | Belgium | Austria |
| Hungary | Romania | Israel | Saudi Arabia | U.A.E. |
| Qatar | Kuwait | Lebanon | India | Nepal |
| Bangladesh | China | Thailand | Vietnam | Taiwan |
Here is a rundown of the non-military applications of drones and, resultingly, of drone analytics software, in these and other countries where these platforms are allowed to be used by civilians:
Drone Analytics in Agriculture & Forestry
The booming population is impelling the agrarian community to modernize farming methods with high-tech solutions, such as drones, artificial intelligence, facial recognition, and sensor-based data. Key applications of UAVs and the associated analytics software in this sector include crop monitoring, livestock inspection, spot variability analysis through multi-spectral data processing, soil analysis, irrigation management, drainage assessment for off-season planning, and loss area quantification.
Drone Analytics in Energy & Utilities
Due to the dangers associated with the energy & utilities sector, humans are being replaced by UAVs for many applications. For instance, carrying out an inspection of damaged power distribution infrastructure poses serious threats of electrocution, which is why such tasks are being increasingly accomplished via UAVs. Moreover, such aerial platforms speed up the inspection by capturing large areas at once.
Drone Analytics in Mining & Quarrying
This is yet another dangerous job for humans because of the constant threat of cave-ins, explosions, and toxic gas discharge. Therefore, drone analytics solutions are being used in this sector for stockpile inventory management, mine planning & excavation, infrastructure inspection, and ensuring high safety standards for employees. The usage of UAVs in this sector offers optimized layouts of the mine and the larger facility, more-efficient supply chains, and streamlined workflow.
Drone Analytics in Construction
The rapid pace of urbanization is creating the requirement for construction projects to be completed more quickly and efficiently than before. As a result, UAVs and the associated analytics software are being leveraged in the construction sector for pre-construction site planning & design, high-resolution image capturing, and 3D model & map creation. Further, such solutions are utilized during the construction phase to monitor the progress and pace of work and adherence of the structure to the agreed-upon design and specifications.
Other sectors where the usage of such solutions is growing include logistics & transportation, oil & gas, insurance, media & entertainment, retail, education, government, and aviation.
Recent Advances in Drone Analytics Software
To cater to the evolving needs of customers across industries, drone analytics solution providers are constantly bringing about technological advancements. One of the key enhancements in these solutions has been beyond-visual-line-of-sight (BVLOS) capabilities. This is important when the drone needs to fly to distant places, far away from the natural sight of the operator. This is often the case in offshore oil & gas, border patrolling, covert airstrikes, and disaster management.
Another recent advancement in drone analytics software is the integration of intelligent photogrammetry features. Photogrammetry involves the analysis of two-dimensional photographs in order to obtain information about an area or object. Hence, this approach can be used to create 3D maps and models and process the data. Therefore, such capabilities are being added to drone analytics solutions in order to expand the latter's functionalities for various purposes, such as city planning.
Usage of Drone Analytics in Different Parts of the World
Currently, the highest usage of drone analytics solutions is witnessed in North America, especially by the U.S. defense forces. Most of the airstrikes using UAVs around the world have been conducted by the U.S. Moreover, this is the country with the highest defense spending; in the 2021 budget, the government set aside $7.5 billion just for the procurement of UAVs and the associated analytics and operational software. Moreover, drone solution providers in the region are making such software better by integrating it with the machine learning (ML), internet of things (IoT), and computer vision technologies.
The other region significant from the point of the usage of such solutions is Asia-Pacific (APAC), where their usage will likely increase massively in the coming years. With India, China, and many other regional countries amending their laws to allow civilians to operate UAVs, the demand for analytics solutions is bound to rise for commercial applications. Drones have already become popular in the media & entertainment sector, where they are used for aerial coverage of major cultural and sports events. Further, regional countries are augmenting their defense spending, a large part of which is being spen on UAVs.
Hence, as the sale of UAVs picks up for military and non-military usage, the demand for the associated analytics software will also boom.