Aerial Imagery Market Overview
The global aerial imagery market stood at $1.4 billion in 2016, which is expected to grow at a CAGR of 13.4% during 2017 - 2023. The increasing adoption of aerial imagery in multiple application areas, such as surveillance and monitoring, geospatial, energy and resource management, conservation and research, exhibition and live entertainment, disaster management, and construction and development has been the key driver for the market.
GLOBAL AERIAL IMAGERY MARKET, BY TYPE, $M (2013 – 2023)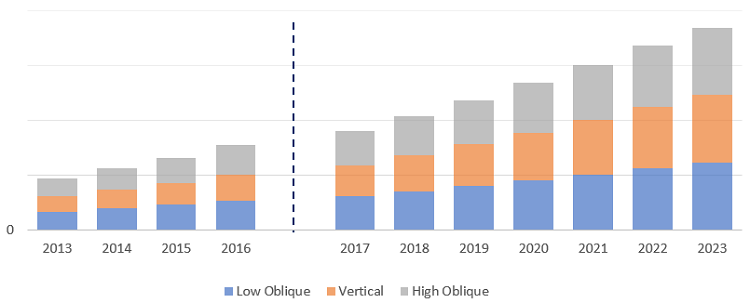 The demand for high oblique in the aerial imagery market is expected to grow at fastest pace during the forecast period. The high growth is expected due to rising demand from defense and government for high oblique aerial photography. It is also very useful for numerous purposes, including guiding pilots toward a photographic target or a landing site. High oblique type is also used for orientation purposes, due to their capability of covering large area, which further ensures its high demand in the forthcoming years.
The growing concerns for homeland security, town planning, development of smart cities, energy sector exploration, and monitoring & management of environmental changes are expected to back the demand of aerial imagery from government sector, during the forecast period. With the increasing crime rate and rise in advanced defense technologies, the growth for aerial imagery market is expected to be high from defense sector. The market will witness highest growth in energy & resource management application with the growing inclination of energy management companies towards advanced monitoring solutions.
Geographically, North America contributed the largest revenue to the global aerial imagery market in 2016, and is expected to remain the largest market during the forecast. The North American market is also expected to witness the fastest growth during the forecast period. The Asia-Pacific market is predicted to grow at a brisk rate as well in the coming years as the region sees a rising demand for surveillance and monitoring to combat national and international threats. In 2016, Asia-Pacific accounted for over 20% market share in the global aerial imagery market.
Aerial Imagery Market Dynamics
The wide adoption of drone based technology is one of the prime growth factors of the aerial imagery market. In addition, rising incidence of natural disasters, and technological advancement in camera system are also expected to boost the growth of the aerial imagery market.
Growth Drivers
The growth in adoption of drone technology has been reshaping the aerial imagery market, which is allowing it to explore several areas including agriculture and defense intelligence. Drones coupled with aerial images offers user-controlled image acquisition by bridging the gap between ground observations and imagery acquired. Drones present a cost-effective method by allowing easy change in landscape and height, resulting in best possible spatial and temporal resolution for research and land-mapping.
With increasing number of natural calamities such as earthquakes, fire, floods, cyclones and tornadoes occurring globally, the governments of many countries are inclining towards the use of aerial imagery solutions to determine the actual loss of life and property. It is a highly preferred solution to update the map information after disaster, as it provides high resolution images that are easy to understand for disaster management teams. It offers the ability to monitor and assess the potential damage from calamities, by enabling disaster management authorities to take corrective measures.
Aerial imagery solutions offer high flexibility as the resolution of the image and the area covered can be extended by changing the flight elevation and acquisition path, thereby giving a vivid picture of the damage caused due to natural calamity. For instance, in 2017, Houston and Texas in the U.S. faced tropical storm, named Harvey, which resulted in the death of several people. Through aerial image solutions, the government was able to identify the impact of the storm and devised a proper evacuation plan for citizens, to minimize the casualty.
Recent advancement in camera technology offer ultra-refined images with high pixels, which is another factor fueling the growth of the aerial imagery market. It has an advantage over satellite imagery that the new developed camera technologies can be implemented very quickly in aircraft or UAVs. High definition cameras are getting widely used for small scale or large-scale images as they provide high resolution with great precision. The aerial imagery market is observing a makeshift in the use of cameras- from analog to digital, which utilizes charge coupled devices (CCD) along with unique designs of lenses. This results in enhanced shutter technology to record image data sets with improved accuracy.
Opportunities
The growing inclusion of the technology in the construction industry is creating further growth opportunities in the aerial imagery market. Also, high inclination towards orthoimagery geospatial mapping and growing geographical opportunities in the APAC region, are the major opportunities leading to the growth of the aerial imagery market.
Aerial images are gaining significance in the construction industry as it offers solutions to the complexities and layout of large infrastructure projects in a refined manner. They allow construction companies to analyze projects in a detailed and better way by taking images from different angles. Aerial image solutions offer benefits in terms of time and cost, which in turn saves huge amount of money spent by construction contractors/ builders on monitoring and surveillance.
Aerial image solutions enable architectures, construction firms and engineers to better assess, plan, and inspect resource utilization for ongoing projects ranging from small town developments to large scale buildings and estates. In the coming years, such solutions are anticipated to further enhance logistics inventory in construction projects and provide protection against insurance claims and site thefts, which will boost the growth of aerial imagery market.
Aerial Imagery Market Competitive Landscape
As there are less number of players in the aerial imagery market, the degree of rivalry is high. Also, the industry is growing at a notable pace, which only intensifies the competition among the market players. Some of the major players in the aerial imagery industry are EagleView Technologies, Inc., Fugro N.V., Digital Aerial Solutions LLC, Google Inc., Kucera International Inc., Blom ASA, Getmapping PLC, Nearmap Ltd., High Eye Aerial Imaging Inc., and NRC Group ASA.
North America and Asia-Pacific show a strong tendency to adopt various imagery solutions, thus the key competitors are specifically focusing on these regions to expand their product offerings.