No More Baby Steps for Baby Food Industry, as the Market Continues to Grow by Leaps and Bounds
Published Date:

October 01, 2021
While becoming a mother itself is both physically and mentally strenuous, raising a child after birth, ensuring he/she gets the best in terms of nourishment and care is all the more daunting. Moreover, with more women becoming financially independent and working, the focus on baby care has grown manifold, with greater dependency on packaged food that could well supplement breast milk or be an equally healthy substitute to mother's milk. Besides, changing lifestyle and growing urbanization too, to some extent, have molded the child-rearing patterns, with parents trying to blend in both conventional and new ways of raising their child, with equal focus on nutrition. Thus, considering all these factors, the potential of the retail industry in baby food domain can certainly not be ignored.
Hectic lifestyle shaping the child-rearing patterns, with growing reliance on packaged food
Other than breast milk, baby food includes all kinds of soft food that can be easily consumed by infants. Catering to the nutritional needs of babies and aiding in their overall growth and development, baby food, today, comes in a plethora of forms, including cereals, pureed food, infant formulas, and soups. Given the fast-paced life of today, driven by the rapid adoption of ready-to-eat products, the demand for a similar portfolio of baby food products has risen considerably over the years. Owing to the paucity of time to prepare food at home and the lactation issues faced by some women postpartum, packed baby food is increasingly being considered a supplement and a substitute to breast milk. The market is booming across the world, particularly in developing countries, such as India and China, with developed markets, such as the U.S., and Europe, accounting for the lion's share.
Industry continued to witness a strong demand for baby food products during the pandemic
Despite the COVID-19 pandemic and the consequential lockdowns implemented across various countries to curb the spread of the disease, the industry witnessed a high demand for baby food products, with market players reporting heavy sales. Moreover, with strict social distancing norms put in place by governments across the world, people in most countries resorted to online shopping for groceries, including baby food products. Besides, keeping the vulnerability of infants in mind and considering the importance of immunity during the pandemic, parents continued investing in healthier supplements for their babies.
Demand for organic food products projected to increase substantially in the near future
The demand for organic baby food has grown manifold in recent years, with increasing consumer awareness on the harmful effects of synthetic ingredients used in inorganic baby food products. Thus, to provide safe nutrition to their babies, people are increasingly opting for organic products. Although the majority of parents in low-income countries still prefer home-cooked baby meals, the market for packaged organic baby food is witnessing a massive surge in terms of product adoption, particularly due to time constraints with respect to food preparation as a result of increased women participation at workplaces. Furthermore, marketing campaigns and increasing affordability of organic baby food are resulting in increased awareness among the consumers.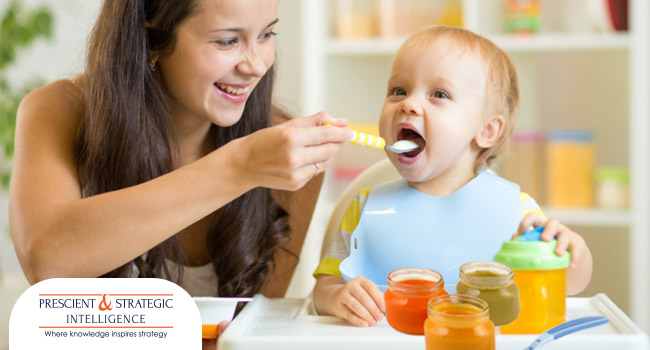 Increasing population of working women and declining infant mortality rate propelling the market growth
Moreover, with the rise in the population of working women across the world, the preference for processed baby food has increased. As per the statistics released by the Office for National Statistics (ONS), 74% of mothers in England were working as of September 2018, as against 69% in the year 2013. With women becoming financially independent and spending more time on their jobs, the need for ensuring baby care through alternate healthier supplements has grown. Besides, the declining infant mortality rate (which stood at 26.05 deaths per 1,000 live births in 2020, as against 62.91 infant deaths per 1,000 live births in 1990), supported by strong government measures toward reducing female infanticide, is supporting the demand for baby food. Moreover, with a baby boom projected in the coming years, driven by the constant surge in population across the world, especially in developing countries like India, China, and Indonesia, the demand for baby food products is expected to witness a sharp rise.
Understanding market segmentation and consumer behavior
Among the various types of baby food products being sold in the market, including cereals, infant formulas, snacks, soups, and pureed food, infant formulas continue to garner the most popularity and constitute the most saleable baby food product category, particularly due to the growing lactation issues in women. Moreover, in terms of future product sales, the online medium is expected to witness the highest demand for these products, with more people preferring online purchase over in-store or retail purchase, owing to a myriad of benefits associated with the former, including ease and convenience in terms of shopping, availability of ample products to compare and choose from, swift payments/transactions through electronic means, and product delivery.
Given the ever-expanding population base in the Asia-Pacific (APAC) region, the fastest growth in this industry is projected to be witnessed in this region, primarily driven by the high birth rate, growing base of working women, and increasing purchasing power of people in the region.
Strategizing their way to success with the launch of new, improved products
In view of the growing demand for baby care food products, key companies operating in this industry, including Nestlé S.A., The Kraft Heinz Company, Danone S.A., Abbott Laboratories, China Feihe Limited, Reckitt Benckiser Group plc, HiPP GmbH & Co. Vertrieb KG, China Mengniu Dairy Company Limited, Inner Mongolia Yili Industrial Group Co. Ltd., DMK Deutsches Milchkontor GmbH, Kewpie Corporation, PZ Cussons (UK) Limited, Royal FrieslandCampina N.V., and Perrigo Company plc, are aggressively focusing on growth strategies such as product launches. For instance, The Kraft Heinz Company, in July 2021, launched a new portfolio of baby food products under the HEINZ BY NATURE brand. These naturally made products come in recyclable glass jars for customers preferring eco-friendly packaging. Besides, in November 2020, Nestlé S.A. entered the frozen baby food domain with the launch of Freshful Start, an organic-ingredient line of food products made from whole grains and vegetables packaged in bowls and offered in five varieties.
However, with traditional, home-cooked baby meals still given precedence over other forms of baby food, especially in developing countries, players in the industry need to devise strategies that could target the market and introduce a paradigm shift with strong consumer trust on packaged food products that could be equally healthy and traditional in their approach to baby care.