Automation: Business Booster or Job Killer?
Published Date:

March 31, 2023
Automation refers to the application of machinery to tasks once achieved by humans, or, progressively, to tasks that would otherwise be very tough to perform. Even though the term 'mechanization' is commonly utilized to denote the easy replacement of human laborers by machines, 'automation' usually reflects the integration of computer technologies, such as AI, PLCs, and autonomous robots. This integration has transformed industries greatly, and there is barely an aspect of contemporary life that has not been impacted by it.
Industries are swiftly evolving with the introduction of new technologies. The automation of production lines has quickened up the manufacturing process. In the same way, the automation of vehicles is extremely helpful in improving traffic flow, while automated pick-and-place systems increase the efficiency of item packing and assembly. Thus, with the countless benefits offered by automation, the mining industry is embracing it too.
Impact of Automation on Mining Industry
Many of us don't think about mines every day. In this situation, the phrase "Out of sight, out of mind" feels true. Mines are mostly isolated, away from densely populated areas. While they might appear non-existent or unpersuasive from above the ground, they are extensive and jam-packed with workers and buzzing with activity. Like large metropolises, mines never sleep; they are active 24/7.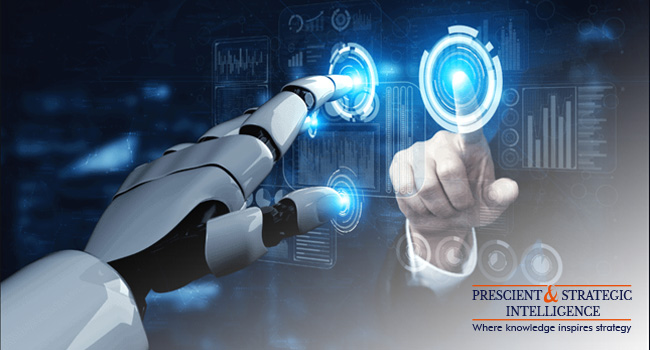 Mining businesses started to look for autonomous equipment as a solution to the challenges of accuracy, safety, and efficiency. Since mining is one of the riskiest operations, it poses many dangers for employees and equipment alike.
Lengthy contact with trapped gases can cause severe health problems, and a collapse is an added danger that holds the potential to harm both laborers and equipment. The continuous physical labor miners perform also makes them prone to injuries.
Thanks to the improvements in technology, the dangerous tasks inside mines can be accomplished with an array of solutions that also boost productivity and safety. Rather than depending only on manual labor, mines are now fortified with autonomous machinery. The risk of sustaining an injury or illness decreases as workforces use automated equipment in both open-pit and underground locations. Such equipment can be controlled from close proximity to the mine location, such as from a control room.
The constant recurrence of tasks is one key reason automated mining equipment is so vital. With robots finishing such jobs day in and day out, humans can be used for more-vital tasks. Human employees would also be safe by avoiding going to the same cramped location within the mine every now and then.
The worth of automation is indisputable. The World Economic Forum states that robotics and automation can avert 10,000 injuries in the mining sector between 2015 and 2025. Besides, only just 3% of the mining sector is presently utilizing automated equipment, and the firms that are have been experiencing a 20–30% growth in efficiency.
Underground Mining Operations Rapidly Being Automated
Remote control technology and artificial intelligence have ruled the world and are functioning at the core of several industries. Pioneering underground mining machinery has advanced a range of aspects, such as mineral transport, underground communication, and emergency response.
The round-the-clock operation of AI-integrated automated systems would be the decisive illustration of this. AI could offer a real-time screening of the location and amount of metals and minerals within the mine and also enhance plant processing.
Milking Automation Is Gaining Traction Too!
The automation of numerous procedures in agriculture has been accomplished of late. Utilizing machines on big ranches can lead to enhancements in productivity, animal welfare, and improvements in the standard of life for farm owners and workers.
The milking routine is undoubtedly the most time-taking and boring work in dairies, and its automation provides a big relief to most agriculturalists. The automatic milking system is not a completely novel technology, as it was first utilized in the Netherlands in 1993. The instant benefit of this technology is that it lets multiple cows be milked numerous times daily, without the need for much human interference.
Relieving laborers from milking and other repetitive work is not the only benefit associated with this system. A fully automatic milking system also offers crucial information to the caretakers about the health, nutrition, and behavior of cattle and other milking animals This provides producers with valuable information, which can be utilized in the decision-making process.
As per a study, 45% of the dairy employees suffer wounds on the back and 40% on the neckline and shoulder joints because of the exhaustive milking procedure. Besides, agriculturalists need to be dedicated to milking in early the mornings and evenings, every day, without any off day.
Indisputably, AMSs have become a recognized technology in the contemporary dairy sector, and it is progressively becoming mainstream practice due to its capability to advance working situations, milking frequency, milk yield and quality, udder health, and overall animal welfare.
In India, a cow roughly produces 10–15 liters of milk in a day, whereas in the U.S., the daily per-cow productivity is 25–28 liters. This higher quantity can be credited to automated milking equipment. However, increased yield is not the only advantage of automation, as the milking routine is undoubtedly the most time-taking and boring work in dairies, and its automation provides a big relief to most agriculturalists.
What Are Advantages of Automation for Corporate Businesses?
Not only machines, but even computer software and applications can be automated. Robotic process automation optimizes workflows, which supports corporate establishments in being more lucrative, responsive, and flexible. It also surges workers' productivity, satisfaction, and engagement, by eliminating routine everyday work.
RPA is non-invasive and can be rapidly executed to quicken the digital revolution. And, it is perfect for optimizing legacy systems that lack an application programming interface, virtual desktop infrastructures, and database access.
Automated software does boring and inferior-value tasks, such as scouring files and folders, logging into applications and systems, copying, extracting, and inserting data, finishing routine analyses, and filling in forms and reports, in the place of humans.
Cutting-edge computer bots can even perform processes that require more of human reasoning, such as engaging in chats and conversations, rendering text, understanding formless information, and using innovative machine-learning models to make difficult decisions.
When machines perform such boring, high-volume operations, people are freed to concentrate on the task they do finest and appreciate more—collaborating, creating, innovating, and interacting with clients. Companies get a lift too in terms of efficiency, productivity, and resilience.
Marketing Automation Key Application of RPA
The automation of marketing necessitates software to mechanize dull tasks. Advertising divisions can mechanize tiresome processes, such as social platform posting and email marketing and, at times, even run advertainment operations—not just for the sake of effectiveness but also to offer a more-tailored experience for their clientele. Marketing automation can also help derive better insights into customer behavior, which has become the cornerstone of every successful business these days.
How Can Automating Marketing Help Your Company?
When we focus on the common difficulties faced by industries, we observe that creating leads and keeping the clientele involved throughout its journey take a huge toll on the brain. This requires collecting a vast amount of data on the daily online activities of visitors and clients, which is still easy. But, organizing it and studying it to make business decisions are not only daunting and tiresome, but also monotonous sometimes.
The majority of the companies, therefore, consider marketing automation a middle-of-the-funnel tool, as e-mail automation is an influential marketing tool, which allows you to send the accurate message to the accurate individual at the correct time, utilizing automatic workflows, which is tremendously effective for lead generation. This, eventually, boosts the sales from potential clients as well as present ones.
Personalized workflows for Online Visitors
Anything someone does on the internet yields additional information for your marketing tactics, showing you what clients are exactly looking for at the moment. As supportive as this data is, physically tracking everything that someone searches for on the internet or every page they visit is not possible. Though, with marketing automation software, companies can utilize such inputs, generated across numerous channels, to understand their customers' requirements and offer the appropriate content at the right time.
With advanced marketing automation, there is no need to worry about data loss, since everything is mechanically saved in your central database, whether you have it deployed on-premises or on the cloud. Moreover, internal workflows can support you in arranging tasks as desired.
Conclusion
Automation is a great tool to support and intensify your success. In many cases, clients wish it too, as their inquiries get resolved better and more quickly. As per a survey, 84% of the clients said they would likely pay more for an improved customer experience.
But, human resources are always going to be the backbone of your business, and artificial intelligence and automation can only be an employee in tandem with your workers.
Moreover, as time passes by and automation becomes more efficient, it will provide you with the chance to lessen the count of redundant tasks for your workers, impart them an entirely novel skill set, and prepare them for a quickly moving world.