Which Barriers in Genomics Research Are Being Broken Down by AI?
Published Date:

November 16, 2022
AI and genomics are among the most-prominent innovations of the 21st century as far as the healthcare industry is concerned. Both of these technologies have become increasingly entwined in recent years, with the usage of AI allowing several discoveries in genomics, while the genomic data can, in turn, be utilized to train AI systems.
Moreover, the coming together of AI and genomics is expected to have a significant influence on society, healthcare, and medical research. The growth of genomics research data sets and substantial R&D activities are the primary factors that could take the global AI in genomics market to a value of $19,596.2 million by 2030.
In the next 10 years, genomics research will produce a significant quantity of data, ranging from 2 to 40 Exabytes. The demand for AI computational tools has grown due to the increasing size and complexities of DNA sequencing and other biological data sets, which is making it possible to identify genetic diseases in patients. This also assists in offering patients a personalized medication regimen, which is created after extensively studying their anatomy, genetics, and disease progression, utilizing such data.
Genome Sequencing and Gene Editing
There has always been intense curiosity in learning more about our genetic makeup, since how diseases affect people is heavily governed by their DNA. Researchers are now better able to understand and use genomic data obtained from gene editing and genome sequencing because of the developments in AI and ML.
The human genome has between 20,000 and 25,000 genes, which are arranged in a specific order according to the DNA building blocks (adenine [A], thiamine [T], cytosine [C], and guanine [G]). The genome must first be sequenced to be understood. DNA can now be sequenced in a single day, with a new technology known as high-throughput sequencing (HTS). conventionally, sequencing a single genome used to take a decade!
On the other hand, gene editing is the process of editing the DNA at the cellular level. The ability to add, subtract, and modify the genetic material in the DNA has opened up a previously unimagined range of applications, including genetic disease treatment, precision medicine, tissue and organ replacement, biofuels, and even agriculture (GM crops). Another potential application, one which sounds as if straight out of a science fiction movie, is bringing to life extinct animal and plant species!
What Role Does AI Play in Genomics?
Artificial intelligence is becoming increasingly crucial in the fast-developing field of genomics. AI can assist in identifying patterns and connections in genetic data, which would be hard for humans to detect with traditional methods.
As a result, novel therapies for illnesses may be created, diagnostic accuracy can be increased, and patient care can be tailored, using this information. AI is also required to create a virtual version of the human body, which can be tested for the efficacy and safety of prospective new medications.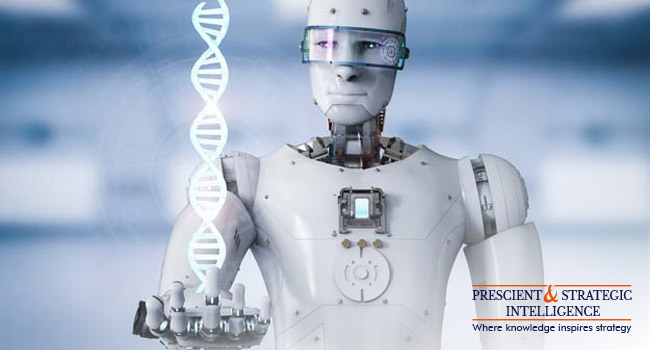 Personalized medicines based on a patient's unique genetic profile may one day be created using AI. The potential uses of AI in genomics are nearly endless, and the technology is already revolutionizing healthcare.
Potential Applications of AI In Genomics
Translational Precision Medicine:
Translational precision medicine combines elements of both translational medicine—early drug development based on mechanisms—and precision medicine—late drug development centered on the patient—into a drug development cycle directed by biomarkers.
Biotechnology businesses use AI extensively for medication discovery and development. Because of this, translational precision medicine is one of the key applications of AI-driven genome studies.
Integrated Genetic–Phenotypic Diagnostics:
The next-generation phenotyping technology uses deep-learning algorithms to gather, organize, and analyze physiological data, including facial images, to create accurate genetic diagnoses and reveal useful clinical information. A thorough overview of exceptional clinical situations is given through genotype- and phenotype-informed identification, enabled by AI.
Infectious Disease Profiling and Epidemiology:
AI in infectious disease research has furthered our understanding of pathogen genome sequences, epidemiological dynamics, drug development approaches, and vaccine development. The deployment of AI technologies in the medical field has widened the window for figuring out the different COVID-19 genomes.
In our quest to discover possible preventative and therapeutic medicines for containing the COVID-19 pandemic, AI-driven genomics has been helping us in the creation of vaccines and medications. One of the main obstacles to controlling the pandemic has been the development of several coronavirus mutations. Hence, researchers have been working to create new technologies to determine the most-common mutations of the same and those that could emerge in future.
Agricultural Biotechnology:
The next-generation plant breeding revolution has been spurred by AI techniques for plant genomics and phenomics, which have assisted in finding the genetic underpinnings of the essential characteristics and microRNAs linked to plant diseases. Moreover, gene sequencing and editing form the basis of genetically modified crops, which can be made to resist certain pathogens, grow under unfavorable weather conditions (including more-than-usual heat or cold), survive in droughts or floods, offer additional nutrients, or produce more yield than with traditional methods.
Conclusion
AI has a big part to play in the development of genomics. AI will boost the economic impact of genomics in the healthcare sector in the years to come, by accelerating the drug development process, enhancing diagnostic accuracy, and personalizing patient care.