Well cementing market is expected to reach $10,065.4 million by 2024, with a CAGR of 4.7% during the forecast period, according to P&S Intelligence.
The market growth is mainly driven by increasing exploration and production (E&P) in both conventional and unconventional oil and gas reserves, owing to growing global demand for energy products such as gasoline, gas oil, heating oil, fuel oil, aviation turbine fuel, liquified petroleum gas, piped natural gas, and compressed natural gas.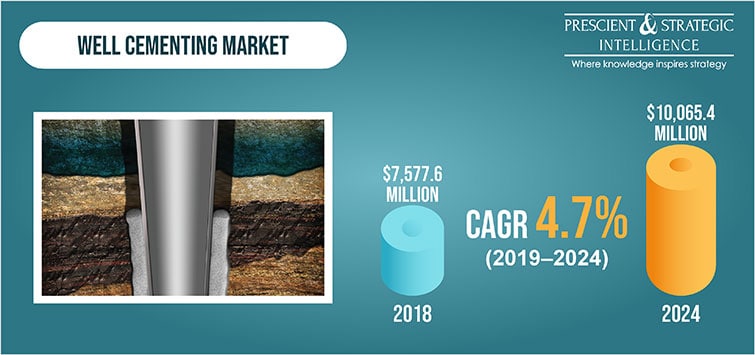 Insights into the market segments
The well cementing market is segmented on basis of service type, well type, application, and geography. Furthermore, based on the service type, the market is categorized into primary, remedial, and others (advanced cementing). Among these, primary cementing category accounted for an estimated revenue share of more than 75.0% in 2018. The global downfall in crude oil prices in 2014 had a negative impact on the E&P investments, thereby resulting in slow growth of the primary cementing market during the historical period. However, this market has been recovered on account of revival in crude oil prices since 2017.
Based on well type, the well cementing market is classified into oil, gas, and shale gas. The market for well cementing services for shale gas wells is expected to witness the fastest growth, with more than 6.0% CAGR during the forecast period. The discovery of shale gas in the U.S. and large-scale E&P investments in the domain will continue boosting the market growth in this category.
Based on the application, the well cementing market is bifurcated into onshore and offshore. The market for offshore application is expected to grow at a faster pace, witnessing a CAGR of more than 5.0% during 2019–2024. The maturity of onshore fields has resulted in the shift of E&P investments toward offshore fields for the exploration of energy sources. Moreover, some major offshore reserve discoveries have been made in recent years in various parts of the world, such as the Arctic and Guyana, which are expected to drive the market for offshore application during the forecast period.
North America accounted for the largest market share
North America held the largest share in the well cementing market, with an estimated revenue contribution of more than 35.0% in 2018. Large-scale investments in the oil and gas sector in the region, particularly in well drilling for shale gas extraction in the U.S. and Canada, continue to aid the demand for well cementing services in North America.
Potential for high-volume production in Arctic oil and gas reserves to offer lucrative growth opportunity
The Artic region has large onshore and offshore oil and gas reserves. According to the United States Geological Survey (USGS), the Arctic region is estimated to contain around 90.0 billion barrels of undiscovered oil, 1,669 trillion cubic feet of gas, and 44.0 billion barrels of undiscovered natural gas liquid. At present, Russia, the U.S., Canada, Norway, Denmark, and Iceland have direct access to the Arctic Ocean. Out of these, Russia, the U.S., Canada, and Norway are actively carrying out drilling activities in the region. Hence, increase in oil and gas exploration activities in the Arctic reserves is expected to offer growth opportunities to players operating in the well cementing market.
Browse report overview with 72 tables and 48 figures spread through 124 pages and detailed TOC on "Well Cementing Market by Service Type (Primary, Remedial), by Well Type (Oil, Gas, Shale Gas), by Application (Onshore, Offshore), by Geography (U.S., Canada, Norway, U.K., Russia, China, India, Indonesia, Malaysia, Mexico, Brazil, Venezuela, Colombia, Saudi Arabia, U.A.E., Kuwait, Nigeria, Algeria, Angola) – Global Market Size, Share, Development, Growth, and Demand Forecast, 2014–2024" at:https://www.psmarketresearch.com/market-analysis/well-cementing-services-market
Well cementing market competitive landscape
Some of the major players operating in the global well cementing market are Consolidated Oil Well Services LLC; Nine Energy Service Inc.; Gulf Energy SAOC; Magnum Cementing Services Ltd.; Calfrac Well Services Ltd.; China Oilfield Services Limited; Baker Hughes, a GE company; Schlumberger N.V.; Halliburton Company; and Weatherford International plc.
The well cementing market is highly consolidated in nature and is characterized by the presence of a limited number of players operating at a large scale. These players are mainly multinational corporations, offering well cementing services across different oil and gas producing regions around the world. Companies such as Halliburton Company, Schlumberger Limited, and Baker Hughes, a GE company are altogether sharing more than 70.0% share in the market.
GLOBAL WELL CEMENTING MARKET SEGMENTATION
Market Segmentation by Service Type
Market Segmentation by Well Type
Market Segmentation by Application
Market Segmentation by Geography
North America Well Cementing Market

By service type
By well type
By application
By country – U.S. and Canada

Europe Well Cementing Market

By service type
By well type
By application
By country – Norway, U.K., Russia, and Rest of Europe

Asia-Pacific (APAC) Well Cementing Market

By service type
By well type
By application
By country – China, India, Indonesia, Malaysia, and Rest of APAC

Latin America (LATAM) Well Cementing Market

By service type
By well type
By application
By country – Mexico, Brazil, Venezuela, Colombia, and Rest of LATAM

Middle East and Africa (MEA) Well Cementing Market

By service type
By well type
By application
By country – Saudi Arabia, U.A.E., Kuwait, Nigeria, Algeria, Angola, and Rest of MEA