Throughout the U.S., the prevalence of medical negligence and malpractices is increasing, which has led to the creation of clear guidelines for the medical review process. Additionally, the number of active physicians and healthcare centers is rising in the country, many of whom do not possess the expertise to carry out the review themselves. All these factors are expected to drive the U.S. medical peer/external physician review services market at a healthy CAGR from 2020 to 2030. Such services are required when a doctor or healthcare entity faces allegations of misconduct or negligence, so the entire incident can be investigated and patient outcomes and safety improved for future.
U.S. Medical Peer/External Physician Review Services Market Segmentation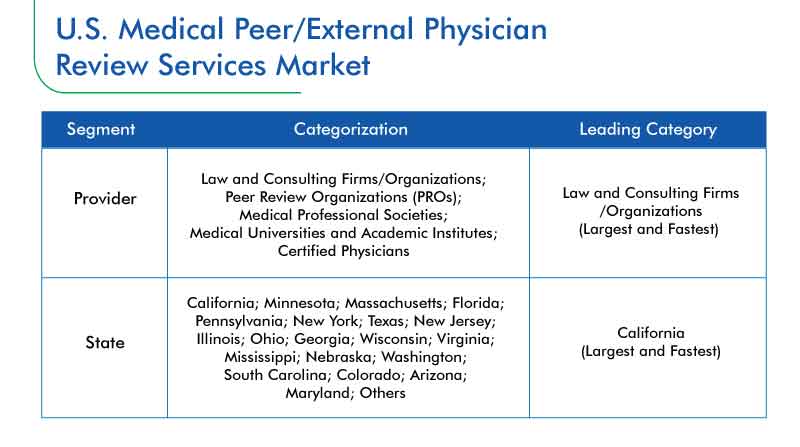 In the past, the market was dominated by law and consulting firms/organizations, in terms of value, as a large number of such companies exist in the country. Further, many such organizations are strongly focused on offering review services to hospitals and other healthcare settings. The allegations such companies help medical service providers with include physical and/or mental impairment, disruptive behavior, and clinical incompetence.
California is expected to continue contributing the highest revenue to the market till 2030. This is because a significantly larger number of active physicians and medical centers exist here, compared to most other U.S. states. For instance, California was home to about 60,000 active physicians in 2019.
Acquisitions Helping Market Players Reach New Customers with Better Services
In recent years, the market has seen a number of acquisitions, as companies offering medical peer/external physician review services in the U.S. are increasing the efforts to reach a wider customer base with a bigger offering portfolio.
For instance, Concentra Inc. revealed the news about the acquisition of Riverview and Arrowood Medical Centers in January 2020. Situated in Charlotte, North Carolina, and Rock Hill, South Carolina, the two medical centers are now part of Concentra's expanded client base.
Similarly, in July 2018, KEPRO Inc. acquired Health Information Designs (HID), a company offering pharmacy administrative services in the nation.
Browse report overview with detailed TOC on "U.S. Medical Peer/External Physician Review Services Market Research Report: By Provider (Medical Professional Societies, Peer Review Organizations, Medical Universities and Academic Institutes, Certified Physicians, Law and Consulting Firms) - Industry Analysis and Growth Forecast to 2030" at:https://www.psmarketresearch.com/market-analysis/us-medical-peer-external-physician-review-services-market
AllMed Healthcare Management Inc., The Greeley Company LLC, MDReview, ExamWorks LLC, ProPeer Resources Inc., Insight Service Group (ISG), Concentra Inc., Medical Equation, Medex Analytic Services, National Medical Reviews Inc., The Medical Resource Network Inc., Mitchell International Inc., Rising Medical Solutions LLC, Barnes & Thornburg LLP, South Florida Utilization Review, Epstein Becker & Green P.C., NorthGauge Healthcare Advisors, The Health Law Firm P.A., KANE RUSSELL COLEMAN LOGAN PC, Leichter Law Firm PC, MCMC LLC, MAXIMUS Inc., NYCHSRO/MedReview Inc., HHC Group, and Keystone Peer Review Organization (KEPRO) Inc. are the major U.S. medical peer/external physician review services market players.