The global ultrasonic sensor market generated revenue of $4.1 billion in 2019, and is expected to register a CAGR of 10.2% during the forecast period (2020–2030). In 2019, industrial category held the largest share in the market in 2019. This is due to the growing demand for sensors in distance measurement and level measurement applications in chemical, wastewater, energy & power, and oil & gas industries.
Growing Demand for Autonomous Mobile Robots (AMRs) a Major Market Trend
The market is witnessing a growing trend in demand for AMRs. Due to increasing advancements in technology coupled with rising focus toward increasing efficiency, productivity, and operational capacity in the manufacturing processes, demand for AMRs in industries such as oil & gas, automotive, and in other applications is surging yearly. These sensors are used in AMRs for applications including detection of obstacles and in determining the distance between the two objects. For instance, in 2018, Starship Technologies launched robotic delivery service in the U.K. that helps the residents of the city for delivering parcels to homes or work places.
Increasing Use of Ultrasonic Sensors in Automobiles
Increasing use of ultrasonic sensors in automobiles is a major factor driving the growth of the market. They are used in automobiles in various applications including park assistant system, object detection and identification, and for level sensing in fuel tanks. It helps in calculating the distance of obstacles and monitors space while parking of the vehicles. Owing to the rising number of vehicle production across the globe, primarily in developing countries such as China, Indonesia, and Thailand, there is an increasing demand for these sensors globally.
Segmentation Analysis of Ultrasonic Sensor Market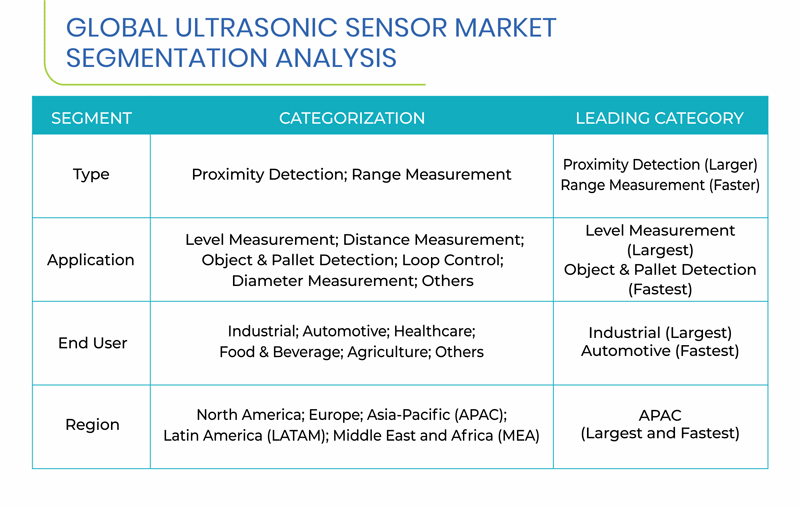 In terms of end user, automotive category is expected to be the fastest growing end user industry during the forecast period. This can be attributed to the growing demand for ultrasonic sensors in self-driving cars for obstacle detection applications. A self-driving car requires ultrasonic sensors for distance measurement application, that helps to detect the distance of object from long range; thereby preventing accidents on the roads.
In terms of application, the level measurement category held the largest share in the market in 2019. This is attributed to the growing demand for measurement and detection of level of fluids or water in industries such as chemical, water treatment, pharmaceutical and oil & gas. Moreover, these sensors are also used in cars for detection of fuel in tanks; due to this, demand for ultrasonic sensors for level measurement is high globally.
In 2019, retro-reflective category in range measurement is expected to register a faster growth during the forecast period. This can be attributed to the increasing use of these sensors for detection of irregularly shaped and inclined objects that are difficult to detect using through beam sensor.
Geographical Analysis of Ultrasonic Sensor Market
Asia-Pacific (APAC) held the largest share in the ultrasonic sensor market in 2019. This is attributed to the growing demand for automation in industries. Moreover, rising population and increasing focus toward smart agriculture in the region, mainly in China and India is driving the market growth. Within APAC, China held the largest share in the market in 2019. Due to large manufacturing industries such as automotive, food & beverage, and chemicals, demand for these sensors in the country is high.
Browse report overview with detailed TOC on "Ultrasonic Sensor Market Research Report: By Type (Range Measurement, Proximity Detection), Application (Level Measurement, Distance Measurement, Object & Pallet Detection, Loop Control, Diameter Measurement), End User (Food & Beverage, Automotive, Healthcare, Agriculture, Industrial) - Global Industry Share, Growth Analysis, Forecast to 2030" at:https://www.psmarketresearch.com/market-analysis/ultrasonic-sensor-market
Competitive Landscape of Ultrasonic Sensor Market
The market is fragmented with the presence of numerous players in the market. The key players operating in the market include Pepperl+Fuchs AG, Siemens AG, Honeywell International Inc., OMRON Corporation, Rockwell Automation Inc., KEYENCE CORPORATION, SICK AG, Balluff GmbH, ifm electronic gmbh, Banner Engineering Corporation, Baumer Holding AG. In May 2019, Pepperl+Fuchs AG launched UGC-50GK ultrasonic sensor for wide range of applications. The sensor is designed for applications including water and wastewater treatment, recycling and waste management, and silo level monitoring.