The hospitality sector in the U.A.E., especially Dubai and Sharjah, is growing by leaps and bounds, on account of the increasing number of tourists visiting these cities. Additionally, the country is focusing on expanding and modernizing its transport infrastructure. As a result of both these factors, the U.A.E. heating equipment market is expected to grow from $89.5 million in 2019 to $121.4 million in 2030, at a 2.9% CAGR during the forecast period (2020–2030).
U.A.E. Heating Equipment Market Segmentation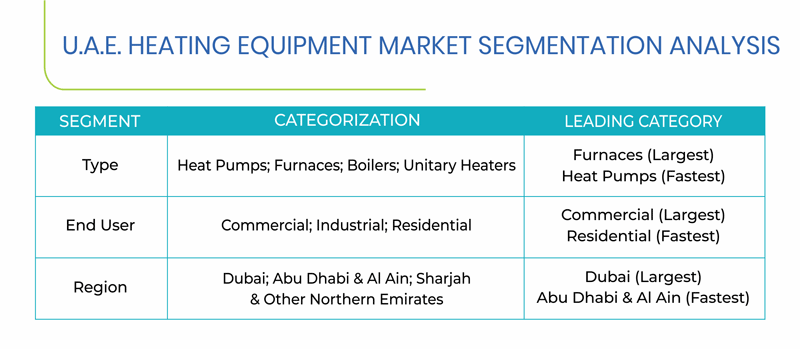 During the forecast period, furnaces are expected to be the highest revenue generating category in the U.A.E. heating equipment market. However, the heat pumps category would grow most rapidly, as they offer better energy management advantages in comparison to boilers and furnaces.
Residential end users are predicted to observe the fastest growth in the market till 2030. This would be a result of the rise in the number of residential apartments, villas, and buildings being built in the country. Some of the residential buildings set to be completed within the forecast period are Stella Maris, La Maison by HDS, Primo Tower 1, and SRG Tower.
In 2019, Dubai held the largest revenue share in the U.A.E. heating equipment market, on account of being the country's financial hub and tourist center. Dubai Expo 2020 preparations have led to a swift increase in the number of hotels and other buildings of commercial use, where a large number of heating systems have been integrated.
Market Players Expanding their Presence in U.A.E. for Increased Profits
In recent years, the key players in the U.A.E. heating equipment market have taken numerous steps to expand their operations in the country. For instance, in August 2019, Daikin Industries Ltd. moved its Middle East and Africa divisional office to Dubai, to better serve customers here with its range of smart variant refrigerant volume (VRV) systems, chiller systems, air handling units (AHU), fan coil units (FCU), and building management systems (BMS).
Browse report overview with detailed TOC on "U.A.E. Heating Equipment Market Research Report: By Type (Heat Pumps [Air source, Water source, Ground source], Furnaces [Gasoline, Electric, Propane], Boilers [Fire-tube, Water-tube], Unitary Heaters), End User (Commercial [Hospitality, Office & building, Transportation, Supermarket & hypermarket, Healthcare, Government], Industrial [Food & beverage, Oil & gas, Energy & utilities], Residential)- Global Industry Size, Share and Growth Analysis, Forecast to 2030" at:https://www.psmarketresearch.com/market-analysis/uae-heating-equipment-market
The U.A.E. heating equipment market is characterized by several significant players, including LG Electronics Inc., Johnson Controls International plc, Ingersoll-Rand plc, Mitsubishi Electric Corporation, Danfoss A/S, Gree Electric Appliances Inc. of Zhuhai, Midea Group Co. Ltd., United Technologies Corporation, Thermax Ltd., Daikin Industries Ltd., S.K.M Cooling LLC, and Zamil Air Conditioners.