The spunbond nonwovens market is projected to reach $17,651.9 million by 2023, according to P&S Intelligence.
The market growth is mainly driven by the rising demand for these fabrics for the manufacturing of hygiene and personal care products, such as diapers, wipes, sanitary napkins, underpads, and personal wipes.
Spunbond nonwoven is a fabric made by bonding staple fibers and long fibers together. In the spunbond manufacturing process, fibers are spun and dispersed into a web using deflectors, which form a continuous fabric known as spunbond nonwoven.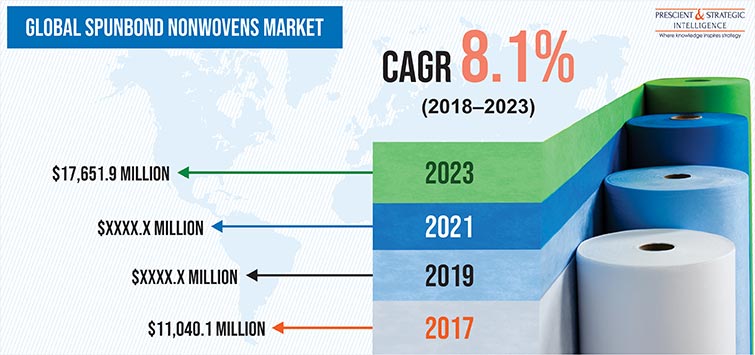 Insights on market segments
In terms of value, polypropylene has been contributing the largest share to the spunbond nonwovens market, owing to its relatively low cost and high strength as compared to other material types. Some of the major products manufactured using polypropylene are baby, female, and adult hygiene diapers; drapes; bags; surgical disposables; and wipes. Medical is expected to be the fastest-growing application area in the spunbond nonwovens market in the coming years. The growing penetration of healthcare services and rising healthcare expenditure are boosting the demand for these fabrics in the medical industry.
On the basis of function, the category of disposable spunbond nonwovens is expected to hold a larger share in the spunbond nonwovens market during the forecast period. These fabrics are used for manufacturing of baby diapers, female hygiene pads, and adult diapers. The demand for disposable products is expected to rise on account of their repeated usage.
Asia-Pacific (APAC) is expected to be the largest market for spunbond nonwovens
Globally, APAC has been leading the spunbond nonwovens market in terms of value and is estimated to hold more than 40.0% share in the market in 2017. China, India, and Japan are among the world's most populated countries and generate high demand for the fabric for the manufacturing of personal hygiene products. Also, rapid industrialization in these countries is expected to boost the consumption of the fabric in automotive, building and construction, and packaging industries. Besides, growing population and expanding industrial base are expected to contribute to the growth of the market in APAC.
Increasing awareness on personal hygiene is expected to drive the market growth
Hygiene and personal care facilitate protection from germs, restrict the spread of diseases, and is the dominant application area in the spunbond nonwovens market. With growing per capita income and increasing awareness on personal hygiene, the sale of products such as toddler training pants, feminine hygiene pads, and adult incontinence diapers is witnessing a steady rise. The market size for baby diapers, alone, is expected to exceed $70 billion by 2024. This is because of the high fertility rate and low infant mortality rate in the majority of the nations across the world.
Additionally, countries such as Japan, Germany, and Italy are witnessing rapid growth in their geriatric population, which is likely to boost the demand for adult incontinence products. Due to the aforementioned factors, the global spunbond nonwovens market is expected to witness considerable growth during the forecast period.
Browse report overview with 119 tables and 45 figures spread through 152 pages and detailed TOC on "Spunbond Nonwovens Market by Material Type (Polypropylene, Polyester, Polyethylene, Polyurethane), by Application (Hygiene & Personal Care, Medical, Building & Construction, Agriculture, Automotive, Packaging), by Function (Disposable, Non-Disposable), by Geography (China, India, Japan, South Korea, Germany, U.K., France, Italy, U.S., Canada, Brazil, Mexico, Saudi Arabia, Egypt, South Africa, U.A.E.) – Global Market Size, Share, Development, Growth, and Demand Forecast, 2013–2023" at:https://www.psmarketresearch.com/market-analysis/spunbond-nonwovens-market
Rising standard of living in developing countries is offering growth opportunities for the market players
Countries like China, India, Nigeria, Indonesia, Poland, and Malaysia have witnessed rapid economic transformation in the past few decades. Majority of these nations have a high population growth rate along with improved standard of living. These factors make these developing countries suitable markets for personal care and hygiene, and medical products. Besides, these countries have fast-growing construction and automotive industries, which are major end users of spunbond nonwovens. Hence, developing countries with a high economic growth rate are expected to contribute to the spunbond nonwovens market growth.
Spunbond Nonwovens Market Competitive Landscape
Some of the major players operating in the global spunbond nonwovens market are PEGAS NONWOVENS SA, Mitsui Chemicals Inc., Kimberly-Clark Corporation, Berry Global Inc., Toray Industries Inc., Schouw & Co., Johns Manville Corporation, Asahi Kasei Corporation, Radici Partecipazioni SpA, and DowDuPont Inc.
GLOBAL SPUNBOND NONWOVENS MARKET SEGMENTATION
By Material Type
Polypropylene
Polyester
Polyethylene
Polyurethane
Others (Including Polyamide and Rayon)
By Application
Hygiene and Personal Care
Medical
Agriculture
Building and Construction
Automotive
Packaging
Others (Including Filtration, Bedding and Furniture, and Apparel)
By Function
Disposable
Non-Disposable
By Region
Asia-Pacific (APAC)

China
India
Japan
South Korea
Rest of APAC

Europe

Germany
U.K.
France
Italy
Rest of Europe

North America
Latin America (LATAM)

Brazil
Mexico
Rest of LATAM

Middle East and Africa (MEA)

Saudi Arabia
Egypt
South Africa
U.A.E.
Rest of MEA