The South American IoT market is projected to reach $19,407.1 million by 2023, according to P&S Intelligence.
Increasing government efforts toward IoT deployment, growing focus on the development of digital networks and smart cities, and rising penetration of the internet, coupled with the high demand for smartphones, are the major factors driving the market growth.
Insights on market segments
Based on platform, the South American IoT market has been categorized into device management, application management, and network management. Application management platforms are in high demand among South American IoT solution deployers, owing to the increased need for improving application performance and its lifecycle management. Hence, during the forecast period, the market is expected to witness the fastest growth in this category, with 34% CAGR.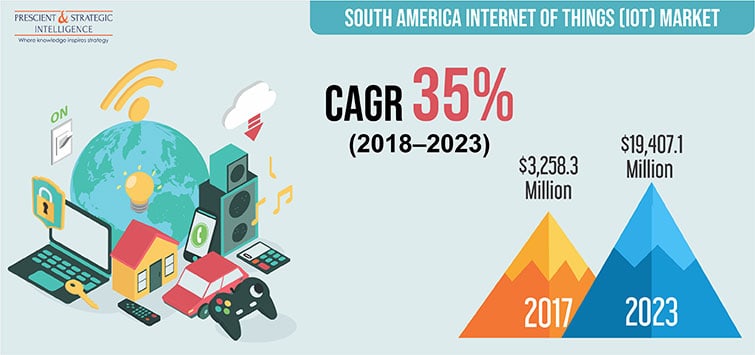 On the basis of end user, the South American IoT market has been categorized into government, building and home automation, energy and utilities, manufacturing and automotive, healthcare and hospitality, retail, logistics and support, telecom, BFSI, agriculture, and others, where "others" include media and entertainment, and education. IoT solutions are increasingly being adopted by the manufacturing and automotive industries for real-time, automatic interactions between machines, systems, and assets. These solutions help manufacturers in predictive analysis, quality and maintenance control, and real-time remote monitoring of equipment performance, in addition to facilitating faster response time and lower operational cost in the maintenance, assessment, and configuration of machines.
Browse report overview with 94 tables and 62 figures spread through 164 pages and detailed TOC on "South America Internet of Things (IoT) Market by Solution (Real-Time Streaming Analysis, Security, Data Management, Remote Monitoring, Network Bandwidth Management), by Platform (Device Management, Application Management, Network Management), by Service (Professional [Deployment & Integration, Maintenance & Support, Consulting Services], Managed), by End User (Government, Building & Home Automation, Energy & Utilities, Manufacturing & Automotive, Healthcare & Hospitality, BFSI, Telecom, Retail, Logistics & Transport, Agriculture), by Country (Brazil, Argentina, Colombia, Peru, Chile) – Market Size, Share, Development, Growth, and Demand Forecast, 2013–2023" at:https://www.psmarketresearch.com/market-analysis/south-america-iot-market
Brazil is expected to hold the largest revenue share in the market
During the forecast period, Brazil is expected to contribute the largest revenue to the South American IoT market, owing to the boom in agricultural activities in the country and government initiatives to encourage IoT adoption. Besides, increasing urbanization, rising awareness among the populace of the country regarding the IoT usage, and improving economy of Brazil are the major factors contributing to the IoT market growth in Brazil. For instance, Intelligent Brazil Programme was implemented to promote access to internet, development of IoT and smart cities, and encourage the use of machine to machine (M2M) and other new technologies.
Development of digital network and smart cities is a key growth driver for the market
Increasing focus on infrastructural development, better access to communication networks, and standardization of the interoperability of devices in IoT systems is a major factor leading to the growth of the digital network landscape in South American countries, which, in turn is boosting the demand for IoT in all priority fields. Besides, growing focus on the development of smart cities to improve the quality of life and facilitate sustainable development through technology is driving the growth of the South American IoT market. For instance, Ericsson and Qualcomm Technologies Inc. are planning to implement IoT infrastructure in agriculture, smart cities, and vehicle and asset training fields in Brazil during 2018–2022.
South America IoT market competitiveness
Competition in the South American IoT market is high due to the ongoing digital transformation in the region. In 2017, Intel Corporation led the South American IoT market, followed by International Business Machines (IBM) Corporation. Besides, the year witnessed many developments in the IoT domain, ranging from the deployment of fiber-optic network to improvement in 4G network and trial run for 5G network. These developments have led to increased internet penetration in the region, with IoT solution providers, such as Intel Corporation, IBM Corporation, and Cisco Systems Inc. leveraging the new connected network to develop IoT infrastructure.
Some of the key players operating in the South American IoT market are Qualcomm Technologies Inc., Intel Corporation, Microsoft Corporation, General Electric Company, Siemens AG, IBM Corporation, Oracle Corporation, Cisco Systems Inc., SAP SE, and T-Systems International GmbH.
South America IoT Market Segmentation
Market Segmentation by Solution
Real-Time Streaming Analysis
Security
Data Management
Remote Monitoring
Network Bandwidth Management
Market Segmentation by Platform
Device Management
Application Management
Network Management
Market Segmentation by Service
Professional Services

Deployment and integration
Maintenance and support
Consulting services

Managed Services
Market Segmentation by End User
Government
Building and Home Automation
Energy and Utilities
Manufacturing and Automotive
Healthcare and Hospitality
Retail
Logistics and Transport
Agriculture
BFSI
Telecom
Others (Media and Entertainment, and Education)
Market Segmentation Country
Brazil IoT Market

By solution
By platform
By service
By end user

Argentina IoT Market

By solution
By platform
By service
By end user

Colombia IoT Market

By solution
By platform
By service
By end user

Peru IoT Market

By solution
By platform
By service
By end user

Chile IoT Market

By solution
By platform
By service
By end user

Rest of South America IoT Market

By solution
By platform
By service
By end user