The global polymer concrete market was valued at $1,975.8 million in 2017 and is projected to reach $2,964.0 million by 2023, progressing at a CAGR of 7.1% during the forecast period (2018–2023). The epoxy category under by type segment held the largest revenue share in the market during the historical period (2014–2017).
Besides, epoxy category is expected to exhibit fastest growth during forecast period. Epoxy offers good chemical resistance which is the major factor contributing to the dominance of epoxy polymer concrete in the market, in terms of both value and volume.
Increasing Awareness about the High Performance of Polymer Is a Major Trend
The conventional forms of concrete suffer from various drawbacks, such as high installation time, high overall mass, and poor insulating properties, which, in turn, generates need for high-performance concrete. Polymer concrete exhibits high-performance properties, such as high impact resistance and high tensile strength, in comparison to conventional form of concrete. Thus, growing awareness among people regarding the high performance of polymer concrete is observed as key trend in the market.
Increasing Civil Construction Projects Acts as Major Driver for Market Growth
The construction industry plays an important role in the global economy, and the activities of the industry are also vital to the achievement of socioeconomic development goals of providing shelter, infrastructure, and employment. The governments worldwide are increasingly investing in the development of civil construction projects, such as airports, roads, bridges, railways, buildings, water reservoirs, sewer systems, and tunnels. For instance, Germany invested $129.6 billion in 2017 for the development of 189 strategic infrastructure projects. Thus, the growth in construction projects is expected to drive the growth of the polymer concrete market.
Segmentation Analysis of Polymer Concrete Market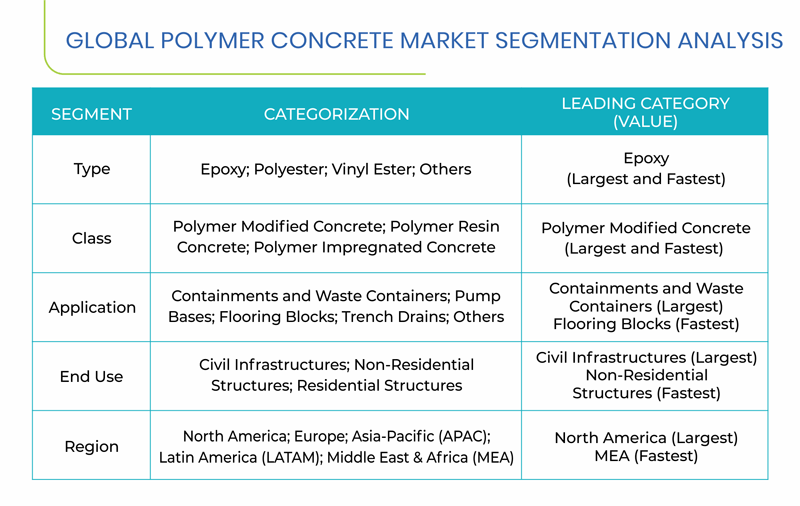 The epoxy was the largest revenue category in the 2017 among all types in the polymer concrete market. This is attributed to its properties such as quick setting, high strength, and low shrinkage.
The polymer modified concrete category is expected to witness fastest growth during the forecast period, mainly on account of its properties, such as high flexural strength of concrete and superior bond strength.
The flooring blocks category by application is expected to exhibit the fastest growth during the forecast period. This can be attributed to the increase in construction activities where these are used for ground and upper floors in all types of construction.
The civil infrastructure category under end use generated the largest revenue, $1,171.3 million, in 2017. It is mainly on account of increasing infrastructural activities in developing nations, such as India, China, and Brazil.
Geographical Analysis of Polymer Concrete Market
Globally, North America and MEA are expected to account for over 45% share in the polymer concrete market by 2023. This can be mainly attributed to the presence of established players, and increase in restoration of existing structures.
Europe, APAC, and LATAM also hold considerable shares in the polymer concrete market, on account of private investments in new infrastructural projects, and increasing demand for commercial, retail, and industrial properties.
Germany is expected to lead the European market, generating $125.7 million revenue in 2023. This can be mainly attributed to growing use of polymer concrete in civil infrastructure, owing to its environment-friendly properties.
China is the fastest-growing market in the APAC region. Increasing population is creating demand for sewage pipes. Also, upgradation of old pipes is required to transport higher volumes of wastewater for which polymer concrete pipes are an ideal solution.
Due to high demand for commercial, retail, and industrial properties, Mexico is expected to hold a considerable share in the LATAM polymer concrete market in the forecast period.
Competitive Landscape of Polymer Concrete Market
In November 2017, Sika AG opened its first concrete admixture production plant in Ethiopia. The plant is designed to produce construction materials in various categories, such as admixtures, waterproofing, sealing and bonding, refurbishment, flooring, and roofing.
Some of the players in the global polymer concrete market are BASF SE, Sika AG, Fosroc International Ltd., ErgonArmor, Dudick Inc., Sauereisen Inc., and Forte Composites Inc.