Valued at $535.4 million in 2019, the global patch management market is further projected to reach $3,245.6 million by 2030, exhibiting a CAGR of 17.8% during the forecast period (2020-2030). Among various industries, the banking, financial services and insurance (BFSI) category accounted for the largest share in the patch management market in 2019. The growth in the BFSI sector can be attributed to the fact that the industry is facing a constant risk of cyber threats from internal and external factors. This has placed a massive emphasis on data security and deploying security and vulnerability management solutions. To mitigate security breaches and to maintain software applications up-to-date with the latest security patches and other bug fixes, the demand for these software is expected to increase during the forecast period.
Shift of businesses toward automation
IT automation facilitates the integration of tools and processes through automated workflows. The traditional patch management process requires a large number of IT professionals to devote time for patching software products and ensuring they are up-to-date with new security features and compliance standards. On the other hand, automated processes enhance security, create consistent processes, and protect organizations by enhancing system insights.
Increasing need to mitigate vulnerabilities in software
Vulnerabilities in software have been ever increasing which are being exploited by malicious hackers. The severity of vulnerabilities can be determined based on multiple factors, such as their impact on integrity, confidentiality, availability of data, and complexity of attacks. Connectivity through the internet has generated tremendous growth opportunities for businesses across the globe, but in the process, it has also led to the systems' being vulnerable to cyber-attacks. To mitigate such risks, businesses are paving their way toward the deployment of security solutions and keep systems up-to-date with the latest updates.
Segmentation Analysis of Patch Management Market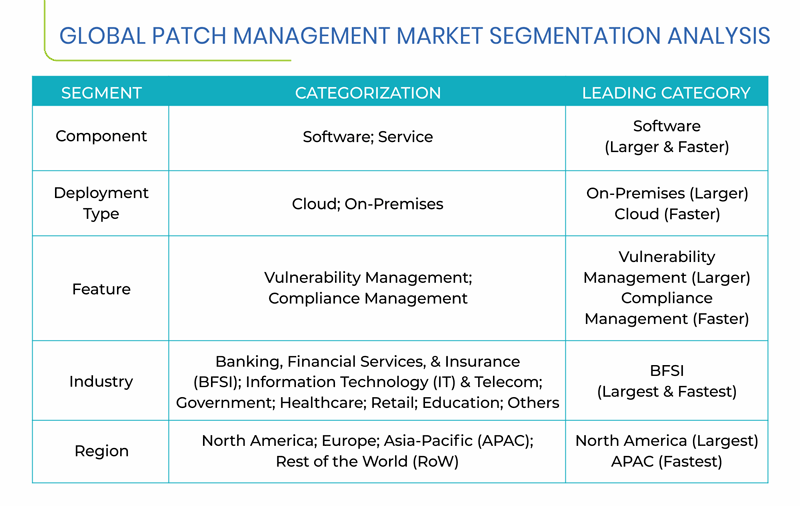 Over the forecast period, the service category is projected to account for considerable growth in the patch management market. This can be attributed to the fact that businesses are actively leveraging these services such as maintenance & support, training, consulting, and others.
On-premises category accounted for larger market share in 2019 in the patch management market, under the deployment type segment. This can be owing to the fact that on-premises deployment provides full control over an organization's data and offers enhanced security from external threats. Hence, on-premises has been the preferred choice of deployment for sensitive applications.
The compliance management category is expected to exhibit faster growth in the patch management market during the forecast period. The growth can be due to the fact that these solutions aid organizations to keep systems updated with the latest patches to meet compliance standards.
Healthcare accounted for a considerable share in the patch management market in 2019, under the industry segment. The growth in the healthcare industry can be attributed to the fact that it helps in prioritizing updates for clinical systems by rolling out updates in cycles. This ensures that clinical systems can still function without the system being disrupted.
Geographical Analysis of Patch Management Market
Globally, North America and APAC collectively accounted for more than 60% share in the patch management market in 2019. The North American region has been characterized with the presence of numerous enterprises and a mature IT infrastructure. Organizations based in the region are actively deploying vulnerability management services and solutions to cater to the prevailing risks of cyber-attacks. The increasing demand to keep security patches up-to-date in order to mitigate security breaches is further driving the growth of the market.
The U.S. is the largest and fastest growing country in the North American patch management market. This can be owing to the fact that major organizations in the U.S. are witnessing rise in number of cyber-attacks. Apart from this, the U.S. accounts for key patch management solution providers including, Microsoft Corporation, Oracle Corporation, Qualys Inc., Ivanti Inc., Micro Focus International Plc., and HPE Company, among others that offer compelling solutions.
China, on the other hand, is expected to be the fastest growing region in the market. This can be due to the booming cybersecurity industry in China, which is estimated to have attained $8.9 billion in 2019. The industry is driven by factors such as increasing focus on network security due to the development and deployment of technologies including 5G, smart city projects, AI, and industrial internet of things (IIoT).
Browse report overview with detailed TOC on "Patch Management Market Research Report: By Component (Software, Service), Deployment Type (Cloud, On-Premises), Feature (Vulnerability Management, Compliance Management), Industry (BFSI, IT & Telecom, Government, Healthcare, Retail, Education) - Global Industry Size, Share and Growth Forecast to 2030" at:https://www.psmarketresearch.com/market-analysis/patch-management-market
Competitive Landscape of Patch Management Market
The market is fragmented and highly competitive in nature which consists of multiple players including, Microsoft Corporation, Micro Focus International plc, HPE Company, ManageEngine, Avast PLC, Symantec SA, Oracle Corporation, and Cisco Systems Inc. In recent years, major players in the market have taken several strategic measures, such as mergers and acquisitions, product launches, partnerships, and geographical expansions, to gain a competitive edge in the industry. For instance, in November 2019, Microsoft Corporation partnered with Qualys Inc, a cloud-based security and compliance solution provider. In this partnership Qualys vulnerability management and container security features were integrated with Microsoft Azure. This integration enhanced the vulnerability detections available in Azure security center for customers who use containers and virtual machines. Other key players in the market include Avast Software s.r.o., SolarWinds Corporation, ManageEngine, Qualys Inc., and Ivanti Inc.